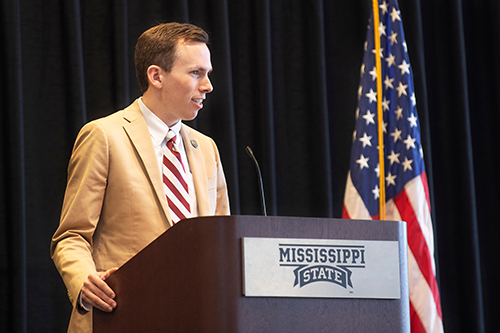 Contact: Sasha Steinberg
STARKVILLE, Miss.—Today's decisions impact tomorrow's outcomes.
That's the message that State Auditor Shad White shared with Mississippi State students during a Tuesday [Sept. 24] presentation for National Voter Registration Day.
Sponsored by Mississippi State's Student Association, White's visit is part of a campus-wide Voter Registration Drive taking place through Friday [Sept. 27].
Similar efforts by the MSU Student Association to increase voter registration and turnout among students in the national midterm elections in 2018 resulted in the university designation as a "Voter Friendly Campus"—an honor bestowed by NASPA-Student Affairs Administrators in Higher Education and the Fair Election Center's Campus Vote Project.
As part of Tufts University's Institute for Democracy and Higher Education's National Study of Learning, Voting and Engagement, MSU reported a 14.3 percent increase in the student voting rate compared to the 2014 midterms.
"What you're doing with your peers right now—getting them interested in the voting process and helping them register to vote—you may not see in the flashy headlines on TV, but they're arguably more important because they matter to everybody's lives," White said. "We're going to be living with the policies that are being set right now, so the time to start caring is right now. The folks who get heard are the folks who show up and vote."
White, who graduated with an economics degree from the University of Mississippi, said some of the fondest memories from his undergraduate experience stemmed from his involvement with voter registration drives. He commended students in attendance, especially SA members, for exhibiting that same passion through their civic engagement work on the Starkville campus.
Whether pursuing graduate school, career opportunities or starting a family, White encouraged students to consider making their home in Mississippi and continue working together to inspire fellow citizens to exercise their right to vote.
"Even though we may disagree on all sorts of stuff in this life, we can agree that having people be informed and show up to vote is an important thing."
Learn more about MSU's Student Association at www.sa.msstate.edu. A Mississippi Voter Information Guide is available online at https://www.sos.ms.gov/Elections-Voting/Documents/VoterInformationGuide.pdf.
MSU is Mississippi's leading university, available online at www.msstate.edu.