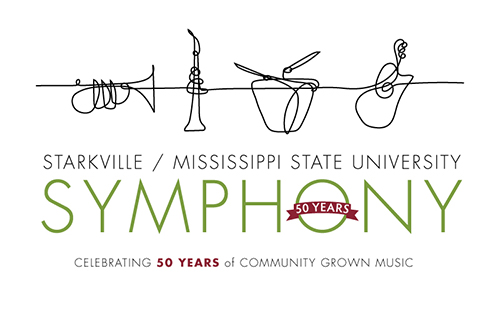 STARKVILLE, Miss.—The Starkville/MSU Symphony Association will present the "It's A Classic!" concert Oct. 6 at 2 p.m. at the Mississippi University for Women's Rent Auditorium in Columbus.
Admission is free and open to the public.
Performed by the Symphony Orchestra, "It's A Classic!" is the first symphonic concert of the organization's
51st season, and is an annual ongoing partnership between Starkville/MSU Symphony and MUW that aims to bring world-class, locally performed classical music to a broader Golden Triangle audience.
"We are proud to partner with MUW in presenting one of our concerts each year," said Eric Hill, Starkville/MSU Symphony Association 2019 Board President. "Both the orchestra and chorus as well as our Programs for Children include participation from around the Golden Triangle, so it's only fitting that we celebrate with classical music lovers from across the region."
The "It's A Classic" concert includes a repertoire of works from the classical era of 1750 to 1820. The program will feature Mozart's "Symphony No. 29 in A Major" as well as Haydn's "Symphony No. 45 in F-Sharp Minor," nicknamed the "Farewell" Symphony. In addition, concert-goers will experience the work of two MUW Department of Music scholars Susan Hurley, guest soprano, and Joe L. Alexander, guest composer.
"The W is delighted to provide this concert for the community," said MUW President Nora Miller. "We look forward to hearing the symphony and enjoying the works of our talented faculty. Come join us!" 
Hurley will perform Mozart's concert aria, "Voi avete un cor fedele," K. 217. She has performed widely throughout the United States and Europe in repertoire that ranges from opera and musical theatre to concert and recital literature. She has sung 25 principal operatic roles and performed as a concert soloist with numerous orchestras both nationally and internationally. Hurley is assistant professor of voice at MUW and also serves as the founding artistic director of Phoenix Arizona's acclaimed annual AIDS Quilt Songbook performance project.
In addition to Hurley's guest soprano performance, the "It's A Classic!" concert will feature the premiere of "Dilly Dally," an original composition by MUW Associate Professor of Music Joe L. Alexander. His work has been performed live across the U.S. and internationally in Europe, Asia and Africa. His orchestral and choral compositions also have been featured in a number of recording projects and music festivals.
"We are proud to showcase the outstanding work of these two MUW scholars as part of our first symphonic concert," Hill said. "We hope their inclusion in the concert's program will provide more exposure to the musical excellence found across the Golden Triangle."
The Starkville/MSU Symphony Association was established on March 2, 1969. Under its leadership, the symphony's program of work has grown to support the community orchestra, chorus, and its yearly education initiative, Programs for Children.
For more information about the Starkville/MSU Symphony Association, visit www.starkvillesymphony.org or connect on Facebook and Twitter.