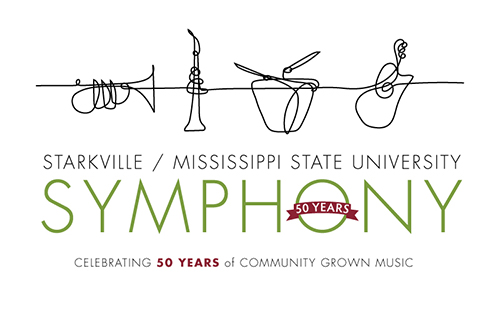 The Starkville/MSU Symphony will open its 51st concert season with "Jazz at Renasant" on Tuesday [Sept. 24] at 6 p.m. at Renasant Plaza on the corner of Montgomery and Lampkin streets in Downtown Starkville. The annual outdoor event will feature a selection of jazz, swing, and popular ballads performed by the Symphony Jazz Combo. Admission is free and open to the public.
Set as a counterpoint to some of the symphony's more formal repertoire, "Jazz at Renasant" creates a lively, family atmosphere for enjoying music in the heart of Downtown Starkville. Sponsored by Renasant Bank, the concert draws music lovers of all ages to enjoy toe-tapping tunes in the open air with Starkville's sunset as the backdrop.
"We are very excited to open the symphony's 51st season with this fun family event," said Eric Hill, Starkville/MSU Symphony Association 2019 Board President. "Part of the mission of the Starkville/MSU Symphony is to make music more accessible to the whole community, and 'Jazz at Renasant' really fulfills that by creating a fun and relaxed atmosphere where everyone can enjoy the experience."
"Jazz at Renasant" concert-goers are likely to hear at least a few familiar tunes as the Jazz Combo presents a repertoire of popular jazz standards and big band favorites. A select amount of open-air seating will be available at Renasant Plaza, and patrons may also bring their own outdoor chairs to enjoy the concert. Patrons often use a portion of the Plaza as a dance floor for some of the more familiar pieces. Students from MSU's Day One program will be volunteering during the concert to assist patrons and provide bottled water.
"SMSA is proud to partner with Renasant Bank each year to bring more music to Downtown Starkville," said Haley Montgomery, SMSA Communications Chair. "Starkville's Downtown districts are home to so many wonderful cultural events, and the symphony's annual jazz offering always draws a big crowd."
"Jazz at Renasant" is the opening concert in the Symphony Association's 2019-2020 season, which will feature seven choral and symphonic concerts, culminating with the anticipated "Epic Movie Themes" concert in April. Throughout the season, patrons will enjoy performances from the Community Chorus, Symphony Winds, and MSU State Singers, as well as the full orchestra performing classical works and new compositions.
Following "Jazz at Renasant," concert goers will hear the orchestra's first classical offering with the "It's A Classic!" concert presented by Mississippi University for Women on Sunday, Oct. 6 at 2 p.m. at Rent Auditorium in Columbus.
The Starkville/MSU Symphony Association was established on March 2, 1969. Under its leadership, the symphony's program of work has grown to support the community orchestra, chorus, and its yearly education initiative, Programs for Children. With the goal of introducing the vibrant classical music genre to an audience reflecting the entire Starkville and surrounding community, every concert has remained free and open to the public throughout the symphony's entire 50-year history.
For more information about the Starkville/MSU Symphony Association, visit www.starkvillesymphony.org or connect on Facebook and Twitter.