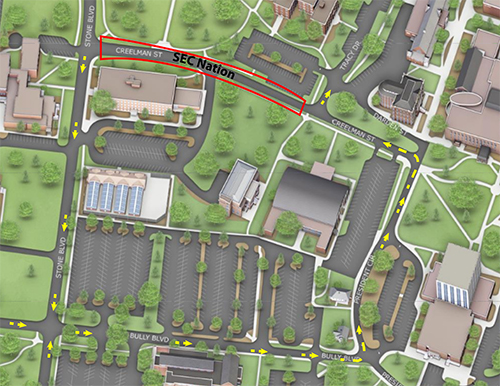 STARKVILLE, Miss.—With SEC Nation set to air live from the Junction this Saturday [Oct. 19] before the Mississippi State football game against Louisiana State University, Creelman Street will temporarily close beginning today [Oct. 16] at 6 p.m.
SEC Nation, the SEC Network's traveling college football live morning show, will be broadcast on Saturday from 9-11 a.m. CST prior to the 2:30 p.m. matchup between the Bulldogs and the Tigers on CBS. Additionally, "The Paul Finebaum Show" will be live from 2-6 p.m. Friday [Oct. 18] from the Junction and feature special guests. Fans are encouraged to attend both shows.
In anticipation of the production requirements of SEC Nation, Creelman Street will close this evening between Stone Boulevard and Tracy Street. Access to Creelman Street, Tracy Street, the Lloyd-Ricks-Watson parking lot, and the Bell Island area will be via Bully Boulevard and President's Circle. The parking gates on Creelman Street and President's Circle will be up to allow traffic flow. Entrances to McCarthy Gym and Allen West gated parking lots will be manned with MSU Parking and Transit Services personnel.
On Thursday and Friday afternoons from 4-6 p.m., George Perry Street—between the YMCA Building and Chapel of Memories—will open for northbound exit traffic only. This will give those in the affected area an alternate exit route.
Here's a timeline that will be beneficial to MSU students, faculty and campus visitors over the next few days:
Thursday, Oct. 17
—Campus shuttles will re-route around President's Circle Thursday and Friday. Shuttle routes affected by this closure will be re-routed to the Montgomery Hall shuttle stop via President's Circle and Bully Boulevard.
—Large equipment may cause some traffic issues with tractors/trailers going to and from the SEC Nation set area and with staging for the show.
—Students should use caution changing classes in this area Thursday and Friday.
—The university is working to make sure no public tailgating areas are impacted by the additional space requirements for SEC Network guests.
Friday, Oct. 18
—The Junction will open at 4 p.m., but patrons will not have access to portions of Creelman Street for unloading tailgating equipment. Please be mindful of the influx on Stone Boulevard as traffic leaves campus at the end of the day and as traffic arrives to drop off tailgating tents.
—Any commuter decal can park in any commuter zone on Friday.
—B.S Hood Drive will close at 2 p.m. Friday.
On Saturday, normal gameday road closures will begin at 10:30 a.m.
Football fans attending Saturday's game are encouraged to plan their parking and departure route in advance and follow the instructions of officers directing traffic. Game and traffic information will be updated on Twitter @HailStateFamily and @msstatepd.  
For complete gameday information, including parking and traffic flow maps, visit www.hailstate.com/gameday.
Limited tickets remain for the game and can be purchased now at HailState.com/tickets, by calling 1-888-GO-DAWGS or in person at the MSU Athletic Ticket Office on the first floor of the Bryan Athletic Administration Building (288 Lakeview Drive), Monday through Friday, 8 a.m. to 4:30 p.m.
MSU is Mississippi's leading university, available online at www.msstate.edu.