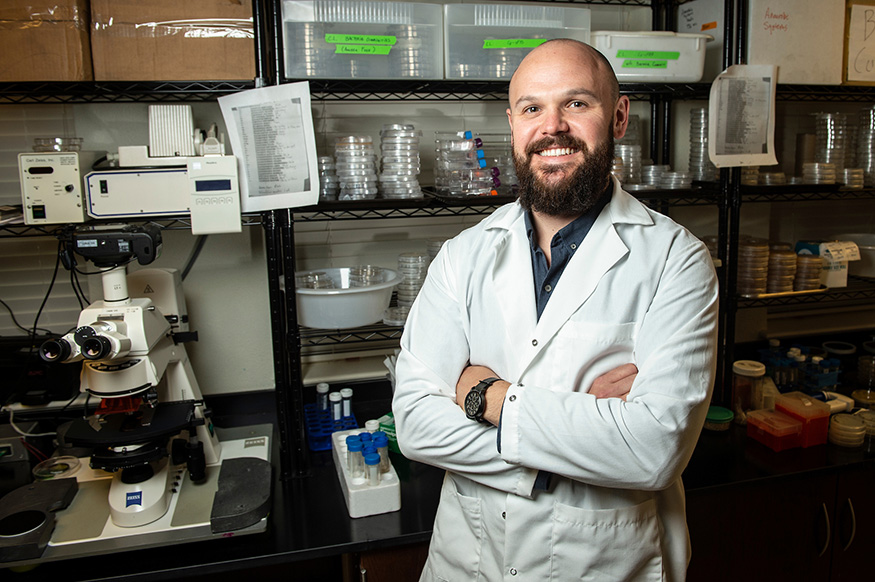 Contact: James Carskadon
STARKVILLE, Miss.—A Mississippi State University faculty member is the new 2020-21 president of the International Society of Protistologists.
Matthew Brown, associate professor of biological sciences, will serve the organization that is devoted to research on single-celled eukaryotes, or protists. It promotes the presentation and discussion of new or important facts and problems in protistology, and works to provide resources for the advancement of this field of science.
"I see this as a pinnacle service spot for my career," Brown said. "Over the years, I have contributed greatly to this society, taking my first elected position in 2013 and maintaining an elected position since. As the president, I intend to build on our capacity of scholars in the classroom and will encourage young scientists to teach protistology courses across the world."
Brown has been an MSU faculty member since 2013. His research focus uses protistological techniques to understand the evolution and diversity of eukaryotes. In a recent study published in Current Biology, his lab linked ancient fossils to modern organisms using a new method that bypasses genome sequencing. Among other honors, Brown was named a College of Arts and Sciences Dean's Eminent Scholar, the top scholarship award given by the college.
Brown has been an ISOP member since 2006, when he was a graduate student at the University of Arkansas. He said he quickly realized the top scholars in his field are among the organization's membership. Brown received his bachelor's and doctoral degrees from Arkansas in biology before conducting post-doctoral research at Dalhousie University in Canada. He has been a biological sciences faculty member at MSU since 2013.
Part of the College of Arts and Sciences, the Department of Biological Sciences can be found online at www.biology.msstate.edu. For more on Brown's research lab, visit www.amoeba.msstate.edu.
For more on the International Society of Protistologists, visit www.protistologists.org.
MSU is Mississippi's leading university, available online at www.msstate.edu.