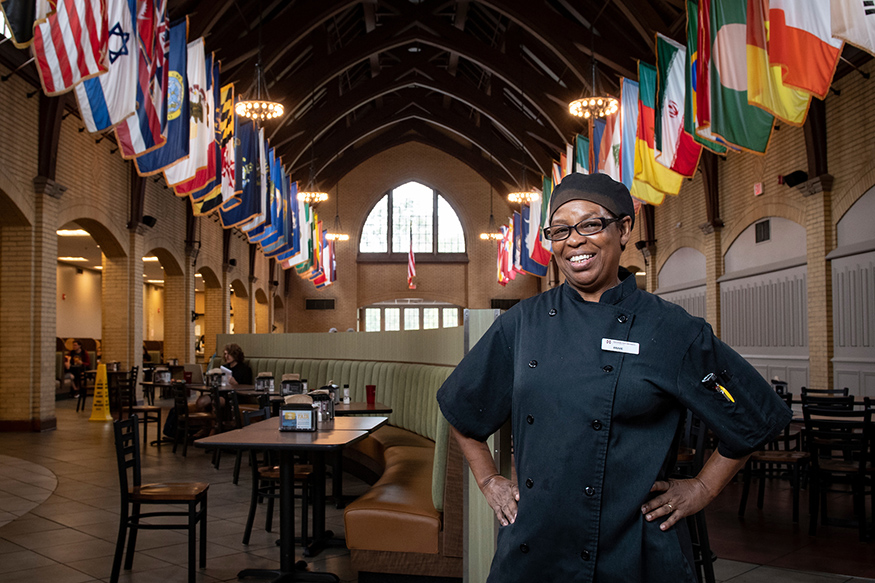 Contact: Andrea Pichardo
STARKVILLE, Miss.—Annie Doss, food service associate at the Marketplace at Perry on the Mississippi State campus, joins 200 of Aramark's outstanding team members from around the world being named to the company's 2019 Ring of Stars class.
Doss, selected for her work at the Marketplace at Perry, has worked for MSU Dining Services/Aramark 11 years and is known for her kindness, her ability to make students feel welcome, and speed and efficiency in customer service.
"I enjoy serving the students," Doss said. "They're the reason I'm here."
The 2019 Aramark Ring of Stars class is made up of frontline employees who serve the company's customers and clients as chefs, cashiers, stadium hawkers, servers, route drivers, custodians and other roles. These employees work in all types of environments where people learn, work, play and recover—including educational institutions, hospitals, sports venues, on delivery routes and in businesses of all kinds.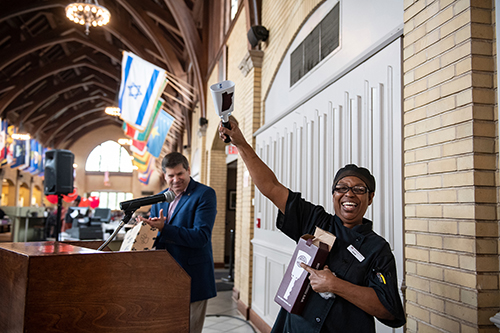 "Ms. Annie treats every single person with respect, exudes warmth, and takes care of the students," said MSU Vice President for Student Affairs Regina Hyatt. "She notices if someone is looking sad and asks if they are ok. It means a lot to the students to be treated with kindness. Ms. Annie does all this while making sure the line is moving along and that people are getting what they want to eat."
This year's class was selected from more than 1,100 nominations from 19 countries around the world where Aramark operates. The Ring of Stars winners are celebrated at a special program in Scottsdale, Arizona and receive a distinctive gold ring to commemorate the achievement.
Winners were nominated by co-workers, managers and business leaders and are selected for demonstrating excellence. The program was inaugurated in 2015.
"These 200 service stars represent the best of our organization and go above and beyond to enrich and nourish the lives of thousands of people around the world every day," said Lynn McKee, Aramark executive vice president, Human Resources. "I am very proud to welcome these team members to the 2019 Ring of Stars class and want to thank them for their dedication to our clients, consumers, communities and to Aramark."
The Marketplace at Perry is the most central dining hall at MSU and features 11 different stations of all-you-care-to-eat breakfast and lunch. Two featured stations include the Completely Vegan Station and the Simple Solutions Station, which provides a full menu free of seven of the top eight most common food allergens.
For more on dining options available at MSU, visit www.msstatedining.campusdish.com. For more on Aramark, visit www.aramark.com.
MSU is Mississippi's leading university, available online at www.msstate.edu.