Contact: Philip Allison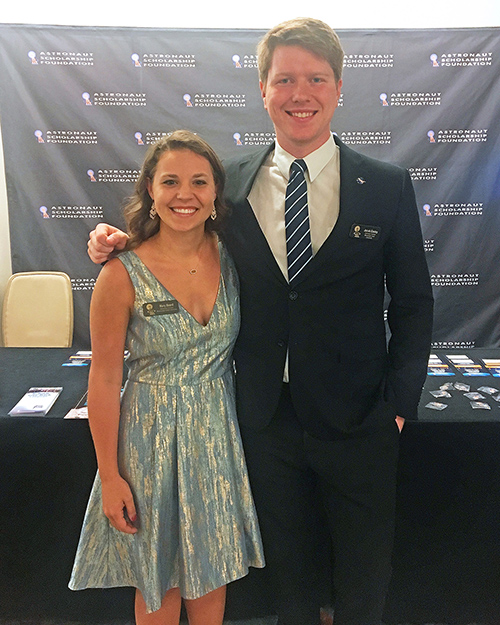 STARKVILLE, Miss.—A pair of Mississippi State engineering students are in elite company as recipients of the prestigious Astronaut Scholarship.
Senior biomedical engineering major Mary Catherine Beard of Lufkin, Texas, and senior mechanical engineering major Jacob Easley of Starkville are among just 52 students nationwide named to the 2019 Astronaut Scholar Class by the Astronaut Scholarship Foundation. The nonprofit was established in 1984 by former NASA astronauts to provide scholarships to the nation's brightest college students in science, technology, engineering and mathematics.
Mississippi State is one of only 14 schools to have multiple winners this year.
Beard and Easley, also both students in MSU's Judy and Bobby Shackouls Honors College, will be recognized on campus later this month during a special event that also will feature Astronaut Fred Gregory, a former NASA deputy administrator, test pilot, manager of flight safety programs and launch support operations. Free and open to all, the Oct. 29 event takes place from 3:30-5 p.m. in the Honors Forum Room (Room 401C) of Griffis Hall.
The Astronaut Scholarship program recognizes outstanding college juniors and seniors who are pursuing a degree in science, technology, engineering or mathematics. Recipients can earn a merit-based $10,000 scholarship and may participate in the ASF's Innovative Leadership Mentor Program.
Beard and Easley, both students in the James Worth Bagley College of Engineering at Mississippi State, were presented their awards at the recent ASF Innovators Gala in Washington, D.C.
"Receiving the Astronaut Scholarship is a major blessing, and I was blown away after meeting the other students at the conference in D.C.," said Beard. "I'm especially grateful for my research adviser, Dr. Lauren Priddy, for letting me become a part of her lab group and giving me the space to grow, not just as a researcher, but as a person."
"I'm really pumped to be the first female from MSU to receive the Astronaut Scholarship because I want it to help other girls feel qualified to apply," Beard added. "Science and engineering is not a men's club, and I hope that this helps chip away at that stigma."
Easley said the privilege of being part of this scholarship program "gives me tremendous excitement." He added, "My biggest thanks go to Dr. Haley Doude, my research adviser at the Center for Advanced Vehicular Systems. She has pushed me to be the most creative and innovative student I can be by supporting the projects and ideas I have and encouraging me along the way."
Beard and Easley are the second and third Mississippi State students to earn the Astronaut Scholarship. Alumnus Phong Ly received the accolade last year as a senior civil engineering major.
In 2017, MSU became the only university in Mississippi invited into partnership with the Orlando, Florida-based Astronaut Scholarship Foundation to promote STEM fields, along with NASA research priorities at the undergraduate level. The university is among 41 top U.S. institutions selected for having strong undergraduate and graduate research programs that produce significant numbers of professional scientists, academic scientists, engineers and researchers.
The Bagley College of Engineering is online at www.bagley.msstate.edu and can be found on Facebook, Twitter, Instagram and YouTube at @msuengineering.
Mississippi State University is Mississippi's leading university, available online at www.msstate.edu.