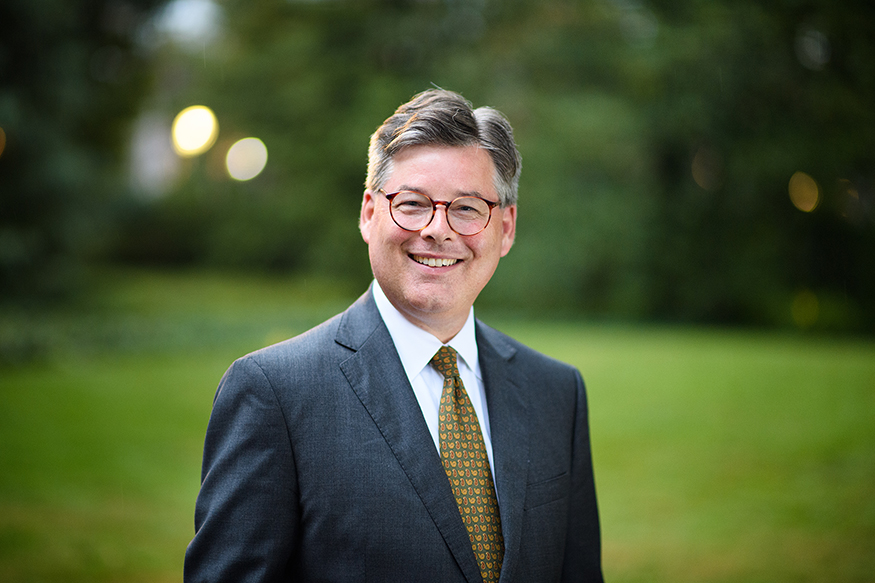 Contact: Sarah Nicholas
STARKVILLE, Miss.—A Mississippi State University faculty member is spending the 2019-2020 academic year as a fellow in the James Madison Program at Princeton University in New Jersey, where he is researching and writing his third historical publication.
William Anthony Hay, a professor in MSU's Department of History, is participating in the Garwood Visiting Fellowship, with a focus on statesmanship.
"My current project on British strategy and policy during the American Revolution with its emphasis on wartime decision-making is a good fit for this specific fellowship," Hay said.
"Relatively little attention had been paid to the British side of the American Revolution until recently, and that opened space to ask questions historians posed for other conflicts about Britain's struggle for America," he said. 
Based on the experience of five British generals prior to the war through England's eventual surrender at Yorktown, Hay is examining the state of military thinking in the 18th century and how Thomas Gage, William Howe, John Burgoyne, Henry Clinton and Lord Cornwallis used their personal war experiences to view the unfolding military problems.
His research helps explain how the British fought and why their efforts fell short. Titled "King George's Generals: Strategy, Policy and Britain's War for America, 1763-1781," the book also considers the relationship between commanders in the field and their political superiors at home.
"Researching my biography of Lord Liverpool drew me back from the era of the French Revolution and Napoleon to 18th century Britain and problems of empire," Hay said. "It also sharpened my interest in the relationship between policy, which sets goals, and the strategies developed to implement them, along with wartime decision-making."
Professor and head of MSU's history department Alan Marcus said Hay's fellowship at Princeton enables him "to make contacts with other experts in his field, use repositories with material not available here, and learn new techniques and interpretations."
"When he returns, Dr. Hay will be able to share his new knowledge and insights with his history department colleagues, MSU graduate and undergraduate students, and, through his publications, the larger intellectual community of which he is a part," Marcus said.
Hay said the fellowship will move his scholarly career to the "next level," allowing him to shift his research in a new direction and expand related projects on the wider history of British grand strategy.
In addition to engaging with an "active intellectual community in the James Madison Program," Hay said the experience opens avenues for collaboration with other scholars in its network of past fellows and current friends.
Each academic year the James Madison Program at Princeton hosts scholars as visiting fellows and postdoctoral research associates. Hay said past recipients include Professor Kevin Weddle of the U.S. Army War College as well as Civil War historian Alan C. Guelzo.
Scholars in the James Madison Program pursue their own research and writing, participate in courses, seminars and colloquia, and contribute to the intellectual life of Princeton University and its Department of Politics. 
In 2018, Hay published "Lord Liverpool: A Political Life" (The Boydell Press) and in 2005 published "The Whig Revival, 1808-1830" (Palgrave). 
At MSU, Hay specializes in British history, international relations, and the Atlantic World in the 18th century. Elected a fellow of the Royal Historical Society in 2009, Hay is a past-president of the Southern Conference on British Studies. Along with research grants from the Harry Frank Guggenheim Foundation and the Earhart Foundation, he has held fellowships at the Lewis Walpole Library and Beinecke Rare Book and Manuscript Library at Yale University and the William L. Clements Library at the University of Michigan.
Hay earned his Ph.D. in 2000 and his master's degree in 1992, both from the University of Virginia, with concentrations in European and international history. He earned a bachelor's degree in 1990 from the University of the South in Sewanee, Tennessee, with majors in both history and philosophy.
MSU's College of Arts and Sciences includes more than 5,300 students, 300 full-time faculty members, nine doctoral programs and 25 academic majors offered in 14 departments. Complete details about the College of Arts and Sciences or the Department of History may be found at www.cas.msstate.edu or www.history.msstate.edu.
MSU is Mississippi's leading university, available online at www.msstate.edu.