Contact: Amy Cagle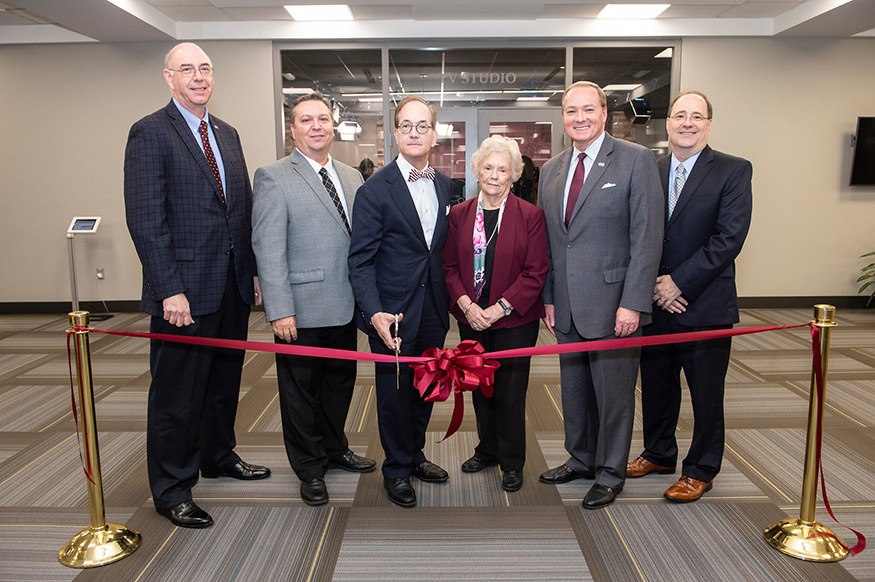 STARKVILLE, Miss.—Mississippi State University officially opened the MaxxSouth Digital Media Center in ceremonies Monday [Oct. 7] in Mitchell Memorial Library with a ribbon cutting and program with remarks by company representatives.
"MaxxSouth Broadband is proud to be partnered with Mississippi State University to bring the MaxxSouth Digital Media Center to its students," said John Wuerdeman, MaxxSouth Broadband vice president and general manager. "Being the local leader in high speed internet in Northeast Mississippi, MaxxSouth Broadband is committed to enhancing the technological advancements in the communities we serve. The MaxxSouth Digital Media Center is one giant step in that direction, and we are happy to be a part of this journey."
The company's $440,000 contribution makes possible the transformation of an existing area into a state-of-the-art digital media center on MSU's central campus, and an accompanying endowment will provide perpetual support for the facility's upkeep. Furthermore, support from several MSU units, including the Office of the Provost, the College of Arts and Sciences and its Department of Communication, and the University Television Center, along with MSU Libraries, benefited the renovation.
The MaxxSouth Digital Media Center will increase MSU Library offerings and give MSU students and faculty from across the university a comfortable, collaborative work environment with access to all the latest high-end professional software and technologies.
The MaxxSouth Digital Media Center specifically offers these features: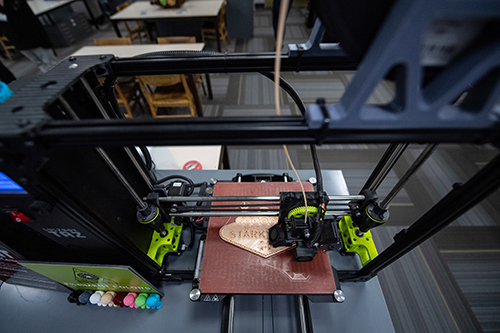 —An audio and video recording studio with capabilities for patrons to reserve studio time for podcasts, record speeches and lectures or other multimedia projects;
—An extended makerspace and multi-media lab with die cut machines, a heat press, 3D printers, two sewing machines, and supplies for crafts, hand sewing, knitting, cross stitching, building, modeling and more;
—The Center for Advanced Vehicular Systems (CAVS) Mixed Reality Studio with virtual reality/augmented reality stations with HTC Vives, Oculus Rifts, Microsoft HoloLenses, and two developmental computers.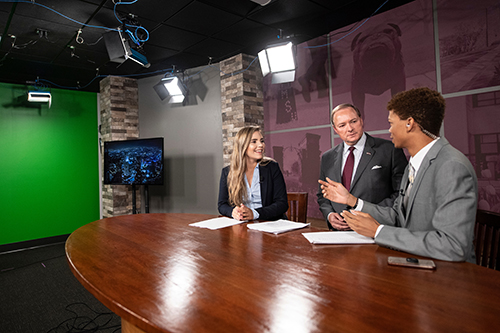 —A television broadcast studio to be utilized each fall semester by the Department of Communication for class instruction and to produce a weekly, live news show by broadcasting majors, and available each spring to other departments and students; and
—A collaboration studio for meetings and study for groups of five or more and individual study areas;
Instrumental in the MaxxSouth contribution has been John Block, an owner of Block Communications Inc., of which MaxxSouth Broadband is a subsidiary, who adds his personal support for the university. The MaxxSouth Broadband and John Block Special Collection Excellence Fund will assist MSU Libraries in the acquisition, maintenance and display of rare books for its special collections division. Block has his own extensive rare books collection and supports MSU Libraries' goal of securing and acquiring rare books that fit within the library's collection development policy.
"Our library proudly opens the MaxxSouth Digital Media Center, and we believe it will help us further engage today's student population and other patrons," said Frances Coleman, dean of University Libraries. "We are also deeply grateful of both MaxxSouth Broadband and Mr. Block's support of our special collections."
Today, MaxxSouth Broadband stands as the local broadband leader in the communities it services throughout Mississippi.  While dedicated to providing Mississippi customers with the maximum internet speeds available, high definition quality television, and digital phone services, MaxxSouth Broadband is also committed to enhancing the technological advancements in the communities it serves.
For more information on supporting the MSU Libraries, contact Trish Cunetto, director of development, at 662-325-6762 or tcunetto@foundation.msstate.edu.
MSU is Mississippi's leading university, available online at www.msstate.edu.