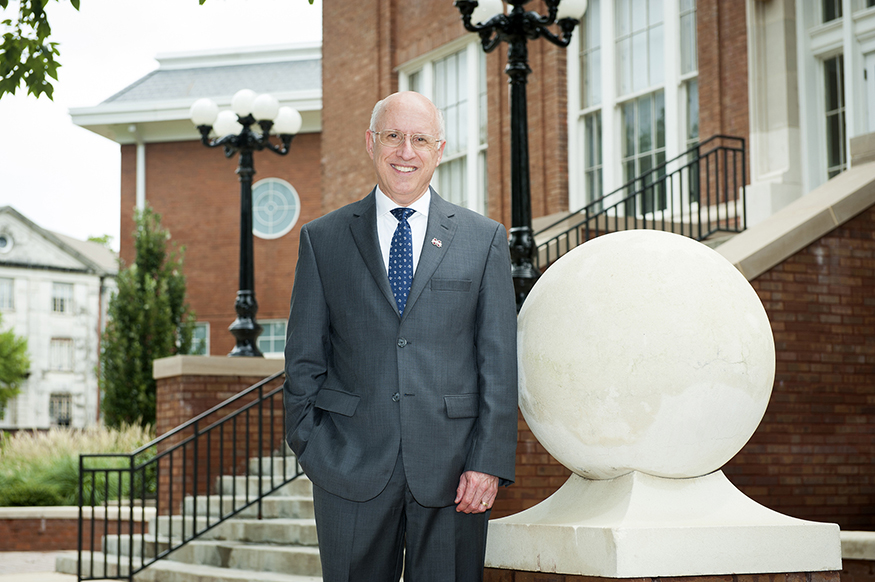 Contact: James Carskadon
STARKVILLE, Miss.—Mississippi State University Provost and Executive Vice President David Shaw highlighted the many ways federal research funding contributes to innovation and development during testimony on Capitol Hill Tuesday [Oct. 22].
Shaw joined other national leaders in a hearing titled "Research and Innovation: Ensuring America's Economic and Strategic Leadership," convened by the U.S. Senate Subcommittee on Science, Oceans, Fisheries and Weather. The subcommittee is part of the Senate Committee on Commerce, Science and Transportation, which is chaired by Sen. Roger Wicker of Mississippi.
During his testimony, Shaw highlighted many examples of research partnerships between the federal government and MSU providing direct economic benefits to Mississippi and spurring innovation in industries such as manufacturing, cybersecurity and aerospace. When discussing the significance of research investments, he noted the importance of these investments being spread across many geographic areas, trans-disciplinary in nature, supportive of basic and applied research, as well as encouraging federal, state, university and industry partnerships.
"We must find ways to invest in research that leads directly to innovation that spawns entrepreneurship and economic development in the private sector," Shaw said. "Historically, our economy is based on this innovation, and with reduced private investment in research, federal funding is ever more important if we are to continue to lead the world."
Prior to being named MSU's provost in June, Shaw served as the university's vice president for research and economic development for nine years. MSU now conducts well over half of all funded university research in the State of Mississippi, with research expenditures exceeding $240 million. The university has attained Carnegie R1—very high research activity—status and is ranked 94th overall in research and development by the National Science Foundation and 64th among public universities, including a national ranking of 9th in agriculture research and 17th in social science research.
One example Shaw gave of impactful funding was a 1990 National Science Foundation Engineering Research Center award focused on computational field simulation. When Mississippi was recruiting Nissan to build a plant in Canton, the Engineering Research Center was leveraged to create MSU's Center for Advanced Vehicular Systems, combining world-class research with industrial outreach to support the state's growing automotive industry. Since its creation in 2003, CAVS has had an estimated economic impact of $6 billion, according to U.S. Department of Commerce data.
Based on the success of the ERC program, MSU has continued to invest heavily in high performance computing, creating advanced modeling and simulation capabilities that have been utilized by federal agencies and industry partners. MSU has partnered with the National Oceanic and Atmospheric Association to build the fourth-fastest supercomputer in U.S. academia.
"The university system in the U.S. has been the envy of the world, and nowhere can a public, land-grant university have a bigger impact than on a state like Mississippi, where pressing needs can be changed to immense opportunity," Shaw said. "Mississippi State University has long played a leadership role in our state's economic development and has embraced that role as a means to lift us out of poverty and disadvantage."
Tuesday's hearing is archived and available online at www.commerce.senate.gov. To read Shaw's testimony, visit https://www.commerce.senate.gov/services/files/9CA16A72-FAA1-407D-B703-8C53674A02DA.
MSU is Mississippi's leading university, available online at www.msstate.edu.