Contact: Sarah Nicholas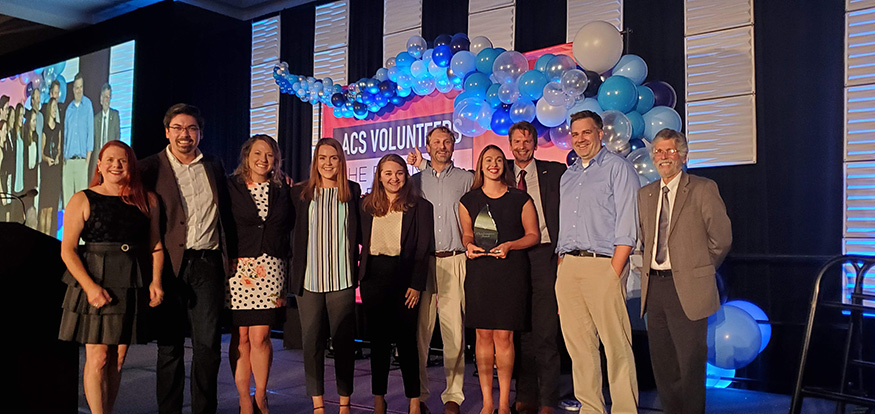 STARKVILLE, Miss.—A student group at Mississippi State is the winner of a recent national awards presentation in San Diego. The 2019 ChemLuminary award for "Best National Chemistry Week Event Organized by a Student Group" is the first of its kind for the land-grant university.
Presented to MSU's chapter of Student Members of the American Chemical Society (SMACS) at the American Chemical Society's 258th National Meeting and Exposition, the prestigious accolade recognizes the student organization's organized efforts during the 2018 National Chemistry Week, including a dunk tank and grill-out, science demonstrations on the Drill Field, outreach to local schools, and a tailgate extravaganza prior to the MSU/Texas A&M football game.
SMACS is a student organization designed to promote the professional development of STEM majors and to stimulate interest in chemistry.
Dennis Smith, professor and head of MSU's chemistry department, said the group "awaited in nail biting suspense" as the winner was announced from the list of finalists from across the country. 
"Needless to say, all will remember the night the ChemDawgs took the stage," Smith said. "This is priceless recognition for MSU and Mississippi."
Led by MSU senior Zoe Fokakis, a chemistry major and SMACS president, the 2018 SMACS officers received the award.
"We are so thrilled about the ChemLuminary win and all of the momentum and excitement it has brought to our department," Fokakis said.
Simply receiving a finalist position was exciting, she said, "so to actually be awarded this accolade left us speechless."
 "It was an incredible moment," said Eric Dornshuld, faculty adviser to SMACS and MSU assistant clinical professor of chemistry. "It's amazing what can happen when you get the right people who work well together and are highly motivated."
Howard Shook, a 1962 MSU graduate and chemistry alumnus, provided financial support enabling SMACS officers and several MSU faculty to attend the awards ceremony. Shook is the 2018 College of Arts and Sciences alumnus of the year.
"The students needed to be there to see it, hear it and feel it," Smith said, expressing gratitude for Shook's financial support. "Having these young scientists experience the impact and recognition of their hard work first hand was not only a tremendous benefit to them personally and professionally, but the long-term value to the department is priceless and will pay dividends for years to come." 
Fokakis said SMACS is preparing for a "repeat performance" for next year's ChemLuminary awards as the group organizes National Chemistry Week this October 20-26.
"All of our events are designed to catch the eyes of people who maybe didn't love their freshman chemistry class—that took care not to take chemistry at all and to show them that it can be engaging and exciting and fun," Fokakis said.
Sponsor of the ChemLumniary award, ACS was founded in 1876 and chartered by the U.S. Congress. As the world's largest scientific society, their mission is to "advance the broader chemistry enterprise and its practitioners for the benefit of Earth and its people," with intent to "improve lives through the transforming power of chemistry."
MSU's College of Arts and Sciences includes more than 5,300 students, 300 full-time faculty members, nine doctoral programs and 25 academic majors offered in 14 departments. Complete details about the College of Arts and Sciences or the Department of Chemistry may be found at www.cas.msstate.edu or www.chemistry.msstate.edu.
MSU is Mississippi's leading university, available online at www.msstate.edu.