Contact: Sasha Steinberg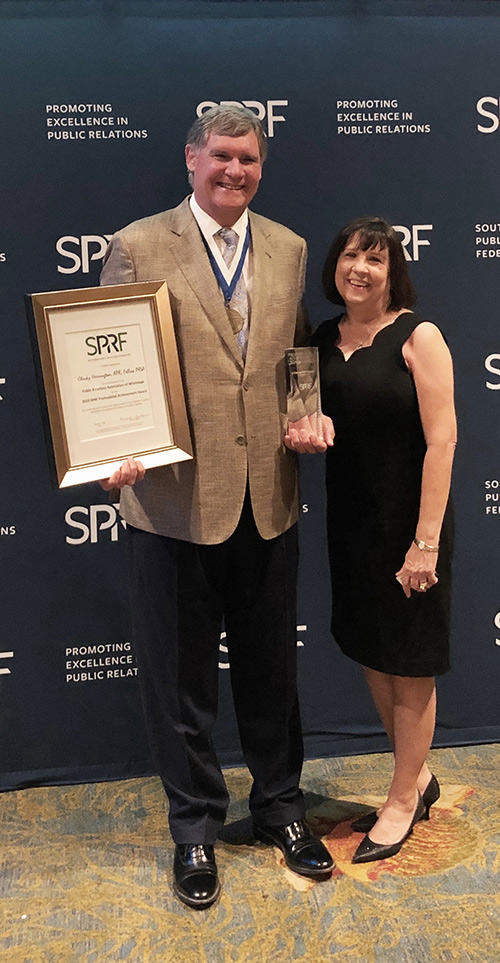 STARKVILLE, Miss.—Checky Herrington, brand manager for Mississippi State University's Office of Public Affairs, is being honored with the 2019 Professional Achievement Award presented annually by the Southern Public Relations Federation.
Given by SPRF at the group's fall conference this week in Orange Beach, Alabama, the award recognizes a professional who exemplifies the highest standards in public relations and has a commitment to advancing the field.
Herrington, an MSU alumnus and senior member of the university's public affairs office, received the Public Relations Association of Mississippi's Professional Achievement Award, a precursor to the SPRF honor, earlier this year.
Since joining MSU in 2014, Herrington has spearheaded the "We Ring True" branding initiative, which garnered SPRF Awards of Excellence at the recent conference in digital communications, short-term strategic marketing programs, and audio/video projects. Read more about MSU's additional SPRF awards here.
"As this prestigious award indicates, Checky Herrington has enjoyed an exemplary individual career in public relations in both the public and private sectors," said MSU Chief Communications Officer Sid Salter. "His work as part of the Office of Public Affairs team here at MSU has been outstanding and demonstrates his lifelong love of the university. We are all proud of Checky's accomplishments and look forward to continuing to work with him to advance Mississippi State."
Before returning to his alma mater, Herrington enjoyed a 30-year career with Entergy Corp., leading the company's utility and nuclear communication efforts. During this time, he received many awards and honors, including the Public Relations Society of America's Silver Anvil Award for work as a team member during and after Hurricane Katrina.
In 2014, Herrington received the Accreditation in Public Relations, or APR, designation from PRSA's Universal Accreditation Board, and in 2015, he was inducted into PRSA's College of Fellows. This prestigious group includes some 350 senior members—less than two percent of all members—who have successfully advanced in the profession by distinguishing themselves in major leadership roles.
In 2017, Herrington was inducted into the Southern Public Relations Federation's Hall of Fame.
A Louisville native, Herrington holds an MSU bachelor's degree in communication with an emphasis in marketing and public relations.
MSU is Mississippi's leading university, available online at www.msstate.edu.