Contact: Allison Matthews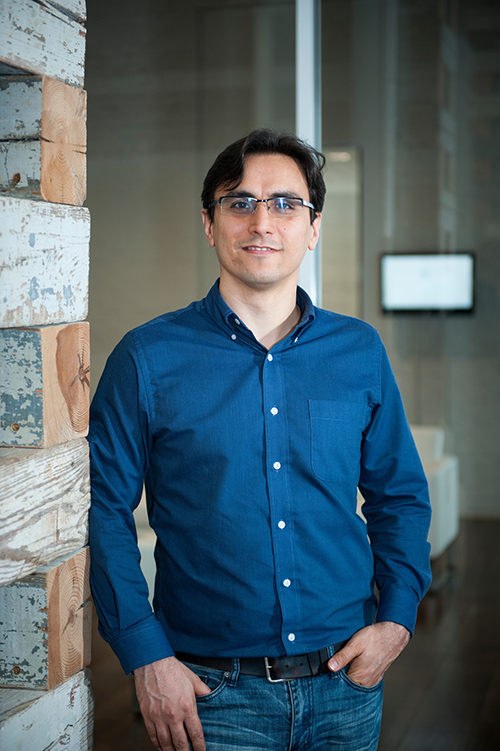 STARKVILLE, Miss.—A Mississippi State civil engineering faculty member is being recognized by the American Society of Civil Engineers-Mississippi Section as Engineer of the Year.
Farshid Vahedifard, associate professor in MSU's Bagley College of Engineering and its Department of Civil and Environmental Engineering, also holds the Civil and Environmental Advisory Board Endowed Professorship. The Engineer of the Year award recognizes a Mississippi ASCE society member "who has contributed substantially to the status of the engineering profession by establishing a reputation for professional service and ethics."
In Vahedifard's nomination, MSU Professor Isaac L. Howard, Materials and Construction Industries Chair and a past recipient of the same honor, said "Dr. Vahedifard is an exceptional candidate for this award, primarily for his contributions and transdisciplinary research to quantitatively assess the impacts of extreme events in a changing climate on the integrity and resilience of geotechnical infrastructure."
 Vahedifard has researched and written on topics such as lessons learned from California's deadly Camp Fire and the Oroville dam incident. He has called for improvements to disaster response practices to minimize economic loss and human harm in similar events. His work has been published in Science magazine, Nature, the ASCE's Journal of Geotechnical and Geoenvironmental Engineering, among other outlets. Along with colleagues, he also has published research and commentary highlighting how a chain of events—such as wildfires, landslides and mudslides—can cascade like a series of toppling dominoes and can lead to catastrophic disasters.
Vahedifard's research interests encompass how natural hazards and extreme events affect the resilience of communities and critical infrastructure systems, including levees and dams, as well as how urban development and other anthropogenic activities may intensify impacts of natural hazards on various infrastructure and increase the likelihood of damage during climatic occurrences.
Since joining MSU in 2012, Vahedifard has taught over 2,000 university student credit hours, supervised more than 40 postdoctoral associates, Ph.D. and master's students in their research projects, led several research projects with total funding of more than $4.5 million, and authored or co-authored over 120 refereed articles in scholarly journals and conference proceedings. He also serves as his department's graduate coordinator.
In addition to his Bagley College of Engineering faculty appointment at MSU, he is a research fellow with the university's National Strategic Planning and Analysis Research Center, which includes data scientists pursuing entrepreneurial and collaborative initiatives to develop and maintain a pipeline of intellectual property and innovative technologies that positively impact real-world problems.
The Virginia-headquartered American Society of Civil Engineers represents more than 150,000 members of the civil engineering profession in 177 countries. Founded in 1852, ASCE is the nation's oldest engineering society. The organization's Mississippi Section is committed to promoting the growth and advancement of the civil engineering profession in Mississippi, as well as recognizing individual excellence and leadership. For more, visit http://sections.asce.org/mississippi/.
MSU is Mississippi's leading university, available online at www.msstate.edu.