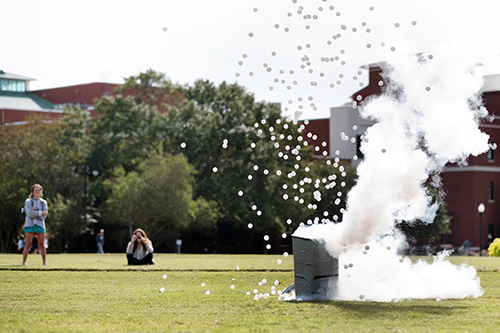 Contact: John Burrow
STARKVILLE, Miss.—On the heels of a top award for 2018's National Chemistry Week events, the Student Members of the American Chemical Society organization is creating even more excitement for Mississippi State students and community members for this year's activities that begin Saturday [Oct. 19].
The MSU student organization designed to promote professional development for STEM majors and foster interest in chemistry will host events highlighting National Chemistry Week's theme, "Marvelous Metals."
"We are so excited to take 'heavy metal' to the next level," said SMACS president and senior chemistry major Zoe Fokakis of Hattiesburg. "The Hand Chemical Laboratory is going to be decorated to maximum volume, and we'll be ready to rock and roll at each event."
Fokakis said that after winning the American Chemical Society ChemLuminary award recently for "Best National Chemistry Week Event Organized by a Student Group," she wants to claim the award for a second year.
"We seek to inspire others to find out more about chemistry and the world around them," Fokakis said. "Last year we reached over 1,000 people, including hundreds of elementary-aged children. My personal goal for SMACS this year would be to double our audience and to see just how far we can take NCW."
Events include:
—Saturday, Oct. 19, NCW Tailgate Extravaganza: Located at the grassy area in front of the Lloyd-Ricks-Watson Building, across from the WMSV radio station, 10 a.m. The third annual tailgate extravaganza prior to the MSU football game versus LSU will include exciting chemistry demonstrations starting at 10:45 a.m., hands-on activities for kids and kids-at-heart, music, food, a photo booth, and more.
—Monday, Oct. 21, SMACS Bake Sale: The Drill Field, 8 a.m.-noon (or while supplies last). Enjoy home-baked goods, buy NCW and gameday buttons, and take free stickers.
—Tuesday, Oct. 22, Demos on the Drill Field: The Drill Field, 10:30 a.m.-2 p.m. SMACS will be presenting chemistry demonstrations such as the "screaming gummy bear," multi-colored flame tests, a liquid nitrogen cloud, and a spectacular eruption of ping pong balls. Participants will learn the science behind all experiments.
—Wednesday, Oct. 23, Grill Out and Dunk Your Professors: Lee Blvd., in front of the Colvard Student Union, 10:30 a.m.-2 p.m. Participants are invited for free burgers and hot dogs. Fresh tea and lemonade will be available for purchase. Come dunk chemistry professors in the dunk tank!
—Thursday, Oct. 24, Periodic Table Darts: The Drill Field, 10:30 a.m.-2 p.m. Draw the names of metals to aim for on the periodic table. 
—Thursday, Oct. 24, The Pittman Symposium: Sessions include a 1-2:45 p.m. presentation in Mitchell Memorial Library's auditorium and 3:30-5:50 p.m. presentation in Hand Chemical Laboratory Room 1144. Charles U. Pittman Jr., MSU professor emeritus of chemistry who has over 900 scientific publications, will conclude the symposium with a 4:50 p.m. keynote address in the library's auditorium.
—Friday, Oct. 25, Chemistry Seminar: Hand Chemical Laboratory, 3:30 p.m. An esteemed faculty member from North Dakota State University, Pingjin Zhao, will present "Nickel-Mediated Alkyne and Amine Transformations for Greener Catalysis."
—Saturday, Oct. 26, and Sunday, Oct. 27, "Mad Scientist Escape Room": Open to the public at Hand Chemical Laboratory 11 a.m.-10 p.m. Saturday and 1-9 p.m. Sunday. Participants will work together to solve puzzles and experiments to "crack the code" left by a mad scientist professor.
National Chemistry Week activities at MSU are sponsored in part from an Innovated Project Grant offered by the American Chemical Society.
Founded in 1878, MSU's Department of Chemistry is the oldest ACS accredited program in the state. The department serves the basic science and higher-level chemistry curricula needs of nearly every major on campus.
For more information on MSU's National Chemistry Week events, visit https://www.chemistry.msstate.edu/outreach/smacs/ncw. Eric Van Dornshuld, NCW chair and SMACS adviser, can be contacted at 662-325-8452 or edornshuld@chemistry.msstate.edu.
Part of the College of Arts and Sciences, the Department of Chemistry can be found on Twitter @chem_msstate; Student Members of the American Chemical Society, on Facebook @MissStateSMACS and Twitter and Instagram @SMACS_MSU; and Chemistry Graduate Student Association, on Facebook @CGSA.MSState, Twitter and Instagram @CGSA_MSState.
MSU is Mississippi's leading university, available online at www.msstate.edu.