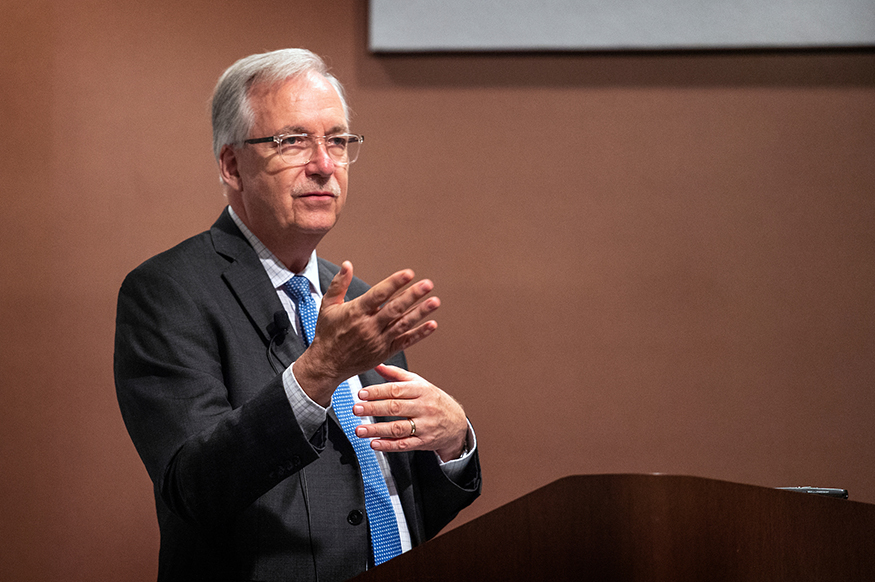 Contact: James Carskadon
STARKVILLE, Miss.—A senior official with the Food and Agriculture Organization of the United Nations discussed the significant global impacts the agency is having during a Monday [Oct. 7] lecture at Mississippi State University.
Daniel Gustafson, FAO deputy director-general for programmes, shared from his experience facilitating large-scale FAO projects aimed at achieving sustainable development goals and global food security. He also highlighted the roles FAO and the United Nations play in crisis mitigation and supporting displaced people. The speech was part of the Global Engagement Lecture Series sponsored by the MSU International Institute.
Gustafson noted that FAO is interested in understanding the impacts of voluntary migration and forced migration, which is usually caused by conflict, climate shocks or economic issues. In recent decades, migration across countries has continued to increase.
"The UN projects 66 percent of the global population to be urban by 2050, which creates a massive need for urban employment," Gustafson said, adding that food supply chains represent one area of employment growth potential.
In addition to impacting migration, crises have continued to play a significant role in food security issues, as most countries with dire food needs are countries with ongoing conflicts, Gustafson said. As international food systems become more complex, Gustafson complimented MSU's interdisciplinary focus in addressing global challenges.
"Food security is often under a ministry of agriculture, nutrition under a minister of health, gender issues are often with a women's ministry," Gustafson said. "The problems are so interconnected that they have to have an interdisciplinary approach."
MSU has a long-standing relationship with the UN's Food and Agriculture Organization, with research partnerships focused on food safety, nutrition, aquatic animal health and agriculture, among other areas. The FAO and the World Food Programme have recognized MSU as a Center for Knowledge for Aquatic Health. MSU President Mark E. Keenum, who holds an MSU doctoral degree in agricultural economics and who served as Under Secretary of the U.S. Department of Agriculture, has made global food security a university research priority during his tenure at MSU.
For more on the MSU International Institute, visit www.international.msstate.edu.
MSU is Mississippi's leading university, available online at www.msstate.edu.