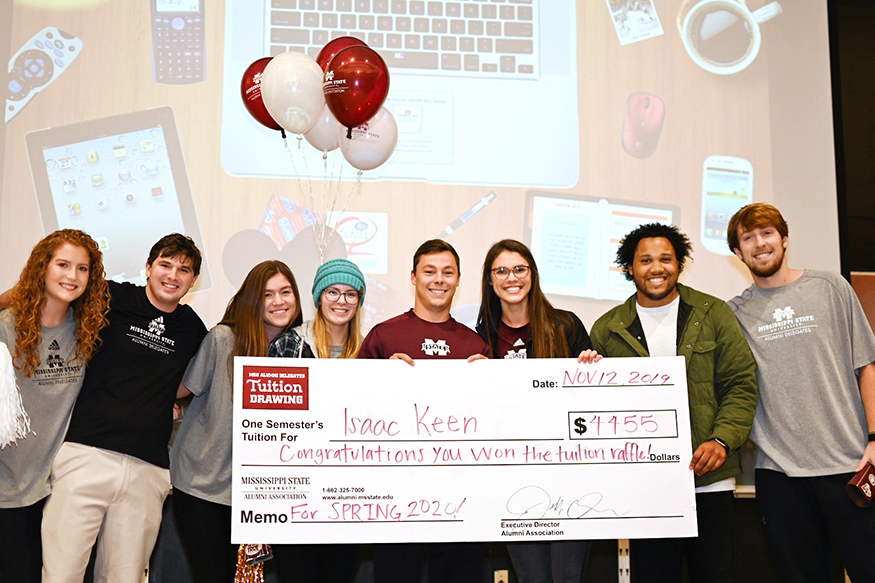 Contact: Amy Cagle
STARKVILLE, Miss.—Isaac Keen of Louisville is the latest winner of the Mississippi State University Alumni Association's tuition drawing.
A sophomore studying in the College of Education, Keen will receive free, full-time tuition for the 2020 spring semester.
"I'm very surprised and incredibly thankful for the 'free' tuition. Although I work while attending school, I have many expenses as a student and the tuition will greatly benefit me," said Keen, a lifelong Bulldog fan who is pursuing a Bachelor of Science in kinesiology with a concentration in neuromechanics.
Each semester, the sale of tickets is open to parents of in-state underclassmen enrolled full-time at MSU in order to generate financial support for student scholarships. Keen's name was drawn Nov. 7 from 4,274 tickets purchased from the beginning of the fall semester through early November. His name was entered by his parents, Odie and Brenda Keen of Louisville. He is in his first semester at MSU, having transferred from East Central Community College where he played tennis. At MSU, he works as a student athletic trainer with the MSU Sports Medicine program.
Initiated in 2013 by the association's student organization, Alumni Delegates, the drawing is open each fall and spring semester to any Mississippi resident enrolled full time at MSU. The ongoing project provides funding for 12 academic credit hours at the land-grant institution—$4,455 or the equivalent of a typical semester's tuition. This semester, the Alumni Delegates raised $17,986 in ticket sales.
Jeff Davis, the alumni association's executive director, said though only six years old, the program has become a proud tradition for the Alumni Delegates because it serves as a way for parents and students to be involved with MSU and simultaneously enhance the reach of the association.
"The positive impact is definitely felt by the family of the student whose lucky ticket is drawn, but the impact's reach is broader than that as the additional funds raised support scholarships and priority programs within our association," Davis said.
Alumni Delegates serve as links between the 141-year-old institution and its nearly 146,000 living graduates. Members assist with organizational programs and activities on behalf of the association, such as football tailgate gatherings, class reunions, and the association's annual awards banquet and leadership conference.
For more information about the MSU Alumni Association's tuition drawing, contact Jordan Ramsey, the association's associate director and Alumni Delegate adviser, at 662-325-7000 or jramsey@alumni.msstate.edu.
MSU is Mississippi's leading university, available online at www.msstate.edu.