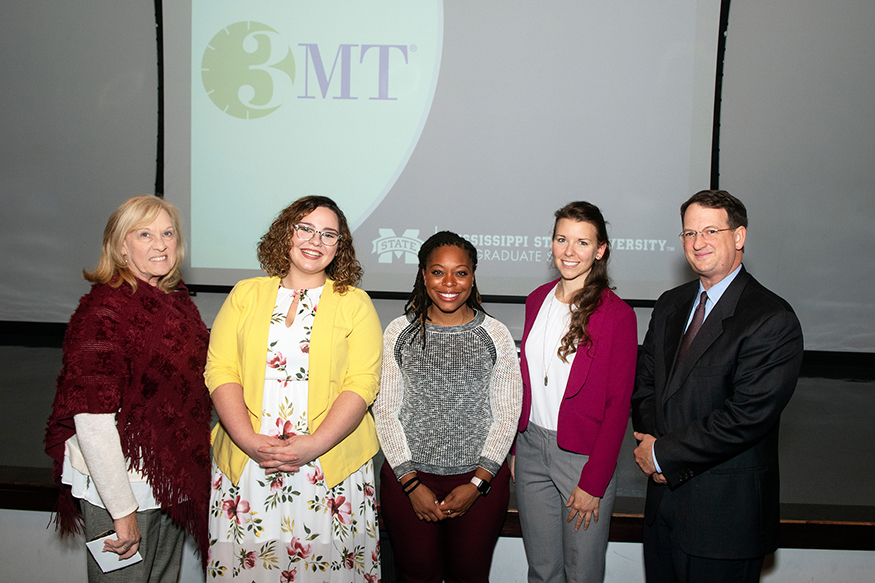 Contact: Sasha Steinberg
STARKVILLE, Miss.—Three minutes is all the time they had, and Mississippi State students proved that was all they needed to convey months or years of complex research during the university's recent Three Minute Thesis competition.
Sponsored by the MSU Graduate School, the annual event challenged 53 master's and doctoral students to provide a compelling, 180-second presentation of their research and its significance in language appropriate for a general audience. Also, students were only allowed use of one static PowerPoint slide to help convey their findings.
"Condensing down every nugget of what you've worked on, why you did it, and who will benefit from it into three minutes is really quite a task," said Brien Henry, associate dean of MSU's Graduate School. "It was exciting to see our students take on that challenge with a lot of courage, and their presentations were very impressive."
Project categories included arts and humanities; life and biomedical sciences and engineering; physical, mathematical, computational sciences and engineering; and social and behavioral sciences.
The 53 participants were divided among two preliminary rounds, with eight competitors selected for the final round. From those, judges selected Shandrea D. Stallworth, a plant and soil sciences/weed science doctoral student from Biloxi, as this year's Grand Champion and recipient of a $1,000 prize. With a research talk titled "Pest to Pal: Discovering Stress Tolerant Weedy Rice," Stallworth will represent MSU on March 5-7, 2020, at the Conference of Southern Graduate Schools Three Minute Thesis Regional Finals in Birmingham, Alabama.
"I really enjoyed this experience because of the engagement aspect," Stallworth said. "As researchers, we may feel like every detail is important, but this competition taught me how to pick out the important parts and tell the story of my research in a relatable way, so people will not only want to listen, but understand why they should."
This year's Grand Champion Runner-Up is Shannon M. Westlake, a forest resources/wildlife, fisheries and aquaculture doctoral student from Cayuta, New York. She earned a $750 prize for her presentation on "Human Dimensions of Pollinator Conservation."
The People's Choice Award and a $750 prize went to Julianne Paige, an applied anthropology master's student from Glenden Beach, Oregon. Her presentation was titled "The Maternal-to-Infant Nexus: Reconstructing Maternal Nutritional Status at Put Dragulina Cemetery in Trogir, Croatia." Put Dragulina, a Roman cemetery site dating between the first century AD to approximately 7th century AD, was excavated as part of archeological rescue projects during 2011 and 2017 in Trogir, Croatia.
Finalists received $250 awards. They include:
—Yonjoong Ryuh, a kinesiology/exercise science doctoral student from Seoul, South Korea, for "The Effect of Acute Bout of Moderate-Intensity Aerobic Exercise on Visuospatial Working Memory and Golf Putt Learning."
—Chartese D. Jones, a mathematical sciences doctoral student from Belzoni, for "Speckle Image Denoising by Non-Local Means Quarter Block." He also holds an MSU master's degree in mathematics.
—Alexis M. Jackson, a counselor education doctoral student from East Spanaway, Washington, for "Utilizing Art Therapy for Youth Experiencing Trauma."
—Cori J. Speights, a biological sciences doctoral student from Mexia, Texas, for "Leaf No Trace."
—Eric N. Munyaneza, a chemistry doctoral student from Rwanda, for "Synthesis of Thermally Stable and Bio-based Polymers."
MSU's Graduate School provides students with scholarly and professional development opportunities to develop methods of independent and systematic investigation. Learn more at www.grad.msstate.edu.
MSU is Mississippi's leading university, available online at www.msstate.edu.