Contact: Christie McNeal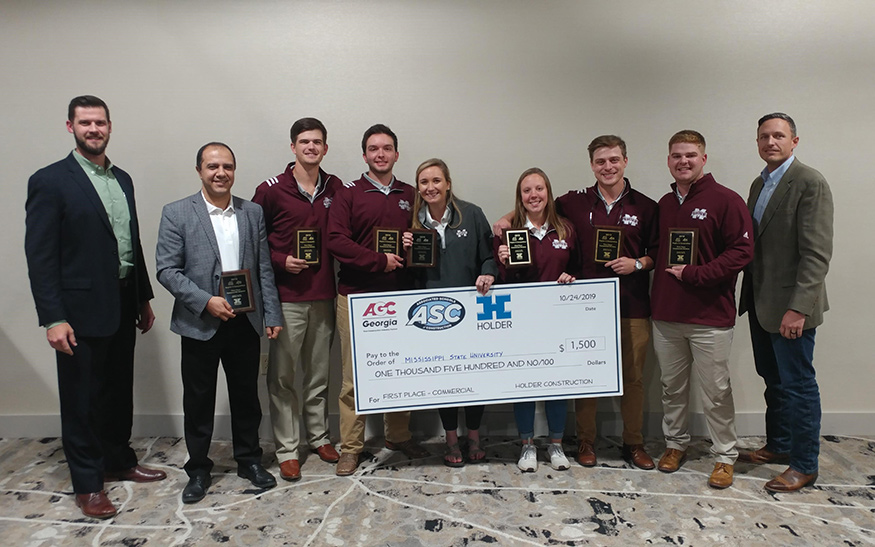 STARKVILLE, Miss.—Mississippi State building construction science and architecture students earned top awards at a recent regional competition, proving to themselves and other contending universities that their builds are among the best.
At the Associated Schools of Construction Southeast Region matchup, fifteen students, including three "shadow students," represented MSU in Peachtree City, Georgia, placing first in the Commercial Construction category and third in Design-Build. They joined students from universities such as Auburn, Clemson, Florida, and Virginia Tech to vie for top honors and gain experience.
"The competition is proving ground for construction programs and is the 'big leagues' for construction schools in the Southeast," said MSU Building Construction Science Program Director George Ford.
"I'm so proud of our students and their coach, Dr. Saeed Rokooei," Ford said. "They worked hard in the weeks before the competition. I think colleagues at many competing construction programs will take note of our studio-based programming, which is unique in this region."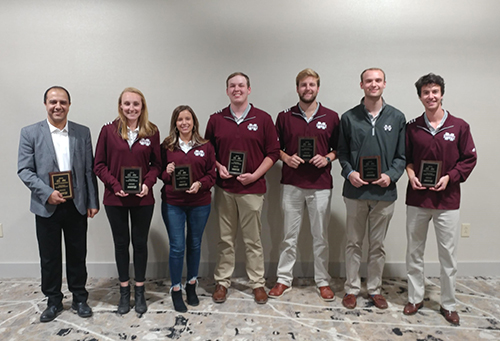 For the competition, students receive drawings and specifications for a one-day construction project and are required to submit estimates, schedules and proposals for their respective assignments. Then overnight they prepare a proposal presentation.
"The drawings and specifications are provided by the sponsoring companies' and are actual past projects," Ford explained. "Students learn how to work in a high-pressure environment, which offers little-to-no sleep or rest during the two days of the competition."
Senior BCS student Jalyn R. Wallin of Double Springs, Alabama, a three-time participant, also emphasized the competition's intensity.
"Our team overcame obstacles and worked together to create an amazing response to the challenge, and also pulled off a great presentation. I am very proud of what our team accomplished," Wallin said.
Senior Hunter E. Bullock, Design-Build team leader, has been involved with the competition since his freshman year. The BCS major said the studio-based, hands-on nature of the university's BCS program prepared his team for the competition challenges.
"The problem statements are very similar to projects that we are given in studio," he said. "The whole setup of the competition seems daunting to most people, but we are able to work diligently and get the job done just like we do in studio."
Building Construction Science students (unless specified as architecture majors) who represented Mississippi State in the competition include, by hometown:
Commercial Construction Team  
BRANDON—Junior Evan "Hunter" Henderson
BROOKHAVEN—Junior Jacob "Jake" P. Roberson
DOUBLE SPRINGS, Alabama—Senior Jalyn R. Wallin
GRENADA—Senior Kacie Lynn James, team leader
MACON—Senior Johnathan "Noah" Heflin
WEST POINT—Senior Steven "Steve" C. Dragoo
Design-Build Construction Team
BLUE SPRINGS—Senior architecture major Jeremy "Blake" Farrar 
FAYETTEVILLE, Georgia—Senior architecture major McKenzie R. Johnson
NOLENSVILLE, Tennessee—Senior Hunter E. Bullock, team leader
PLANO, Texas—Senior Robert L. Montoux
RIDGELAND—Senior Tyler A. Seal
SPRING HILL, Tennessee—Senior Victoria "Tori" A. Thompson 
Shadow Students
OCEAN SPRINGS—Junior Bo F. Allison 
GREENWOOD—Sophomore Elizabeth R. Gallagher
CUMMING, Georgia—Sophomore Micky J. Mangan
Learn more about MSU's College of Architecture, Art and Design and its Building Construction Science program at www.caad.msstate.edu/buildingconstructionscience and on Facebook, Twitter and Instagram @CAADatMSU.
 MSU is Mississippi's leading university, available online at www.msstate.edu.