Contact: Sarah Nicholas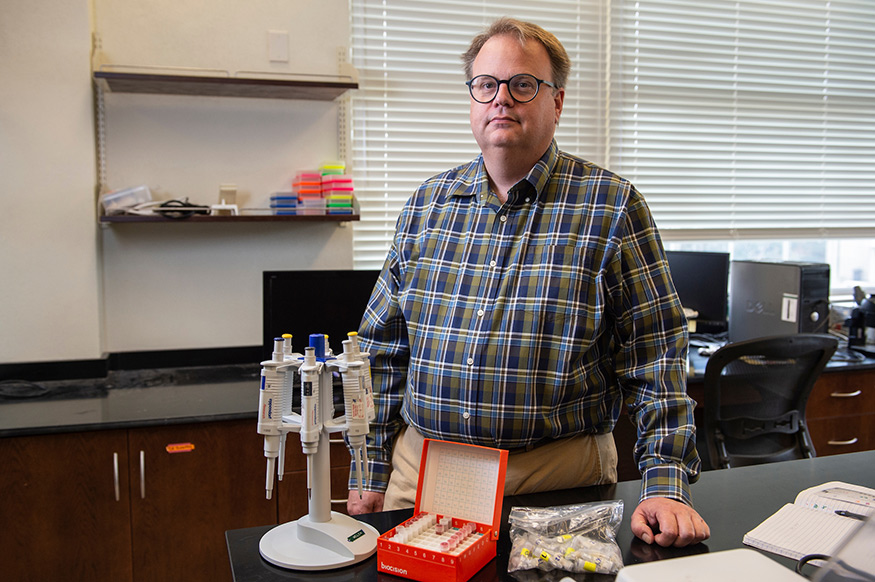 STARKVILLE, Miss.—A Mississippi State biological sciences faculty member is conducting international research that may help clarify the disease transmission threats of invasive species and lead to better management of endangered species.
An expert on the conservation genetics of iguanas, Professor Mark E. Welch is developing new international collaborations to stem the spread of mosquito-borne diseases in iguanas inhabiting the Cayman Islands. He visited Grand Cayman this fall for the Blue Iguana Species Survival Action Plan Workshop, a weeklong program to develop a long-term management strategy for the area's endemic blue iguanas.
Welch, who also works with the Cayman Islands Department of the Environment, conducts MSU research on the genetics of all iguana species present on the Cayman Islands. He has studied 10 of the 12 living species of known iguanas in the Caribbean.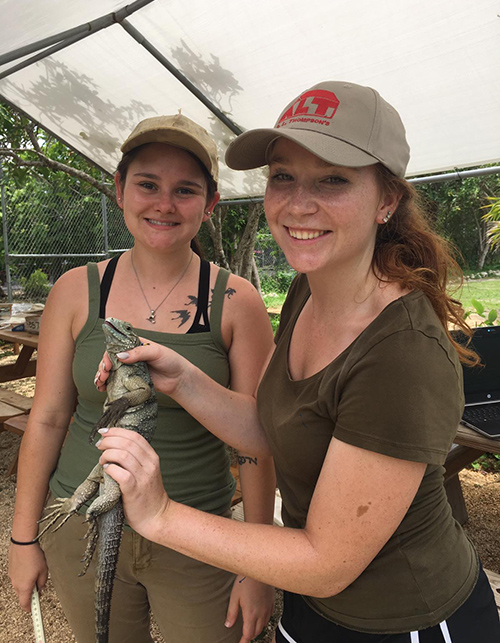 "I am very interested in the role mosquitoes might play in disease transmission," Welch said. "One of the scariest threats we have noted for the blue iguanas are sporadic outbreaks of 'Helicobacter,' the same genus of microbe that causes stomach ulcers in humans. But this strain has shown that it can cause sepsis, leading to death in blue iguanas."
Welch said that the "Helicobacter" outbreaks not only pose a conservation risk to blue iguanas, but also highlight a general conservation risk of invasive species to native species.
"If mosquitoes are feeding on both iguana species, which seems likely, then 'blues' are exposed to anything the invasive green iguanas brought with them in their bloodstream," he said. "Our mosquito research may help to clarify the threat posed by invasive species as reservoirs of novel diseases and parasites."
Angus Dawe, professor and head of MSU's biological sciences department, said this project "is a perfect example of the application of basic science research leading to a real-world impact."
"It not only raises the profile of MSU worldwide," he said, "but also provides excellent training opportunities for MSU graduate and undergraduate students."
Dawe said Welch's work offers new insight into the genetics of specific species, the application of which can enhance understanding of how to manage and maintain endangered species.
"I'm hoping to determine whether mosquitoes could be spreading pathogens and blood parasites from invasive 'greens' into the native 'blues,'" Welch said.
During the workshop, the Cayman Island Mosquito Research and Control Unit issued Welch an invitation to collaborate, an offer he calls "serendipitous" as his lab recently started investigating the role of introduced parasites and pathogens as conservation risks for endangered species.
In the Caymans, Welch met Gov. Martyn Roper and MRCU Director James McNelly to discuss proposed research plans.
"I am currently attempting to identify all vertebrate hosts fed on by mosquitoes trapped by the MRCU," Welch said. "However, identifying the species of all blood meals taken, and not just those of iguanas, does a lot for us. For starters, it will serve as a control. I think down the road, the MRCU will be interested in identifying additional opportunities for disease transmission between species."
Since 2014, Welch has studied the population biology of iguanas in the Caymans with collaborators and students. Recent MSU Ph.D. graduate Jeanette Moss of New Market, Maryland, completed her research on the Sister Isle rock iguana population on Little Cayman and received a prestigious Endeavor fellowship to study mating behavior of skinks in Tasmania. MSU graduates Giuliano Colosimo of Italy and Michael Kartje of Murphysboro, Illinois, along with current MSU senior biological science/zoology major Blaklie E. Mitchell of Rienzi and microbiology major Katelyn S. Provine of Brandon also have researched alongside Welch. Provine now is leading mosquito research with the MRCU from MSU.
Sponsored by Darwin Plus funding—a United Kingdom government grant that helps protect biodiversity and the natural environment through locally based projects worldwide—Welch's participation in the workshop is part of an ongoing project with the Cayman Department of the Environment and the Cayman National Trust, an organization seeking to preserve the history and biodiversity of the islands.
Welch received his bachelor's degree in biology and master's degree in ecology, both from the University of Tennessee. Also holding a Ph.D. in biology from Indiana University, he completed five years of postdoctoral research at Vanderbilt University, studying plant evolutionary genetics.
Welch's research explores how natural populations respond to changes in their environment and how population dynamics and size interact to influence the evolutionary potential of natural populations.
For more on MSU's College of Arts and Sciences and Department of Biological Sciences, visit www.cas.msstate.edu and www.biology.msstate.edu.
MSU is Mississippi's leading university, available online at www.msstate.edu.