Contact: Sarah Nicholas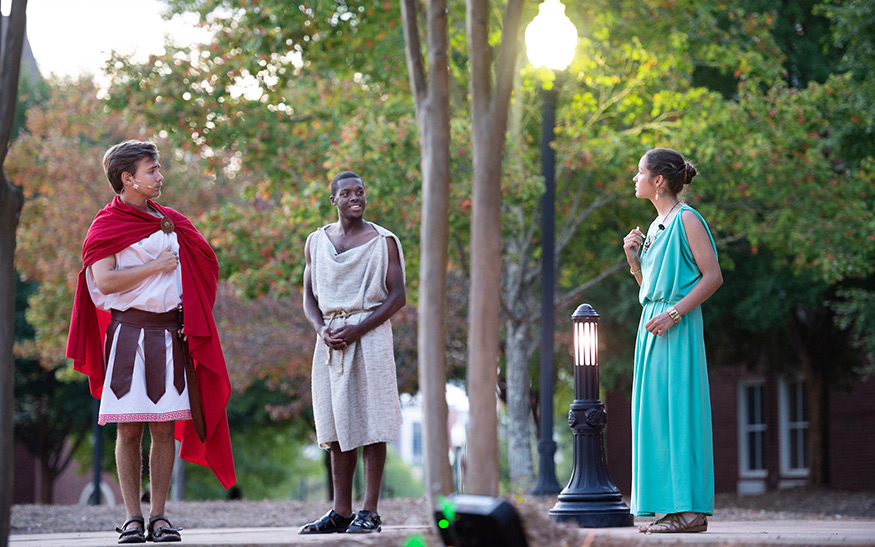 STARKVILLE, Miss.—Two Mississippi State faculty members are co-recipients of the 2019 Outreach Prize from the Society for Classical Studies, the largest professional association for classicists in the world.
Salvador Bartera, assistant professor of classics in the Department of Classical and Modern Languages and Literatures, and Donna L. Clevinger, a senior faculty fellow and professor in the Judy and Bobby Shackouls Honors College, are being recognized for exemplary efforts in promoting classical studies to new audiences. They will accept their national award at the SCS annual conference in Washington D.C. this January.
Their combined efforts from 2014-2018 in preparing and presenting MSU's Classical Week, a free outdoor event held in the fall at the Shackouls Honors College, garnered them this honor. 
Each year, Clevinger selects an ancient work to present for Classical Week, and Barterra selects the translation. This year's selection was Plautus' "The Braggart Soldier," a classical comedy by Plautus first performed in Rome in 206 B.C.
Clevinger auditions and directs the theatrical productions and Bartera serves as the script consultant. For "The Braggart Soldier," Philip Freeman of Pepperdine University assisted in script adaptations for the performers.  Prior to Bartera's partnership with Clevinger, Robert Wolverton, longtime professor of Classical and Modern Languages and Literatures, provided expertise for MSU's Classical Week.
"Although our field, and academia in general, values publications the most, our discipline dies if we are unable to reach audiences beyond our classrooms," Bartera said. "This project had a very large impact in Mississippi.  With this prize, everyone in my field knows that at MSU, we do things seriously. Classics at MSU has now received an official recognition that will last for a long time, benefitting both our program and our students."
Clevinger explained the award is an outreach prize. "We not only focus on our MSU community, but also on reaching out to secondary school programs and community groups," she said. Audiences for the production held on the Griffis Hall patio area have grown over the last five years from less than 100 to more than 400 attendees.   
Bartera said Classical Week "offers the right blend of scholarship and accessibility" that makes complex subjects more understandable and also offers the opportunity to connect classical works with today's contemporary society. 
"Much of the credit for this award goes to our students, who represent all the colleges on campus," Clevinger said. "Working with students for Classical Week has been a highlight of my career."
A native of Virginia, Clevinger served as a dean at the MSU-Meridian campus before moving to the Starkville campus in 2009. Bartera, a native of Corinaldo, Italy, joined MSU's faculty in 2014.
The Society for Classical Studies was founded as the American Philological Association in 1869 and is considered the largest principal learned society in North America for the study of ancient Greek and Roman languages, literatures and civilizations.
MSU's College of Arts and Sciences includes more than 5,300 students, 300 full-time faculty members, nine doctoral programs and 25 academic majors offered in 14 departments. Complete details about the College of Arts and Sciences may be found at www.cas.msstate.edu.
The Judy and Bobby Shackouls Honors College has more than 1,800 honors students from each of MSU's eight academic colleges. With students from across the globe, the Shackouls Honors College is a place for students to share ideas across disciplines and across cultures. For more information, visit www.honors.msstate.edu.
MSU is Mississippi's leading university, available online at www.msstate.edu.