Contact: Anna Owens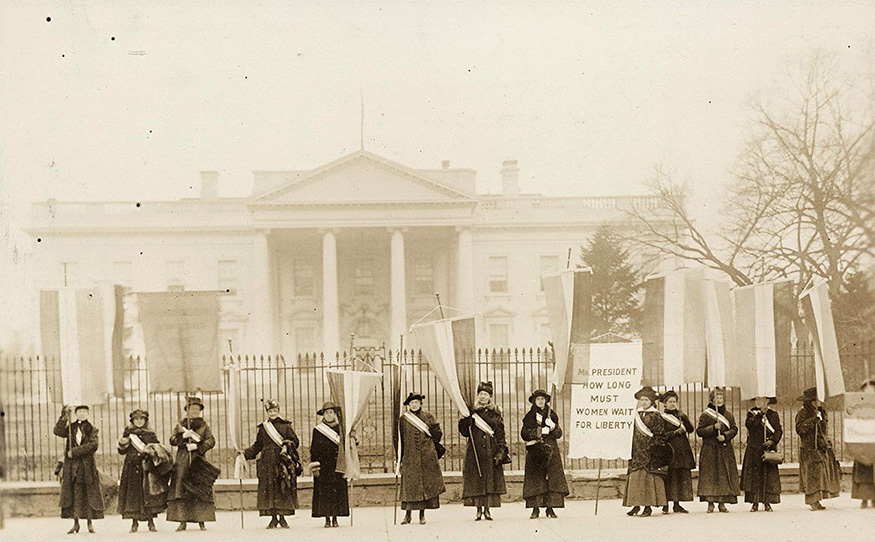 STARKVILLE, Miss.—Mississippi State is commemorating the upcoming centennial anniversary of the 19th Amendment and the women's suffrage movement with a special MSU Libraries exhibit.
On display through the fall semester, "Votes for Women! A Centennial Celebration of the Women's Suffrage Movement in America" features 11 poster-sized panels detailing the movement's history, particularly in Mississippi.  
The exhibit is housed in the Louis Burns Brock, Jay Brock, and Hank Brock Gallery on the first floor of Old Main Academic Building. Gallery hours are 7 a.m. to 11:45 p.m. Monday through Thursday, and 7 a.m. to 7:45 p.m. Friday.
Jenifer Ishee, digital archivist and coordinator of Mitchell Memorial Library's Digital Preservation and Access Unit, said she hopes the exhibit raises awareness and helps dispel common myths.
"The movement didn't suddenly start in the 20th century. Women were talking about the right to vote long before that," Ishee said, adding, "Suffragettes are an inspiration because they fought an uphill battle and wouldn't take 'no' for an answer. I hope people, particularly young women, will vote in the upcoming national election and recognize that suffragettes risked their lives so they could have that right."
Ishee also curated the exhibit. Her research on Alma Dorsey Birdsall, a prominent Yazoo City suffragette and vice president of the Mississippi Woman Suffrage Association, sparked her interest in the project.
The 1848 Seneca Falls Convention in upstate New York was a catalyst for the women's suffrage movement. Abolitionists and reformers such as Elizabeth Cady Stanton demanded legislation that would grant women equal rights.
The suffrage movement split into two main groups at the beginning of the 20th century. The National American Woman Suffrage Association, or NAWSA, proposed suffrage on a state-by-state basis. Conversely, the National Woman's Party proposed a federal amendment and utilized militant tactics such as picketing and civil disobedience. The NWP also proposed the 1923 Equal Rights Amendment, legislation that would guarantee all Americans equal protection under the law.
While radical tactics were uncommon in Mississippi, many women voiced their opinions by writing to newspapers across the state and often had male support, Ishee said.
Ratified in 1920, the 19th Amendment granted all Americans, regardless of sex, the right to vote. Mississippi was the last state to officially ratify the legislation in 1984.
The 19th Amendment's centennial anniversary will take place Aug. 18, 2020. In addition to showcasing the campus exhibit in Old Main this semester, MSU Libraries plans to display "Votes for Women!" at Mitchell Memorial Library closer to the 2020 commemoration.
For more information, contact Ishee at 662-325-8548 or jhoffman@library.msstate.edu. For more on MSU Libraries, including exhibits, museums and other special collections, visit www.lib.msstate.edu/museums.
MSU is Mississippi's leading university, available online at www.msstate.edu.