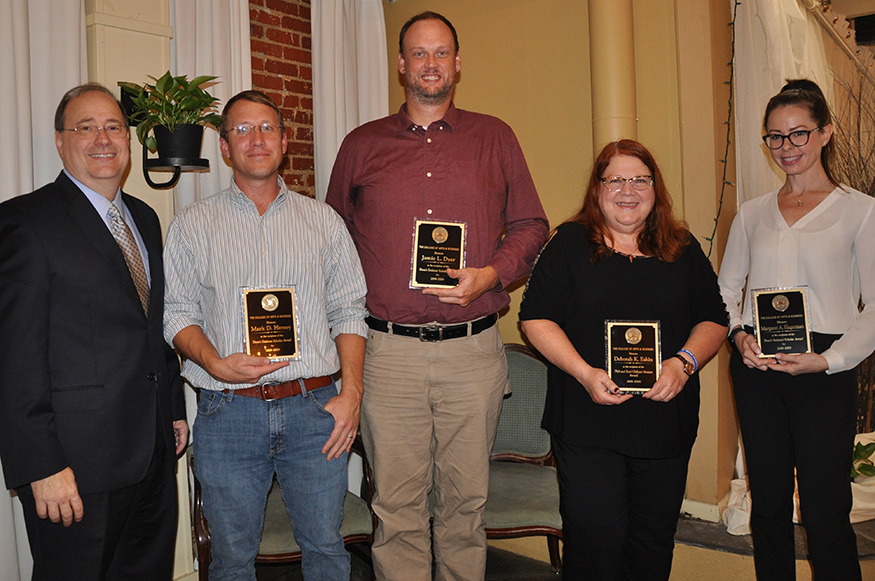 Contact: Sarah Nicholas
STARKVILLE, Miss.—Mississippi State's College of Arts and Sciences recently presented four Dean's Eminent Scholar awards to "exceptionally meritorious faculty who have achieved national recognition and enhanced the quality and stature of academic programs." 
During last month's CAS fall faculty meeting at Hotel Chester in Starkville, Dean Rick Travis recognized each 2019 winner with a plaque.
Margaret A. Hagerman, assistant professor of sociology, won the Gary Meyers/Clinton E. Wallace Dean's Distinguished Professor Award. Sociology department head Nicole Rader said Hagerman represents attributes that the award seeks to honor—scholarly aptitude, as well as unique, high impact, and original contributions to the field. "Dr. Hagerman is not here to be the same as everyone else or to only publish what is needed—she is here to make a difference on a topic that really matters and to do so in a way that is unique and original," Rader said. "She makes her work applicable to all people, not just scholars in the field."
Jamie L. Dyer, professor of geosciences, won the Sanderson/Henry Family Dean's Distinguished Professor Award. Geosciences department head John Rodgers said increasing amount of external funding and number of scholarly publications indicates the success of Dyer's research. "He is able to apply his knowledge of advanced math, computer programming, and artificial intelligence to improving our understanding of continental-scale weather and hydrologic processes," Rodgers said, noting Dyer is one of the "smartest and most talented" people he knows and "is most deserving of the Dean's Eminent Scholar Award."
Mark D. Hersey, associate professor of history, won the Beverly B. and Gordon W. Gulmon Dean's Distinguished Professor Award. History department head Alan Marcus said Hersey's selection as a Dean's Eminent Scholar "echoes the reputation he has gained" in the profession. "As a speaker, he has been in great demand and has delivered addresses at Harvard and Purdue, among other places, and served as a distinguished visitor at Auburn during the 2017 academic year. This year alone, he has been invited to talk in Brazil, China and Paris," Marcus said. Additionally, the Forest History Society and the American Society of Environmental History selected Hersey to co-edit their journal, Environmental History, for a five-year term.
Deborah K. Eakin, associate professor of psychology, won the Phil and Kari Oldham Faculty Mentor Award. Psychology department head Mitchell Berman said Eakin is "a wonderful mentor" to graduate and undergraduate students. "She provides wise counsel that has had a sustained and meaningful influence on these students' lives," Berman said. "As the founding coordinator for students in our distance education undergraduate B.S. degree, she now brings these skills to a new cadre of students across the United States."
For more on MSU's College of Arts and Sciences, visit www.cas.msstate.edu.
MSU is Mississippi's leading university, available online at www.msstate.edu.