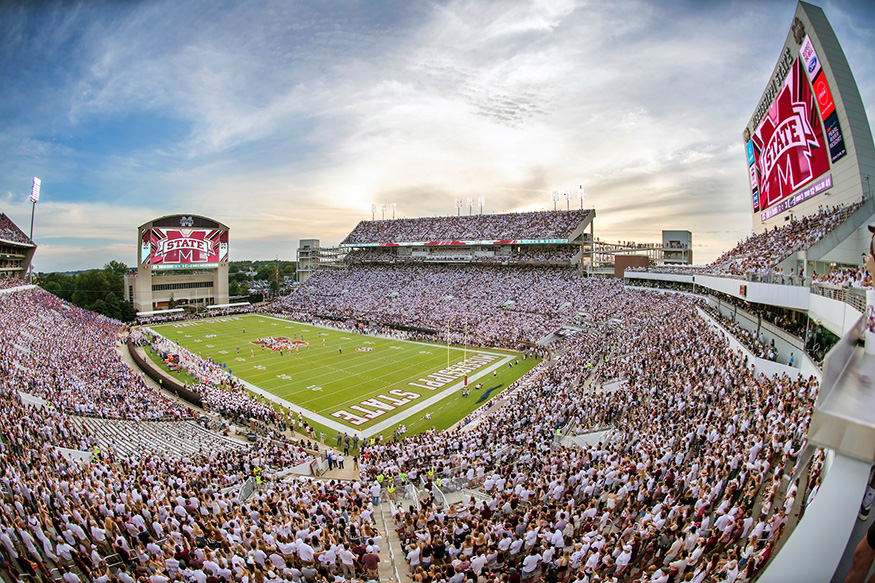 Contact: James Carskadon
STARKVILLE, Miss.—Mississippi State University is once again receiving a top national honor for its playing surface at Davis Wade Stadium.
The Sports Turf Managers Association named Scott Field at Davis Wade Stadium the top college football turf in the country for 2019. This year marks the third time MSU has earned the distinction. The awards are chosen by a panel of judges that score entries based on playability, appearance of surfaces, utilization of innovative solutions, effective use of budget and implementation of a comprehensive agronomic program.
The Davis Wade Stadium turf, along with the playing surfaces at MSU's other outdoor athletics facilities, is overseen by Sports Turf Superintendent Brandon Hardin, a 2006 graduate of MSU's nationally recognized sports turf management program. His team includes two assistant superintendents, two sports turf specialists and five students.
"Winning field of the year is a testament to the talent and hard work of our team to provide the very best playing surfaces for our student-athletes," Hardin said. "Every day, my team comes out with a focused determination to make our grounds reach professional levels that are both safe and beautiful. This award speaks volumes to those efforts, and I am tremendously grateful to STMA for this recognition."
Hardin and his team are responsible for ensuring the Davis Wade Stadium grass performs well for the athletes and is aesthetically pleasing for the thousands of fans in attendance and the millions of people watching MSU home games on television. This year, the sports turf crew prepared the field for three consecutive weeks of home games in September. The crew is currently in the midst of keeping the field up to its usual high standards for a three-game homestand to close the regular season.
MSU's grass athletic fields are Bermuda-based surfaces, with rye grass over-seeded in the fall. The over-seeding keeps fields green during cold weather when the Bermuda grass is dormant, generating significant cost savings when compared to re-sodding the surface every year. Scott Field is mowed every day during the summer and approximately three times per week during the fall.
Sports turf is part of MSU's campus services division, which is responsible for maintaining all campus landscaping, among other duties. The division also has received national honors for campus grounds maintenance.
"Brandon and his staff have always done a phenomenal job on all of the fields and continue to outperform crews from around the country with their hard work and dedication to MSU and the surfaces they maintain," said Bart Prather, associate director for campus landscape. "The Sports Turf division of Campus Landscape continues to be a shining star and sets the bar for all others around the country."
MSU will be presented with the award at the Sports Turf Managers Association's annual conference in January 2020. STMA advances professionalism in sports field management and safety through education, awareness programs and industry development. For more, visit www.stma.org.
MSU is Mississippi's leading university, available online at www.msstate.edu.