Contact: Harriet Laird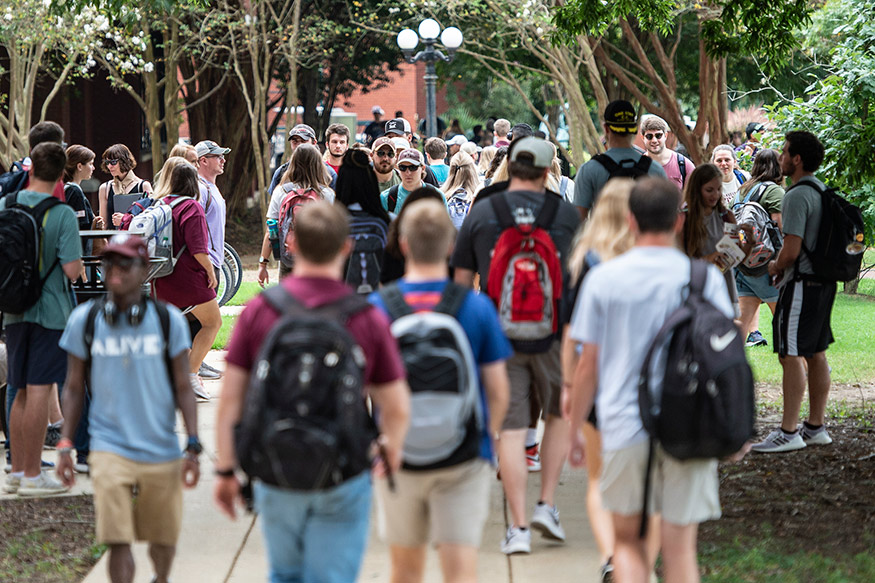 STARKVILLE, Miss.—Mississippi State is defying the trend of declining student numbers at universities and colleges across the state and nation with its fifth consecutive year of enrollment growth.
Official Nov. 1 class enrollment for the state's leading research university and land-grant institution stands at 22,226, an increase of 252 students over same time in the fall of 2018.
"Continuing to increase overall student enrollment truly signifies that students and their families recognize the world-class education and research experiences at Mississippi State—and the best news is that they're undoubtedly eager to be a part of it," said MSU President Mark E. Keenum.
Mississippi State remains the No. 1 college choice for Mississippi's high school graduates with 14,218 Mississippi residents enrolled or 64 percent of the overall student body.
While Keenum praised the university's enhanced recruitment efforts and enrollment processes for the steady growth, he specifically pointed to student-centric improvements such as first-year experience classes, student-to-student mentoring and supplemental instruction through the Office of Student Success and Learning Center. He also said MSU is taking a more focused approach in aiding special populations through such efforts as the Thrive, Promise and Access programs.
"It's important to remember that it's about more than numbers, it's about student outcomes. Student success is at the center of everything we do, and it is our mission to ensure that all students receive the support they need to earn a degree from Mississippi State University," said Keenum, who also mentioned the excellent work being done by student affairs, diversity and inclusion programs and MSU's more than 4,500 faculty and staff members.
The boost in fall numbers includes:
—highest average freshman ACT score in history (26.1)
—record Shackouls Honors College first-time freshmen (736 up from 632)
—record distance education enrollment (1,861 up from 1,818)
—record Engineering on the Coast program enrollment (107 up from 105)
—increased Meridian Campus enrollment (654 up from 584)
Added to MSU's curriculum three years ago, the Engineering on the Coast program is enrolling more students each year to earn an electrical or mechanical engineering degree. Earlier this fall, industrial engineering was announced as a third degree among these offerings, which are in partnership with Mississippi Gulf Coast Community College.
The university also is implementing a Bachelor of Applied Science program. The BAS degree will maximize transfer of technical credit from Mississippi community colleges by allowing up to 45 credits for technical and military training to be applied toward a bachelor's degree. The BAS will be offered in both face-to-face and online formats making it more accessible to working adults.
As a National Science Foundation Top 100 research university, MSU continues to broaden its scope of creative discovery through the nearly $241 million in expenditures in FY 2017 which account for more than half of the state's total of $477 million. The Carnegie Foundation classifies MSU as an R1-Very High Research Activity doctoral university, with Mississippi State recently installing the fourth fastest academic supercomputer in the U.S. Listed for four consecutive years as a "Great College to Work For" by The Chronicle of Higher Education and ModernThink, the university welcomed a record 108 new full-time faculty this fall.
With a growing student body also comes a need for more housing. In August, the $67 million College View university housing apartments opened to provide 656 residential beds. Four new academic buildings are planned or under construction, including the $34 million Rula Civil and Environmental Engineering Complex, $17 million Music Building, $16.5 million Animal and Dairy Science Building, and $12.5 million Poultry Science Building. Also opening will be 725 new parking spaces with the addition of a $16 million parking garage and $1.2 million lot at Critz Hall. MSU also is partnering with the Starkville-Oktibbeha School District on a $30 million sixth and seventh grade Partnership School that will be a training ground for university students in education fields.
College-specific enrollments this fall are:
—2,559 in Agriculture and Life Sciences
—754 in Architecture, Art and Design
—5,269 in Arts and Sciences
—3,234 in Business
—3,438 in Education
—4,900 in Engineering
—619 in Forest Resources
—489 in Veterinary Medicine
MSU is Mississippi's leading university, available online at www.msstate.edu.