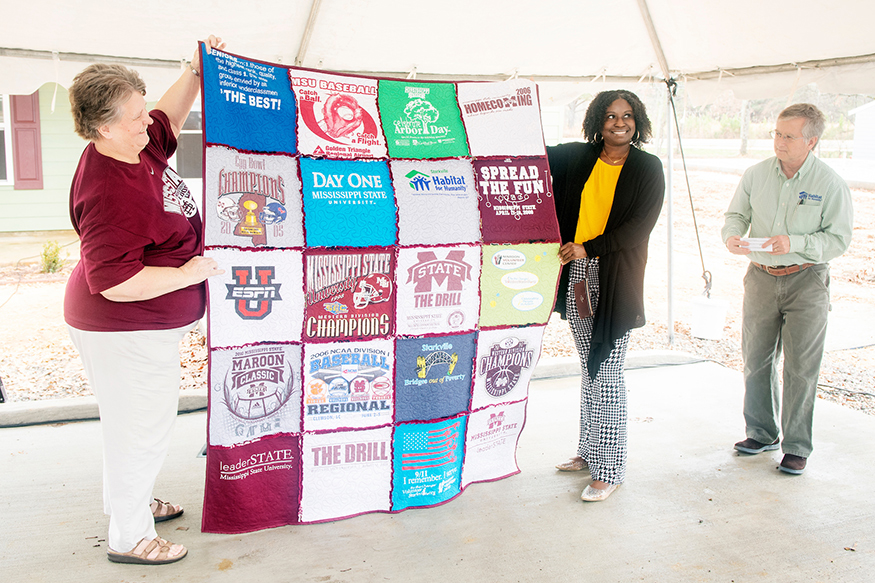 Contact: Sasha Steinberg
STARKVILLE, Miss.—If home is where the heart is, Keyana Triplett has one happy heart this holiday season.
Thanks to the efforts of Mississippi State University and Starkville Area Habitat for Humanity, the Starkville resident and three of her children now can move into a home of their own just in time for Christmas.
Built by volunteers this fall, the Azalea Lane residence is the 11th home that MSU and Habitat have completed together as part of the university's Maroon Edition program. It was formally dedicated during a Monday [Dec. 16] ceremony featuring remarks from Triplett, as well as MSU, Habitat and Starkville leaders.
"There's a heart and soul in the City of Starkville, Oktibbeha County and at MSU," said MSU Provost and Executive Vice President David Shaw. "I'm so proud of the hundreds of MSU faculty, staff and students for their spirit of love and dedication to this construction project over the past several months."
"It's a privilege to make this new home possible for Keyana and her family. This and other Habitat Maroon Edition homes stand out as shining beacons of love that we have here in the community and as a part of the Mississippi State family," added Shaw, who also presented Triplett a family Bible on behalf of the university and MSU President Mark E. Keenum.
Triplett also received a homeowner welcome basket and tool set from Vice-Mayor Roy A. Perkins on behalf of the City of Starkville and Mayor Lynn Spruill.
Jeremy Baham, MSU assistant vice president of student affairs, and Stephen Williams, interim director of MSU's Maroon Volunteer Center and the Office of Student Leadership and Community Engagement, also thanked Starkville Area Habitat for Humanity, MSU, community leaders and volunteers for their role in this "life-changing moment" for Triplett's family.
"We value our partnership with Starkville Area Habitat for Humanity, and this home is a wonderful example of how the university and community can work together to change lives," Baham said. "Especially during this season of giving, this home is a great representation of what everybody giving a little bit can do for people in our community."
Triplett, a Louisville native, also received a quilt made by Starkville resident Dot Livingston who used T-shirts donated by Habitat volunteers.
"I thank God, Habitat for Humanity, volunteers, MSU, and my family and friends. My family is very grateful for everything that they have done for us. I thank everybody," she said.
Joel Downey, Starkville Area Habitat for Humanity executive director, offered words of thanks to volunteers and a warm "welcome home" to Triplett's family.
"Twice a year, we pull off a miracle because of volunteers who put in the sweat and work in the cold," he said. "I genuinely thank all of them for what they do in making homes for people like Keyana possible."
MSU is Mississippi's leading university, available online at www.msstate.edu.