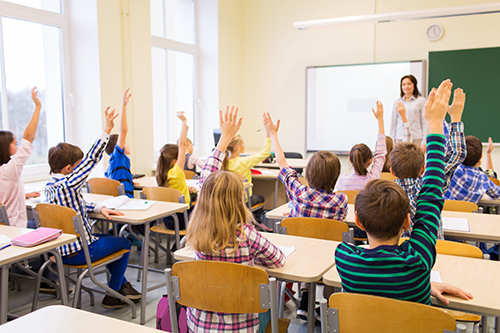 Contact: Harriet Laird
STARKVILLE, Miss.—Mississippi State is listed as a U.S. "2019 Top 50 Alma Mater" for education graduates earning the distinction of National Board Certified Teacher.
Making the announcement this month, the National Board for Professional Teaching Standards ranks Mississippi State No. 14 for total number of NBCTs. Currently, 914 NBCTs are MSU graduates.
With its World Class Teaching Program, MSU is among five of the state's Institutions of Higher Learning training teachers in pursuit of National Board Certification. Other universities offering certification preparation are Delta State and Jackson State universities, the University of Mississippi and the University of Southern Mississippi. USM and UM also are listed as a "Top 50 Alma Mater" for education graduates.
"The College of Education at Mississippi State is extremely proud of this ranking and the work being done by our World Class Teaching Program. Nothing is more critical to the future of our state and nation than the quality of teachers within classrooms," said Richard Blackbourn, college dean.
WCTP Program Coordinator Michelle Stubbs agreed. "This program is designed to mentor teachers through the certification process, so they can be 'teacher leaders' in the state's classrooms, schools and districts. The National Board Certification process allows teachers to self-reflect and then improve their classroom teaching practices, demonstrate their dedication to their students, and ignite a desire to continue to grow in their profession," she said.
Two main components of the WCTP are a summer workshop focusing on particular standards for each candidate's specific certificate area, and one-on-one mentoring throughout the school year.
Also preparing teachers to become national board certified is the state's only Master of Science in Educational Leadership with a concentration in Teacher Leadership. The College of Education's 15-month, 30-hour curriculum is designed to accommodate the lives and schedules of full-time educators. Courses such as educating diverse learners, leadership for positive school culture, and using data for school improvement are offered.
Eric Moyen, Educational Leadership department head, said this curriculum "has been designed around the core competencies required for National Board Certification, so as teachers complete their master's degree they are also preparing to become nationally certified."
"This program benefits students in our school systems, and the certification also benefits teachers with a substantial pay increase, helping keep our best teachers in the classroom," he said.
Those becoming NBCTs and staying in Mississippi earn an extra $6,000 stipend per year for five years after gaining certification. Various districts in the state also add to this amount or even match it.
In Mississippi, a 2017 MSU study shows that kindergarten and third-grade students, with a National Board Certified Teacher in reading, perform at a significantly higher level on literacy assessments than peers on average. Kindergartners are 31% more likely to achieve a proficient score on the Kindergarten Readiness Assessment than other students, and third-grade students are 11% more likely to achieve a proficient score on the MAP Test in English Language Arts.
The WCTP and the concentration in Teacher Leadership at MSU are both offered on the Starkville campus and at MSU-Meridian.
For more information on the WCTP, contact Michelle Stubbs at mls30@msstate.edu or 662-325-3721. For the Teacher Leadership concentration in the Department of Educational Leadership, contact Leigh Ann McMullan at lmcmullan@colled.msstate.edu or 662-325-7110.
Established in 1903, MSU's College of Education is home to six academic departments, one research unit and numerous service units. For more about the college, visit www.educ.msstate.edu.
MSU is Mississippi's leading university, available online at www.msstate.edu.