Contact: James Carskadon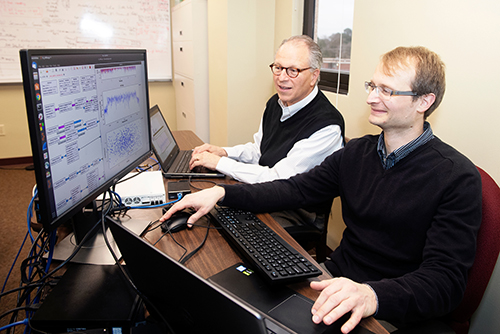 STARKVILLE, Miss.—Industry and researchers soon will be able to test 5G and other advanced wireless technologies at Mississippi State University.
MSU is receiving $1 million in National Science Foundation funding and $2 million in equipment donations to build an advanced wireless testbed as part of the Aerial Experimentation Research Platform for Advanced Wireless, or AERPAW, an NSF and industry-sponsored project focused on integrating unmanned aerial vehicles, or drones, into 5G networks to increase connectivity.
AERPAW is a $24 million, five-year project led by North Carolina State University. It is part of Platforms for Advanced Wireless Research (PAWR), an NSF and industry consortium investment to ensure the U.S. takes a leadership role in 5G and accelerates the development of promising technologies.
Mississippi State researchers will develop software and integrate it with hardware to facilitate advanced wireless research and testing with software radios and emerging radio technologies and systems. The design and implementation will be made openly available and integrated into AERPAW. MSU's principal investigators on the project are Vuk Marojevic, associate professor of electrical and computer engineering, and Robert Moorhead, director of the Northern Gulf Institute, both faculty members in MSU's Bagley College of Engineering.
Marojevic explained that with the increased speed and connectivity of 5G wireless networks, there is increased potential for drones to effectively communicate with networks in real time while flying, which can provide significant benefits in areas such as disaster response and precision agriculture.
"Our testbed will use LTE technology, 5G and whatever comes after that," Marojevic said. "We plan to be on the cutting edge of wireless technology over the years and hope to engage stakeholders in Mississippi communities, local and global industry and researchers."
The wireless test site at MSU will focus on wireless security, but Marojevic said he anticipates it being used to test and evaluate a wide variety of emerging research that has not been tested experimentally.
"There's a lot of great research going on, but much of it is not evaluated and tested experimentally," Marojevic said. "We want to offer these researchers the chance to test their technology in a real environment and fine-tune their models."
The test site, planned to be built in MSU's Thad Cochran Research, Technology and Economic Development Park, will complement MSU's ongoing research in unmanned aerial systems, which includes leadership of the FAA ASSURE Center of Excellence for UAS and several initiatives led by the university's Raspet Flight Research Laboratory.
In addition to NC State and MSU, partners on the AERPAW project include the Wireless Research Center, the Renaissance Computing Institute at the University of North Carolina, Purdue University and the University of South Carolina. For more, visit www.aerpaw.org.
MSU is Mississippi's leading university, available online at www.msstate.edu.