Contact: Reagan Poston
STARKVILLE, Miss.—Mississippi State's College of Forest Resources recently recognized outstanding achievements of faculty and staff during an annual awards ceremony.
George Hopper, dean of the College of Forest Resources and director of the Forest and Wildlife Research Center, praised this year's honorees for their commitment to advancing natural resource utilization and conservation, and further positioning MSU as a national leader in the field.
"Our College of Forest Resources and the Forest and Wildlife Research Center faculty are excellent teachers and mentors to our students, among the most productive researchers in the nation, and transfer this knowledge to landowners and professionals. Our faculty are considered national and international experts in their respective fields, and I am honored to recognize these individuals," Hopper said.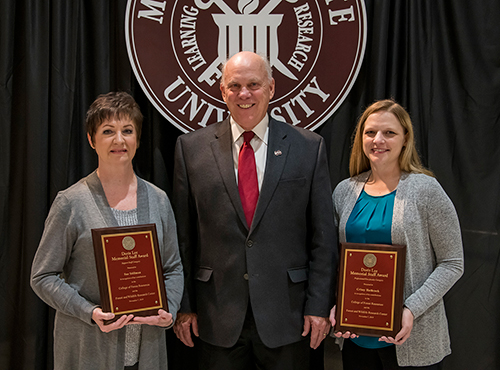 He also pointed out that faculty efforts and accomplishments have contributed to the college's tremendous growth.
"Enrollment in the college has increased 57 percent in the last decade, and in the last eight years, extramural funding has increased 112 percent," Hopper said.
This year's honorees include:
—Garrett Street, assistant professor in the Department of Wildlife, Fisheries and Aquaculture, CFR Teaching Award. In addition to this award, Street is a recipient of this year's MSU Office of Research and Economic Development Faculty Research Award and Mississippi Agricultural and Forestry Experiment Station Grantsmanship Award. Street inspires the researchers of tomorrow as an undergraduate student mentor for the university's Shackouls Honors College. Students note that his approach to teaching essential technical classes, such as biometrics, makes the coursework enjoyable and palatable, inspiring some to investigate the subject matter further.
—Beth Baker, assistant extension professor in the Department of Wildlife, Fisheries and Aquaculture, CFR Extension and Outreach Award. Baker effectively communicates research findings, especially in the area of water quality, to a network of local farms. She directs the university's Research and Education to Advance Conservation and Habitat program. The REACH program prioritizes sustainability within agriculture without sacrificing profitability. To date, the program has impacted a combined total of 126,500 acres of agricultural lands, forests, wetlands and prairie.
—Courtney Siegert, associate professor in the Department of Forestry, FWRC Research Award. Siegert excels as a rigorous researcher, garnering nearly $1 million in extramural grants and fellowships this year alone. She has published 14 peer-reviewed articles and one book chapter. She also manages a dynamic forest hydrology and soils laboratory while teaching across two majors, including forestry and natural resource and environmental conservation.
—Stephen C. Grado, professor in the Department of Forestry, CFR Service Award. Among other impactful roles, Grado has been the undergraduate coordinator in forestry for more than 15 years and is an active member within several MSU committees. Grado consistently serves as an informal mentor with an open-door policy for students and faculty alike.
—Kristine Evans, assistant professor in the Department of Wildlife, Fisheries and Aquaculture, CFR Early Career Achievement Award. In the last five years, Evans has published 17 book chapters and 15 refereed journal articles, given over 75 presentations, and is actively engaged in 11 research projects. She also has garnered over $16.7 million in extramural grants and contracts, all while playing an integral role in establishing the Conservation Biology concentration within the wildlife, fisheries and aquaculture major.
—Crissy Hathcock, assistant director of financial services for CFR and FWRC, Doris Lee Memorial Outstanding Professional Staff Award. Hathcock has been a part of MSU's professional staff for more than 10 years, providing exceptional knowledge and service, and helping daily to direct the fiscal sustainability of these academic and research units.
—Sue Stillman, administrative assistant in the Department of Sustainable Bioproducts, Doris Lee Memorial Outstanding Support Staff Award. Stillman has been with MSU for 10 years, displaying a wide breadth of professional capacity. Most recently, through her administrative and accounting support within the department, she has helped with the implementation of cost-saving measures in the maintenance of the department's 10-acre, 90,000 square-foot complex.
To learn more about the impact and offerings of CFR, visit www.cfr.msstate.edu. FWRC is online at www.fwrc.msstate.edu.
MSU is Mississippi's leading university, available online at www.msstate.edu.