Contact: Reagan Poston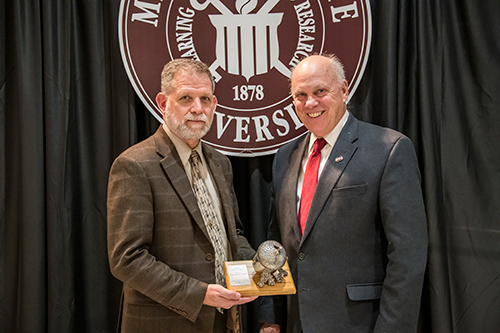 STARKVILLE, Miss.—The College of Forest Resources at Mississippi State University is honoring a wildlife, fisheries and aquaculture faculty member with the esteemed Sharp Professorship.
"We congratulate Dr. Kevin Hunt on this great honor," said George Hopper, dean of the College of Forest Resources and director of the Forest and Wildlife Research Center. "For nearly 20 years, Dr. Hunt's research in human dimensions as it pertains to wildlife has helped answer critical questions for stakeholders invested in protecting our nation's wildlife resources."
Hunt's career has focused on the study of human dimensions—specifically how humans interact with wildlife. 
"A big part of resource management is actually people management," Hunt said.
Established by Jack, Mollie and Kate Sharp of Tishomingo County, the Sharp Professorship is funded through the Sharp Forest, a 1,600-acre timber tract, which is part of the Bulldog Forest, a field-based learning resource for forestry students that also generates income from timber harvesting for the CFR. The professorship is awarded to a College of Forest Resources professor who embodies Mississippi State's land-grant mission of research, teaching and service.
Hunt said he was surprised by the honor.
"I know how much my colleagues contribute to the university, so I feel very gratified and honored to be representing human dimensions in this way," Hunt said.
In 2001, Hunt and a handful of colleagues created MSU's Human Dimensions and Conservation Law Enforcement Laboratory, which helps scholars delve into the sociological, psychological, geographical, anthropological, political and economic factors that impact wildlife.
"We, as humans, interact with wildlife in many ways including consumptive activities of fishing, hunting and trapping, and non-consumptive activities like wildlife watching, birding and providing habitats for wildlife such as pollinators. I study all of these interactions from a social and economic standpoint so resource management practices can be a step closer to addressing stakeholder needs in all of these areas without compromising wildlife needs," Hunt said.
His research through MSU's Forest and Wildlife Research Center serves as a bridge between wildlife managers and the general public. Wildlife biologists and management agencies rely on Hunt and other specialists to administer, compile and communicate countless survey data.   
"Surveys are an important part of the process. A lot of times, agencies may hear only from a few 'squeaky wheels' in terms of public opinion on various wildlife management issues. Surveys allow agencies to gather input from the silent majority and provide them with information from their stakeholders that are more representative of the public as a whole," Hunt said. "This enables them to make more informed management decisions that are more palatable to the public and create less friction between agencies and their stakeholders."
Hunt strives to instill a love for human dimensions in his students and advises the MSU Wildlife Law Enforcement Club. He previously served 15 years as adviser for Minorities in Agriculture, Natural Resources and Related Sciences, or MANRRS, and he is graduate coordinator for the Department of Wildlife, Fisheries and Aquaculture. Hunt also is active in several professional organizations, previously serving as president of the Mississippi Chapter of the American Fisheries Society.
"The most rewarding part is when I get to sit down with the stack of theses and dissertations for the semester. I love getting to read and experience the breadth of wildlife research happening in our department and stay in the loop about things that are going on outside of the Human Dimensions Lab," Hunt said.  
To learn more about the College of Forest Resources and the Forest and Wildlife Research Center, visit www.cfr.msstate.edu and www.fwrc.msstate.edu.
MSU is Mississippi's leading university, available online at www.msstate.edu.