Contact: Sarah Nicholas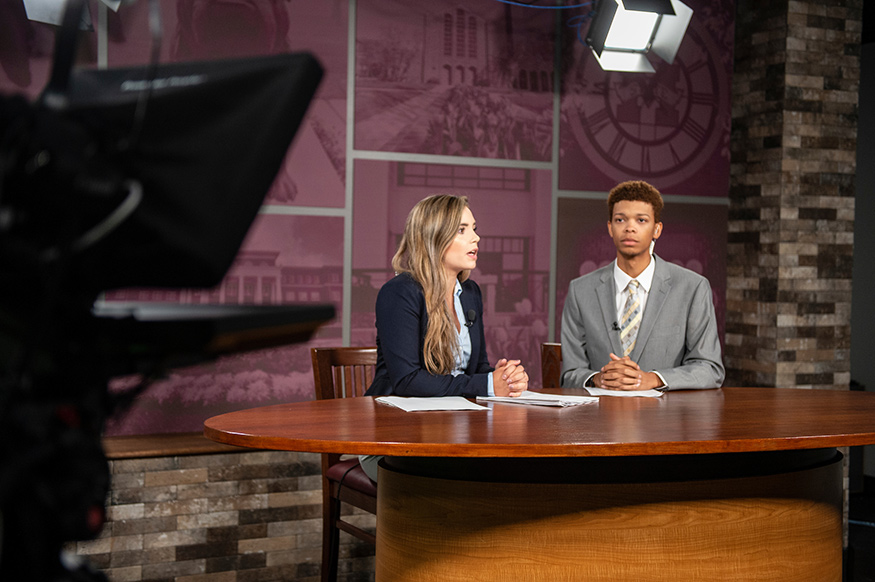 STARKVILLE, Miss.—"Take 30 News," Mississippi State's award-winning, student-produced television newscast, is now broadcasting from a new state-of-the-art studio, and the while expanding its reach with news, weather and sports regularly broadcast on two local stations.
MSU communication majors are creating and producing these news broadcasts at the fully operational television studio and adjacent control room in Mitchell Memorial Library's MaxxSouth Digital Media Center. The new space is the result of six months of extensive renovation funded by MaxxSouth Broadband, MSU's Office of the Provost and Executive Vice President, the College of Arts and Sciences, Department of Communication and MSU Libraries.
In addition to 4 p.m. Wednesday live broadcasts on MSTV, "Take 30 News" can be seen on WCBI-TV's "My Mississippi" channel 4.2, as well as Starkville's WOBV-TV channel 5.
The news broadcasts are replayed on MSTV on Fridays at 12:30 and 7:30 p.m., and again on Mondays and Tuesdays at 12:30 p.m. Replays on WCBI-TV's "My Mississippi" are shown on Saturdays at 11 a.m. and on WOBV-TV on Thursdays at 2 p.m., Fridays at 2:30 p.m., and Saturdays at 12:30 p.m.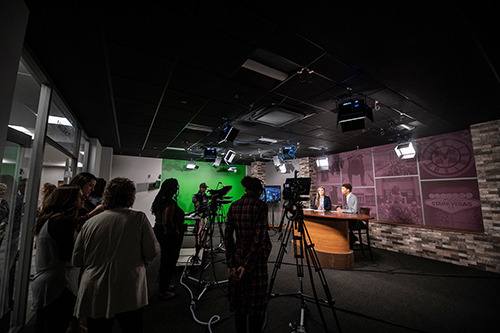 "'Take 30' students are doing the types of stories that news and sports reporters in local TV stations across the country do—stories that impact people in the viewing area, such as crime, weather or community events," said Communication Instructor Jason Hibbs.
Among those benefitting from the innovative studio's capabilities are 12 seniors with a broadcasting concentration who are enrolled in the communication department's Practicum in TV News capstone course.
Hibbs provides editing and broadcast delivery tips while teaching students how to format stories for broadcast, conduct interviews, write scripts, investigate newsworthiness and prepare for video shoots.
Richard A. Hill of Starkville said lessons learned from Hibbs' course and from experience as a "Take 30 News" anchor have broadened his understanding of deadlines and other demands of producing a live TV show.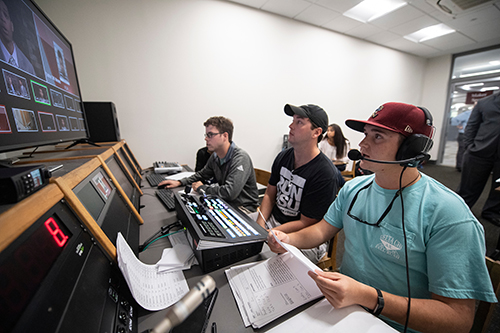 "Getting to produce and create our own news stories from start to finish has truly prepared me for a career in broadcasting because I am getting valuable hands-on experience and not just learning how to do it from reading a book," Hill said. "It's also really cool to see this student-led broadcast airing on two local stations."
Stephen Cunetto, associate dean of MSU Libraries, said the addition of the TV studio provides a wonderful opportunity for the library to expand services to support teaching and learning.
"Our goal is to provide a wide variety of technologies that students from all disciplines can utilize and experiment with as part of their academic careers. We will open this space to other departments and student groups, and we anticipate them developing programs, producing videos for classes or personal projects, and interviewing guest lecturers," Cunetto said. "We are looking forward to exploring other uses with students and faculty as they expand their digital media skills, which are vital to the 21st-century scholar."
Recent "Take 30 News" broadcasts are archived online at http://comm.msstate.edu/students/videos.
For more information or to provide news tips or ideas, contact Hibbs at 662-325-0892 or jhibbs@comm.msstate.edu.
Learn more about MSU's College of Arts and Sciences and the Department of Communication at www.cas.msstate.edu or www.comm.msstate.edu. Mitchell Memorial Library is online at www.lib.msstate.edu.
 MSU is Mississippi's leading university, available online at www.msstate.edu.