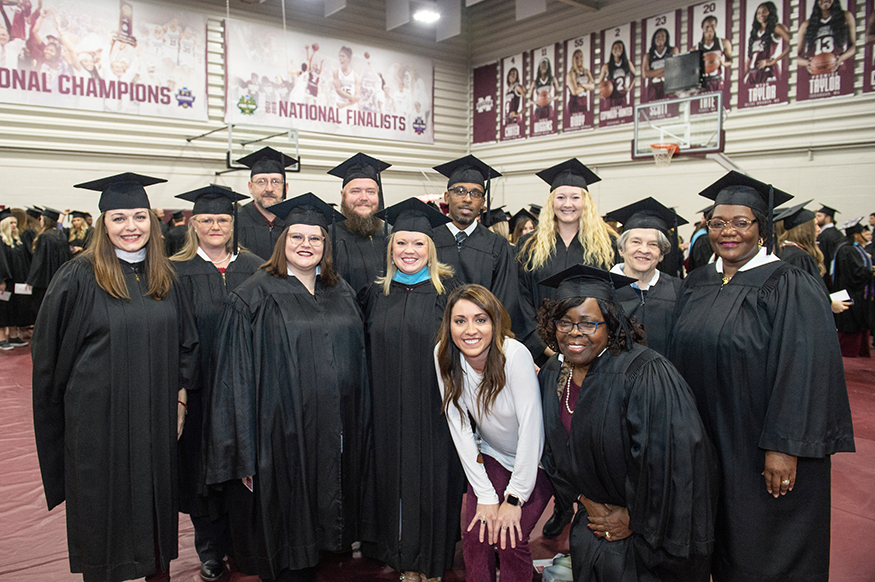 Contact: Sasha Steinberg
STARKVILLE, Miss.—Gracing the commencement stage this week at Mississippi State's Humphrey Coliseum, Brookhaven resident Stephanie Bullock said the phrase "walking the walk" rings true in more ways than one.
For the past two years, the Mississippi Institutions of Higher Learning project coordinator has overseen the state's Complete 2 Compete program, which has helped more than 200 adults age 21 and older earn a degree from Mississippi State after at least 24 consecutive months out of college.
On Friday [Dec. 13], Bullock joins nearly 1,500 graduates—including 31 C2C program students—receiving a diploma from the state's leading university. She said the journey she started 12 years ago culminates in a day she'll never forget.
"Being an IHL employee and having degrees from two different institutions speaks volumes for the high quality of education that we have in Mississippi and the opportunities available to our students, including adult learners like me," said Bullock, who is earning an MSU Master of Science in workforce education leadership.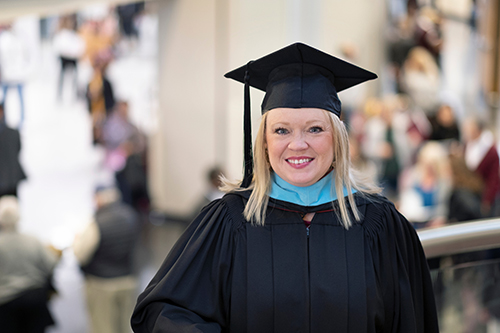 Also holding a bachelor's in speech communication from the University of Southern Mississippi, Bullock began but did not complete a graduate degree after college due to career and family demands.
After receiving encouragement from colleague Lynda Moore, Bullock decided it was time to finish what she started. Director of the University Academic Advising Center, Moore also serves as one of MSU's four C2C coaches and helps the program's students identify the best pathway for completing a postsecondary degree.
"In my role, I'm very close with the C2C coaches at all of the institutions," Bullock said. "Lynda and I were talking one day, and she asked me why I hadn't completed my master's. I gave her a lot of excuses, and she reminded me that I needed to be an example for the adult learners that we are encouraging to go back to school and complete their bachelor's degree through the C2C program." 
"I stood at attention, saluted and said 'yes ma'am,'" Bullock continued with a laugh. "Lynda was right. If it was important enough to begin that degree, it was important enough to finish, so I did."
Balancing family, work and school was a challenge, but through Mississippi State's online degree program, she was able to work at her own pace while meeting deadlines for class assignments. 
"Going back to school after 12 years was an adjustment for sure, but my husband and our kids have been very, very supportive," she said. "It was fun because I'd help my kids with their homework, and when they saw me working on mine, they would ask questions because they were interested in what I was learning."
Bullock said the insight she gained from her experience as the state's C2C coordinator and an MSU master's student has enhanced her perspective on the challenges that adult learners may face.
"Adult learners who return to school may not have someone investing in them and giving them tools they need to keep up, especially if they are not tech savvy. Even enrolling in school requires technology," she said.
"As an adult learner, you need someone you can trust to provide the information you need or help you get it. That's why I think the C2C program is so important. It gives adult learners support from C2C coaches like Lynda who understand their fears and can guide them through the types of things with which traditional students may not need as much help."
Excited to graduate in her hometown of Starkville, Bullock reflects on the importance of her accomplishment and those who have inspired her along the way.
"My grandfather, who our family called Nicch, was a math professor at Mississippi State for over 40 years," she said. "I think he would be proud that I got a degree from here."
For details about the Complete 2 Compete initiative, visit www.c2c.msstate.edu; MSU's Academic Advising Center, www.uaac.msstate.edu. Moore can be contacted at 662-325-4052 or lmoore@uaac.msstate.edu.
MSU is Mississippi's leading university, available online at www.msstate.edu.