Contact: Emile Creel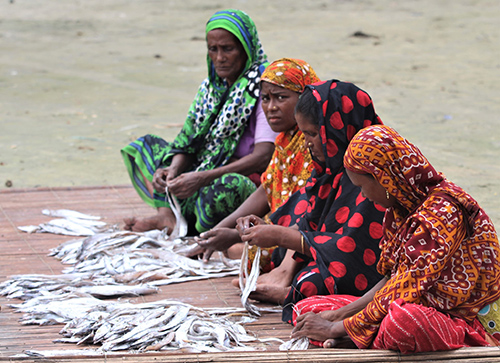 STARKVILLE, Miss.—A senior scientist from the International Institute of Tropical Agriculture presents research on gender equity in global aquaculture and fishery industries next week at Mississippi State.
On Thursday [Feb. 6], Steven Cole is discussing "Gender dynamics in small-scale fisheries and aquaculture" at 9:30 a.m. in the Colvard Student Union's Fowlkes Auditorium. The event is free to all and sponsored by the MSU-based Feed the Future Innovation Lab for Fish, or Fish Innovation Lab, and the university's Social Science Research Center.
The Fish Innovation Lab is funded by the U.S. Agency for International Development and part of the U.S. Government's Feed the Future initiative to reduce poverty and improve health outcomes for global populations dependent on aquaculture- and fisheries-led economies. MSU leads the lab through its Global Center for Aquatic Food Security, directed by Mark Lawrence, professor in MSU's College of Veterinary Medicine.
Cole's presentation will highlight the dynamics that shape women's participation in aquaculture and fishery industries, as well as the benefits derived from them. He will discuss the increase in gender research, the knowledge gaps that remain, and how filling these gaps is important to enhancing food, nutrition and economic security of people with low incomes.   
"We are fortunate to have Dr. Cole visit MSU to share his knowledge on this topic," said Lawrence. "His expertise in the relationships between gender, agriculture, and food, nutrition and economic security will be of interest to researchers and technicians in a variety of fields."
As a gender specialist with the IITA, Cole is based in the Eastern Africa Hub in Dar es Salaam, Tanzania. He employs a mixed methodology in his research and works collaboratively with biophysical scientists to ensure that agriculture research for development has greater impact. He has led the social science research for WorldFish in Zambia for the past six years, integrating gender and other social science perspectives in aquaculture, small-scale fisheries, value chains and nutrition research. 
Cole obtained his Ph.D. in biological anthropology from the University of Arizona in 2012. He also holds a master's degree in agricultural and resource economics and a bachelor's in health and nutrition.
MSU is Mississippi's leading university, available online at www.msstate.edu.
About USAID
The United States Agency for International Development (USAID) is the lead U.S. Government agency for international development and humanitarian efforts to save lives, reduce poverty, strengthen democratic governance and help people progress beyond assistance.
About Feed the Future
Feed the Future is the U.S. Government's global hunger and food security initiative. With a focus on smallholder farmers, particularly women, Feed the Future supports partner countries in developing their agriculture sectors to spur economic growth and trade that increase incomes and reduce hunger, poverty and undernutrition. For more information, visit www.feedthefuture.gov.
About the Fish Innovation Lab
Funded by the USAID, the Feed the Future Innovation Lab for Fish at Mississippi State University aims to reduce poverty and improve nutrition, food security, and livelihoods in developing countries by supporting the sustainable development of aquaculture and fisheries. For more, visit www.fishinnovationlab.msstate.edu.
About the Social Science Research Center
The Social Science Research Center (SSRC) was established at Mississippi State University in 1950 to promote, enhance and facilitate social science research and related scholarly activities. The center offers a superior research environment with an impressive array of research opportunities and options, state-of-the-art facilities, laboratories and support units that enhance and expand both the scope and quality of social science research. The center is online at www.ssrc.msstate.edu.
This post was made possible by the generous support of the American people through the U.S. Agency for International Development (USAID) under the Feed the Future initiative. The contents are the responsibility of the Feed the Future Innovation Lab for Fish and do not necessarily reflect the views of USAID or the United States Government.