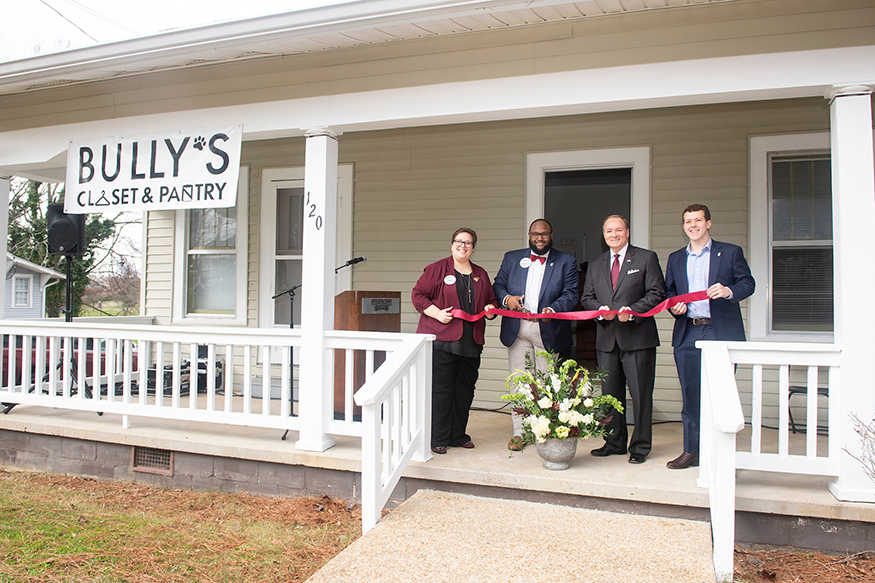 Contact: Sasha Steinberg
STARKVILLE, Miss.—Mississippi State held a ribbon cutting ceremony today [Jan. 10] to celebrate the opening of Bully's Closet and Pantry on the Starkville campus.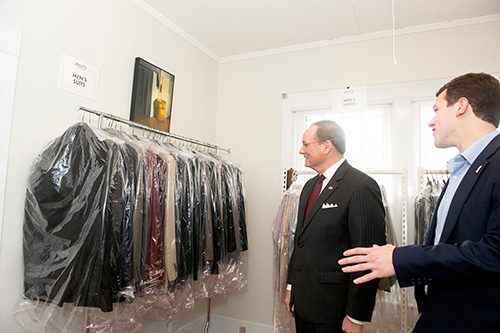 The 120 Morgan Ave. location offers nutritious food, professional clothing, toiletries and other basic items free of charge to MSU students. Students only need to present their current MSU I.D. to access these resources.
Regular operating hours are 1-6 p.m. on Monday, Tuesday and Friday.
"Bully's Closet and Pantry really speaks to who we are at Mississippi State," said MSU President Mark E. Keenum. "As Bulldogs, we look out for, care for and love one another. That's what makes this university so special. I thank all who have had a role in making this wonderful facility a reality for our students."
MSU Vice President for Student Affairs Regina Young Hyatt thanked multiple campus and community organizations for contributing their time, energy and resources to this "wonderful gift for our students."
"When I mentioned the idea of a food pantry to President Keenum, he had a few simple words for me—make it happen. From idea to reality, it took a lot of hands," she said. "We are grateful for our student body leaders and university partners, including our colleagues in the food science, nutrition and health promotion department who are conducting research here at Mississippi State, so we can understand more about food insecurity."
Hyatt recognized external university partners United Way of Central Mississippi and Extra Table, both providing pantry food every month. She also expressed particular appreciation for Montelleo Hobley, behavioral intervention team coordinator in the MSU Dean of Students' Office, whose "leadership and countless hours organizing, promoting, stocking and cleaning helped make Bully's Closet and Pantry come to life."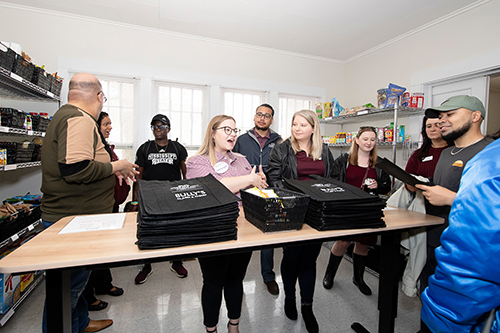 Bully's Closet and Pantry is a collaborative effort between the university's Division of Student Affairs and the Student Association. It's part of the MSU Food Security Network, a broader initiative to meet students' basic needs throughout their time at the state's leading university.
Support for Bully's Closet and Pantry is encouraged and appreciated. Nutritious food items, basic toiletries, and professional, dry-cleaned clothing can be brought to the drop-off station behind the 120 Morgan Ave. location.
Tax-deductible monetary donations to the MSU Food Security Network Fund also can be made through the MSU Foundation at www.accelerate.msstate.edu.
Volunteer opportunities are available for those who would like to help with sorting, stocking, cleaning and other tasks to keep the closet and pantry running smoothly.
For more on Bully's Closet and Pantry, contact Hobley at 662-325-3611 or mhobley@saffairs.msstate.edu.
Learn more about MSU's Division of Student Affairs at www.saffairs.msstate.edu.
MSU is Mississippi's leading university, available online at www.msstate.edu.