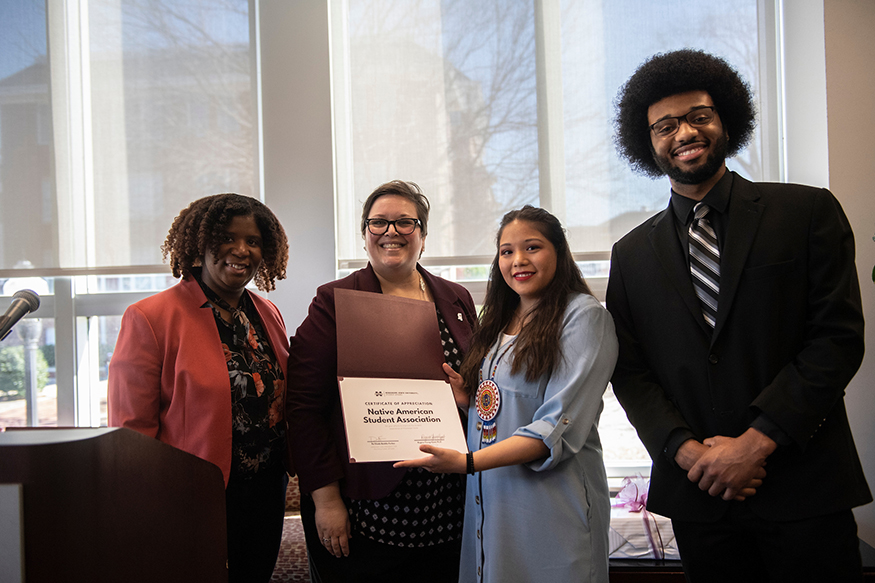 Contact: James Carskadon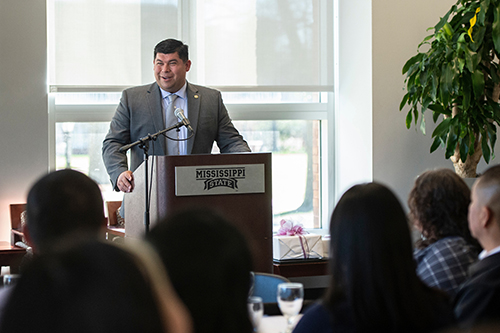 STARKVILLE, Miss.—Mississippi State University and Mississippi Band of Choctaw Indians leaders came together Tuesday [Jan. 28] to mark the founding of MSU's Native American Student Association.
The new organization was founded by MSU students and the university's Division of Student Affairs to bring together and support Native Americans on campus. MSU's Holmes Cultural Diversity Center is home to several diverse student organizations and promotes a climate in which all cultures, especially minority and international students, are appreciated as valued members of the campus community.
"MSU is excited to welcome our Native American Student Association, as we recognize that this organization both enriches and enhances the cultural experience of all students here at Mississippi State University," said MSU Assistant Vice President for Multicultural Affairs Ra'Sheda Forbes. "It is both the university's and the Holmes Cultural Diversity Center's core value and mission to have a diverse and inclusive community, therefore we recognize and acknowledge the people, culture and history that makes up this Bulldog family."
Tribal Chief Cyrus Ben presented a Mississippi Band of Choctaw Indians flag to the university, noting that many members of the MBCI have benefitted from getting an education at MSU.
"I want to thank the tribal members that have been integral in creating the Native American Student Association," Ben said. "It will continue to grow and give opportunities, not only for us, but for other tribal members as well that may come from afar to come to this institution."
NASA co-founder and vice president Kristopher Andrews said he was glad to see increased representation of Native American students on campus.
"On behalf of students of Native American descent and the Native American Student Association, I would like to personally thank all parties involved in this historic event," said the civil engineering junior from Charlotte, North Carolina. "Moments like these are why we created this organization, so we can create spaces where our voices can be heard and our presence made known."
Regina Hyatt, MSU Vice President for Student Affairs, commended MSU students for taking the initiative and creating this new organization.
"Our current students have shown effort, enthusiasm, leadership and commitment to their own growth and development, and more importantly, willingness to share their own experiences as Native American students with our community," Hyatt said.
For more on the MSU Native American Student Association, visit https://msstate.campuslabs.com/engage/organization/NASA.
MSU is Mississippi's leading university, available online at www.msstate.edu.