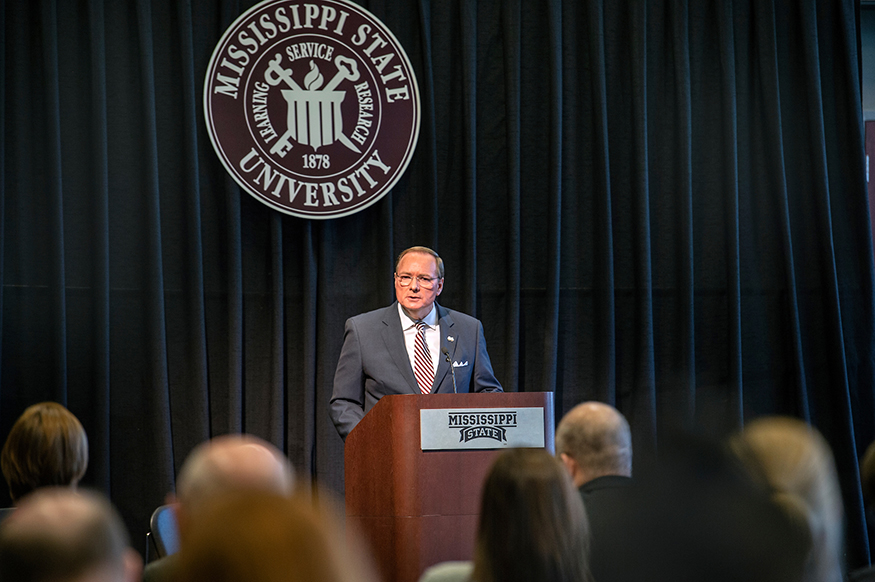 Contact: James Carskadon
STARKVILLE, Miss.—As Mississippi State begins another decade of teaching, research and service, university leaders highlighted MSU's growing impact in Mississippi during Wednesday's [Jan. 22] spring general faculty meeting.
MSU President Mark E. Keenum noted some of the university's success from 2019, which included new records for student enrollment, research and development expenditures, fundraising and new faculty. MSU remains the top college of choice for Mississippi high school graduates, with Keenum noting the strong long-term value of producing more college graduates in the Magnolia State.
"This university is making a tremendous impact, not only on our state, but in our nation and globally," Keenum said. "That impact takes the commitment of world-class faculty and strong, dutiful staff, which we are absolutely blessed with here at Mississippi State."
Keenum also updated the university community on several ongoing capital improvement projects. The MSU-Starkville Oktibbeha School District Partnership School is nearing completion and will begin serving all sixth and seventh grade students in the school district this August. Other ongoing projects include the new Richard A. Rula Engineering and Science Complex, a new building for the Department of Poultry Science and a 500-space parking garage on the north side of campus. Upcoming projects include the "Bulldog Way" corridor connecting Blackjack Road and East Lee Boulevard, new parking, an access road from Stone Boulevard to Hardy Street, a new music building, a new kinesiology building, renovations to Butler Hall and more.
MSU Provost and Executive Vice President David Shaw gave an update on the task forces he has assembled to examine key issues on campus. Those groups are focusing on topics such as student success, recruiting strategies, faculty performance evaluation, non-traditional course offerings, graduate school enhancement, student evaluation of teaching, clinical and instructional faculty, and the new Bachelor of Applied Science degree program.
"One of the most exciting things is not just what each task force is doing, but the fact that in every case, we have great integration of administrative leadership, faculty and students all working together to bring a variety of different perspectives to the questions being posed," Shaw said. "All of these task forces are focused on making this institution better."
MSU Interim Vice President for Research and Economic Development Julie Jordan noted the impact MSU's research enterprise is having, with researchers working to solve critical issues and developing technology that leads to new economic opportunities. The latest data from the National Science Foundation shows MSU spent $244 million in research development expenditures in fiscal year 2018, accounting for over half of the total in all of Mississippi's universities. MSU, an NSF top 100 research university, maintained its strong national leadership in agricultural and social sciences, ranking 11th and 12th in the U.S., respectively.
"The success of our research enterprise is due entirely to the incredible work of all of our faculty, researchers, scientists, college administrators and staff who support research activities," Jordan said.
Reuben Moore, MSU interim vice president for the Division of Agriculture, Forestry and Veterinary Medicine, highlighted the significance of the division's many outreach activities across the state, such as 4-H, research-based educational programs and support for the state's agricultural community. As the division ends the 2010s with record student enrollment and high levels of research funding, Moore said he is looking forward to the opportunities that lie ahead.
"I know Mississippi State and the Division of Agriculture, Forestry and Veterinary Medicine will be even better in this next decade," Moore said.
During Wednesday's meeting, Keenum announced a search committee will be formed to begin the search for a permanent vice president for agriculture, forestry and veterinary medicine.
MSU is Mississippi's leading university, available online at www.msstate.edu.