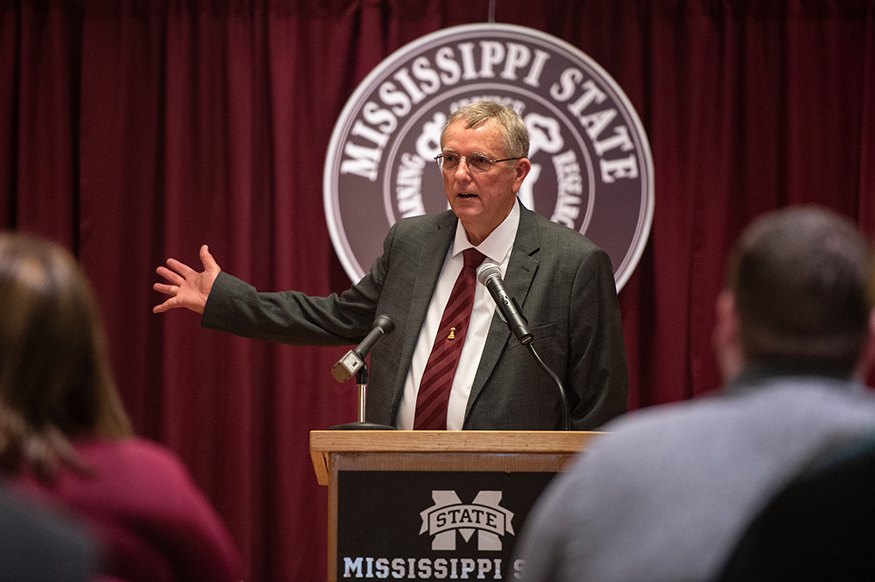 Contact: Checky Herrington
STARKVILLE, Miss.—A ceremony at Mississippi State University on Friday [Jan. 17] honored the career of Mississippi's most award-winning radio journalist and MSU alumnus Randy Bell, whose work will be housed at the university's Mitchell Memorial Library.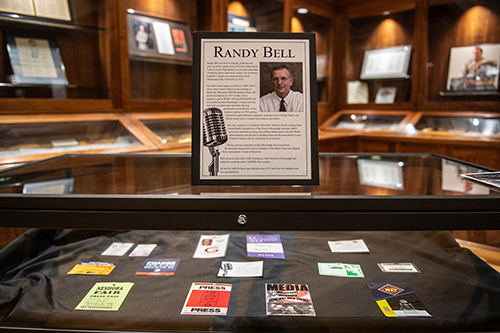 Bell's 45-year career in radio news began in Starkville at WKOR radio station, where he worked while attending MSU. After graduating in 1974 with a communication degree, Bell pursued a career in broadcast journalism and went on to earn the industry's most coveted honors, including 23 national Edward R. Murrow Awards and 15 Radio Newsperson of the Year awards from the Mississippi Association of Broadcasters.
"It's a special day as we honor one of Mississippi's most accomplished journalists who got his start here at Mississippi State University," said MSU Dean of Libraries Frances Coleman. "Randy Bell's papers are a richly valuable resource for research and teaching and provide insights into important people and events that shaped Mississippi's history over the last half century. MSU students and faculty will definitely benefit from his generous gift."
MSU President Mark E. Keenum also expressed appreciation for Bell's gift to the university, which is being added to the Mississippi Journalism Collection in the library's Special Collections department along with an online feature that allows users to listen to the actual recordings.
"Over the course of his career, Randy has become one of Mississippi's most trusted names and voices in news reporting," Keenum said. "He has also raised the bar for ethical and professional standards through his work, which reflects a deep commitment to integrity and public service."
Bell's extensive collection comprises news clips, photos, press passes and memorabilia collected over his five-decade career, during which he covered nine governors, four major hurricanes, three devastating floods, dozens of deadly tornadoes and an array of state and national elections.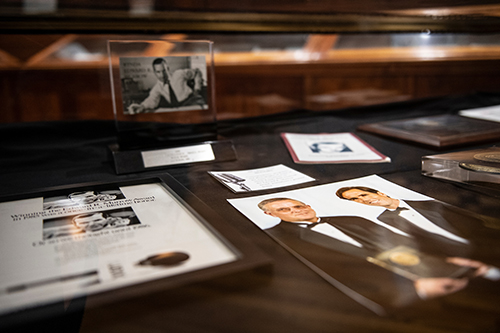 Events documented in his material range from the death of Elvis Presley to the first flight of the Concord through Mississippi to the crash of Lynyrd Skynyrd in Amite County.
"My career has given me the opportunity to meet some interesting people and do some things I never would have had the chance to do otherwise," Bell said. "I hope the donation of my work to the MSU archives will provide a resource that students can tap into as they study broadcast journalism and Mississippi history."
Former Mississippi Attorney General Jim Hood recalls his interactions with Bell during several high-profile cases and Bell's dedication to research, preparation and professionalism.
"You obviously don't win as many awards as Randy Bell has without being a great reporter. He's that and so much more — honest, kind, well respected, just an all-around class act," Hood said. "Some reporters required a briefing, but never Randy. He knew the topic inside and out and always got right to the heart of the matter.
"He's brave, too," Hood said. "Those long, hot days in Philadelphia back in the summer of 2005 when we were trying the 'Mississippi Burning' case were scary times. At the end of the day, I'd walk back across the street from the DA's office surrounded by troopers, mindful of the things that could happen. Randy was right there with us getting the story."
Bill Ellison, another familiar voice in Mississippi radio, said that Bell has served as a coach and mentor to many industry professionals through the years, including Ellison, who now serves as corporate relations manager for the Mississippi Public Broadcasting Foundation.
"Most of us were trained to be radio broadcasters but knew very little about journalism. Randy taught us judgment, integrity and journalistic standards," Ellison said. "At the time, we had a full news team that we felt was on the same level as TV stations and newspapers. Of course, we had the advantage with our hourly coverage and took pride in getting the news out before TV could go on at 6 p.m. and newspapers were delivered the next day. And behind it all was Randy Bell, showing us the way.
"As young as we were at the time, it's amazing that Randy had the foresight to save so much of his work," Ellison said. "I am grateful that Randy was so meticulous to archive his work. It's a true gift that, like his mentoring, will benefit students for generations to come."
Bell has spent more than four decades reporting the news for Jackson radio stations owned by iHeart Media. Today, his broadcasts are heard in other iHeart markets including Biloxi, Hattiesburg, Tupelo and Mobile. He also serves as chairman of Mississippi's Emergency Alert System, a role in which he helped develop the state's AMBER Alert program.
In addition to his reporting, Bell has been a leader in the statewide journalism community, serving as a founding member of the Mississippi Center for Freedom of Information, a past president of the Mississippi Associated Press Broadcasters Association and a charter member of MAPBA's Hall of Fame. He also is a former board member for the Radio-Television Digital News Association, representing Mississippi, Alabama, Arkansas and Louisiana.
For 10 years during the state legislative session, he hosted "Quorum," on MPB, a live weekly television show featuring House and Senate leaders. 
Established in the 1950s, the Manuscripts division of MSU's Special Collections in Mitchell Memorial Library has served as a repository for the papers of Mississippians and MSU alumni. Since the 1970s, the library's manuscript holdings have grown considerably as its focus broadened to include 20th century political journalists.
Today, the collection comprises the papers of 22 Mississippi journalists, including Hodding Carter II, Turner Catledge, John Oliver Emmerich Sr., Orley M. Hood Jr., Bill Minor and Hazel Brannon Smith, among other notable professionals.
For more on MSU Libraries, visit http://lib.msstate.edu.
MSU is Mississippi's leading university, available online at www.msstate.edu.