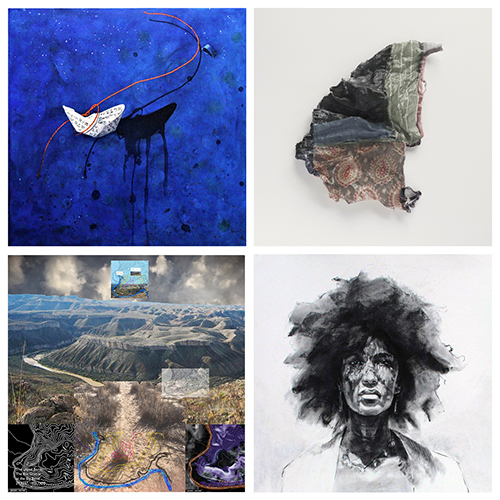 Contact: Sasha Steinberg
STARKVILLE, Miss.—Mississippi State's Department of Art is kicking off its spring exhibition schedule with "The Art of Hope," on display Jan. 21-Feb. 28 at the university's Cullis Wade Depot Art Gallery.
"When faced with discrimination, inequity or loss, hope can conjure action, motivate and inspire," said MSU Art Instructor and Galleries Director Lori Neuenfeldt. "Using adversity as a conductor for creation and art as a platform for communicating, this exhibition represents the diverse ways artists visualize and convey their vision of hope."
For this nationally competitive exhibition, 120 submitted works were considered. Guest juror John Sabraw of Athens, Ohio, ultimately selected 37 pieces of 2D and 3D art for inclusion.
Gallery hours are 9 a.m.-5 p.m., Monday-Friday, except for campus-observed holidays.
Representing 20 different states, exhibitors are professional artists from around the country. They include Sylvia Bandyke, Brandin Barón, Cynthia Buob, Martin Brief, Kyong Burke, Mark Dineen, Sam Dorgan, Cyndy Epps, John Fansmith, Linda Fuller, Rachel Green, Susan Harmon, Willoughby Lucas Hastings, J. Fredric May, Dana Moody, Christy Nelson, Raul Ortiz, Alexis Ortiz, Jonathan Price, Edward Ramsay-Morin, Joy Redstone, Jason Stout, Addie Studebaker, Wanda Sullivan, T R O N J A G, Michael Voelkl, G. E. Vogt and Setsuko Yoshida.
On Friday [Jan. 31], Sabraw will give a 1 p.m. public talk in Giles Hall's Robert and Freda Harrison Auditorium. An artist, activist and environmentalist hailing from Lakenheath, England, Sabraw produces paintings, drawings and collaborative installations in an eco-conscious manner and continually works toward a fully sustainable practice. His work is featured in numerous collections, including the Museum of Contemporary Art in Honolulu, Hawaii. For more, see www.johnsabraw.com.
A 5-6:30 p.m. public reception for "The Art of Hope" exhibition also will be held on the 31st in the Cullis Wade gallery. Complimentary refreshments will be available.
For more information, email Neuenfeldt at msuartgalleries@msstate.edu.
Learn more about the College of Architecture, Art and Design and its Department of Art at www.caad.msstate.edu.
MSU is Mississippi's leading university, available online at www.msstate.edu.