Contact: John Burrow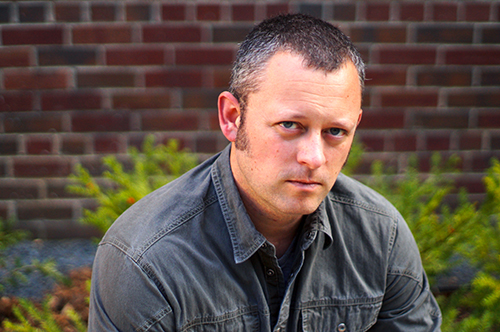 STARKVILLE, Miss.—Popular storyteller and fiction author Benjamin "Ben" Percy visits Mississippi State this month as a writer-in-residence, sharing from his publications, answering questions, visiting classes and meeting students and community members.
"The writer-in-residence program offers students and the Starkville community the opportunity not only to hear renowned authors read from their work, but also to ask questions of these authors and listen to them discuss their writing processes," said Catherine Pierce, MSU professor of English and writer-in-residence program co-director. "I hope students and community members will come away from Percy's visit feeling inspired, and with a greater understanding of what writing can do for all of us."
Percy presents a public address on Thursday [Feb. 20] at 7:30 p.m. in the Turner A. Wingo Auditorium of Old Main Academic Center, Room 1030. The event is sponsored by the Institute for the Humanities and the Department of English, with additional aid from the Mississippi Humanities Council.
On Feb. 21 at 4 p.m. at The Last Page, Starkville's comic bookstore located at 101 S. Washington St., Percy will read from a selection of his works, answer questions and sign his publications.
Both events are free and open to the public.
As MSU's writer-in-residence, he will interact with students, offering advice and tips to promote writing and storytelling.
"Mr. Percy specializes in literature, horror literature, and he also works on comic books and produces a Wolverine podcast," said Julia Osman, director of MSU's Institute for the Humanities and associate professor of history. "These genres and forms of literature, writing and storytelling are as included in the humanities as the deepest and most sensitive poetry."
Osman said the different types of genres expose much "about the human condition and what concerns and excites us as human beings."
"Percy's visit is a reminder that the humanities include art forms that are fun and accessible to the wider public," Osman said. "Many people see the humanities as high-culture and exclusive, but as the Mississippi Humanities Council reminds us, 'the humanities are for everyone.'"
Percy has published four novels, three books of short stories, and a widely-taught fiction craft book, and has written for a number of highly successful series of comics. A member of the Writer's Guild of America's screenwriters' guild, Percy has seen his work featured in international magazines, on national radio programming and in national newspapers. He has received honors from the National Endowment for the Arts and won awards including Pushcart Prizes, the Whiting Writers' Award, and the Plimpton Prize. Percy received his bachelor's degree from Brown University and a Master of Fine Arts from Southern Illinois University.
MSU's College of Arts and Sciences includes more than 5,200 students, 325 full-time faculty members, nine doctoral programs, 14 master's programs, and 27 undergraduate academic majors offered in 14 departments. It also is home to the most diverse units for research and scholarly activities, including natural and physical sciences, social and behavioral sciences, and the humanities. For more details about the College of Arts and Sciences or the Institute for the Humanities, visit www.cas.msstate.edu or www.ih.msstate.edu.
MSU is Mississippi's leading university, available online at www.msstate.edu.