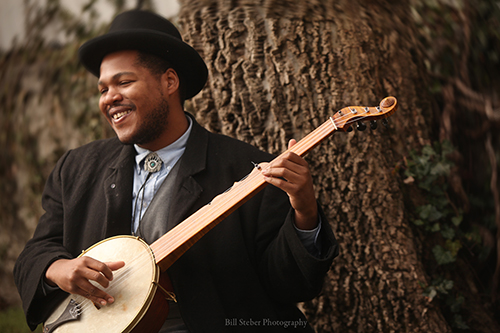 Contact: Sasha Steinberg
STARKVILLE, Miss.—Though only in his 30s, multi-instrumentalist Jerron "Blind Boy" Paxton already has accomplished a great deal in his career. This weekend, he will add "Templeton Ragtime and Jazz Festival performer" to his list of accomplishments when he makes his first appearance at the popular event sponsored by Mississippi State University Libraries.
During his MSU visit, Paxton will lead a 1:30 p.m. Feb. 28 seminar on rural black folk music and a 2:45 p.m. urban black folk music seminar on Feb. 29. Both seminars take place at Mitchell Memorial Library's Charles H. Templeton Sr. Music Museum.
Paxton will join the other festival performers on both of those days for 7:30 p.m. concerts in McComas Hall's mainstage theater. Admission to all festival events is free for MSU students with valid student I.D. General admission tickets good for all festival events, as well as tickets for just Friday and Saturday's concerts, are available. For additional information and to register online, visit https://festival.library.msstate.edu.
"What impresses me about Jerron is that as a young performer, he is honoring and excelling at early styles of American ragtime, blues and folk music when so many other performers of his generation are disinterested or perhaps uncomfortable with older styles of American pop," said seventh-year festival artistic director Jeff Barnhart.
An internationally renowned pianist, Barnhart will accompany Paxton on three songs during both evening concerts. Barnhart said he is excited to perform with Paxton for the first time and praised his "instrumental versatility," ranging from guitar and banjo to harmonica and fiddle.
"This is a rare opportunity to see an artist who performs around the world, in venues big and small, and who has a charismatic presence on stage. Don't miss it!" Barnhart advised.
With a sound influenced by the likes of Fats Waller and "Blind" Lemon Jefferson, Paxton is known for transforming traditional jazz, blues, folk and country into the here and now through his humor and storytelling.
In a "Great Big Story" video on YouTube, Chris Funk, a musician in the band "The Decemberists," called Paxton "a master of forgotten music."
"The first time I heard him play, I thought I was listening to some old, obscure 45s. He can pick up almost any instrument, and it sounds like he just stepped off the Mississippi Delta," Funk said.
Born in south central Los Angeles and currently residing in New York City, Paxton said he started experiencing vision issues at age 16-17. By age 18, his doctor diagnosed him as legally blind and advised him to stop driving for safety reasons. This experience, Paxton explained in the video, inspired his stage name "Blind Boy."
"I have visual imparities, but 'Legally Blind Boy Paxton' is the stupidest stage name I could come up with, so I just omitted the 'Legally,'" he said with a laugh.
In 2016, Paxton performed to a sold-out audience at the Lead Belly Tribute at Carnegie Hall, alongside Buddy Guy, Eric Burdon, Edgar Winter, Kenny Wayne Shepherd, and other stars. He has opened for Guy at B.B. Kings in New York City and for Robert Cray at the Reading Blues Festival in Pennsylvania. He also has performed at numerous festivals in the U.S. and abroad, including the 2017 Brooklyn Folk Festival that he headlined.
Stephen Cunetto, MSU Libraries associate dean, said MSU Libraries is "very excited to have a young African American blues artist of Jerron's caliber performing in the Templeton festival."
"With Mississippi being the birthplace of the blues, it is appropriate that we showcase such a dynamic and talented blues artist," he said. "I am looking forward not only to Jerron's performances during the concerts, but also to his talks on Friday and Saturday."
For more festival information and to purchase tickets, visit https://festival.library.msstate.edu, call 662-325-6634 or email ragtimefestival@library.msstate.edu.
MSU is Mississippi's leading university, available online at www.msstate.edu.