Contact: Sasha Steinberg
STARKVILLE, Miss.—Mississippi State is hosting a variety of free programs on the Starkville campus to commemorate Black History Month, including a "read-in" event and new exhibit at MSU Libraries.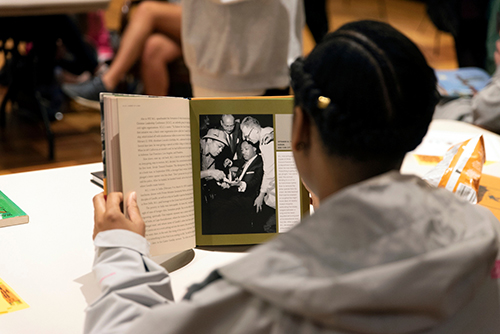 For the second consecutive year, MSU's Mitchell Memorial Library will host a "National African American Author Read-In" on Feb. 21 from 9:30 a.m.-noon in the John Grisham Room.
Established in 1990 by the Black Caucus of the National Council of Teachers of English, this initiative has reached more than 6 million participants around the world. It's considered the country's oldest event dedicated to diversity in literature.
As event organizer, MSU Assistant Professor of Early Literacy Education Kristin Javorsky is looking to build on last year's inaugural success. This year's program will feature African American authors giving short readings from their works. Attendees also can browse a wide range of children's books, chapter books and novels, and make a selection to read during the event.
"I organized the read-in here on campus because I believe it is important for our education majors to become more familiar with literature written by African American authors, so more diverse children's books and young adult novels can make their way into the hands of schoolchildren," Javorsky said.
Opening the week of Feb. 10 at Mitchell Memorial Library is "We Have Been Believers," a Special Collections exhibit featuring material related to African American history from the library's University Archives, Mississippiana, Rare Books and Manuscripts collections.
Jessica Perkins Smith, MSU Libraries assistant professor and university archivist, said the exhibit's title is drawn from the Margaret Walker poem of the same name. With research interests in African American history, Civil Rights in Mississippi, athletics history and digitization, Smith focuses on instruction in archival research and the use of primary sources to undergraduate and graduate students.
"This particular exhibit showcases images of Aberdeen, Mississippi, from the John Rodabaugh collection, as well as material related to integration at MSU, the first MSU black student group, other historical black colleges and universities in the state, Civil Rights material mainly from Clay County, and books by African American authors in Mississippi," Smith said.
Open to the public, other events throughout the month of February include:
—Feb. 12, 4 p.m., Turner A. Wingo Auditorium (Room 1030) at Old Main Academic Center, "Teaching Black History in the 21st Century." Focused on the importance of black history education, this panel discussion features Qiana Cutts, MSU assistant professor of counseling, educational psychology and foundations; Margaret Hagerman, MSU assistant professor of sociology; and guest panelist Tiffany Pogue, assistant professor of teacher education and program coordinator of foundations of education and graduate programs. Donald Shaffer, MSU associate professor of English and African American Studies Program director, will serve as moderator. The AAS Program and Department of Sociology are co-sponsors.
—Feb. 13, 6 p.m., Turner A. Wingo Auditorium (Room 1030) at Old Main Academic Center, "Growing Liberation at Fannie Lou Hamer's Freedom Farms" lecture presented by Priscilla McCutcheon, assistant professor of geography at the University of Kentucky. AAS and Gender Studies programs are co-sponsors.
—Feb. 18, Colvard Student Union, bi-annual State of Black Men Symposium sponsored by MSU's Men of Excellence student organization. Themed "Breaking Barriers But Accepting Challenges," the daylong program includes discussions of relevant issues from the perspective of male minority students, culminating in a 6 p.m. keynote address by motivational speaker, leadership trainer and author Samuel Jones. Advance registration is encouraged for non-university affiliates at https://www.union.msstate.edu/hcdc/black-men-symposium.
—Feb. 19, 2 p.m., Honors Forum Room 401 at Griffis Hall, "An Imperfect Person - Called Hero" lecture presented by V. Denise James, associate professor of philosophy and director of the Women's and Gender Studies Program at the University of Dayton. A reception immediately follows the presentation. Contact sponsor, MSU's Judy and Bobby Shackouls Honors College, at 662-325-2522 for more information.
—Feb. 19, 6 p.m., Honors Forum Room at Griffis Hall, "When and Where I Enter: Invisible Politics in African American History" lecture presented by Ravi Perry, chair of the political science department at Howard University. Light refreshments will be served during the event sponsored by the AAS Program.
—Feb. 25, 6:30 p.m., Honors Forum Room at Griffis Hall, "Celebrating African American History Month Through Poetry" awards ceremony for Armstrong Middle School poetry contest participants. Refreshments will be served at a reception following the ceremony. Contact the sponsor, AAS Program, at 662-325-0587 for more contest information.
For more information on Black History Month events at MSU, contact the Holmes Cultural Diversity Center at 662-325-2033.
Learn more about MSU's African American Studies Program and the Society of African American Studies at www.aas.msstate.edu; Department of Sociology at www.sociology.msstate.edu; Gender Studies Program at www.genderstudies.msstate.edu; Holmes Cultural Diversity Center at www.hcdc.msstate.edu; and Office of Institutional Diversity and Inclusion at www.oidi.msstate.edu.
MSU is Mississippi's leading university, available online at www.msstate.edu.