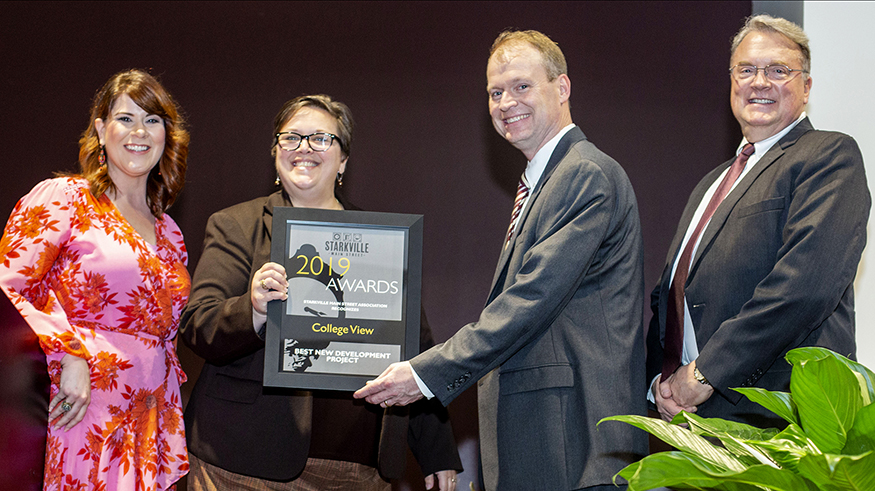 Contact: James Carskadon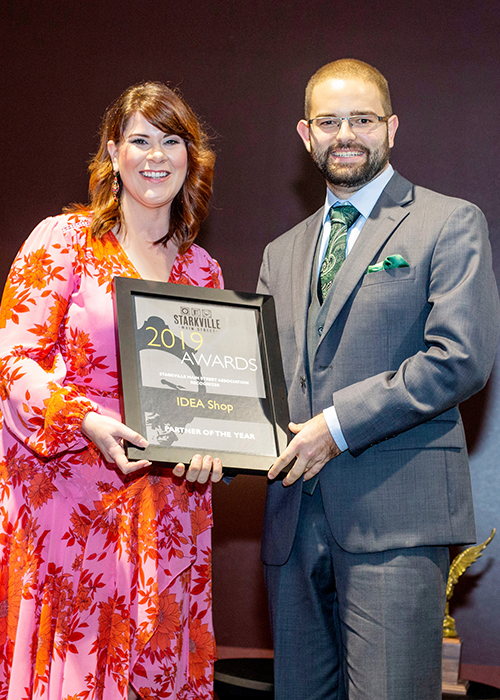 STARKVILLE, Miss.—Two new Mississippi State projects were recognized for their contributions to community development during the Greater Starkville Development Partnership's annual awards banquet Tuesday [Feb. 4].
MSU's Idea Shop, a downtown makerspace and retail storefront, received the Partner of the Year Award from the Starkville Main Street Association, and College View, a mixed-use housing and retail development from MSU and Greystar Real Estate Properties, received the Best New Development Award.
"The Partnership is pleased to recognize both the College View development and the Idea Shop for their respectively unique contributions to our community," said GSDP President and CEO Mike Tagert, who also serves as associate director for corporate and economic partnerships in MSU's Office of Research and Economic Development. "Providing upscale residential and commercial opportunities goes hand-in-hand with retaining today's entrepreneurs. The entrepreneurial spirit is alive and well thanks to the continuing efforts of our university and local leadership."
The Idea Shop, a 2,000-square-foot facility on Main Street, opened in March. It consists of the Turner A. Wingo Maker Studio and the MSU Retail Product Accelerator. It is part of the MSU Center for Entrepreneurship and Outreach and operated by the College of Business and School of Human Sciences in the College of Agriculture and Life Sciences. This new maker space is part of MSU's continued efforts to support entrepreneurship and grow the university's presence in downtown Starkville.
"I am extremely proud of everything Program Coordinator Michael Lane and the rest of the team have accomplished at the Idea Shop," said College of Business Dean Sharon Oswald. "They have taken this idea and built something very special for our community. It's exciting to see the Starkville and MSU community embracing the limitless potential of this new space."
College View, a public-private partnership with MSU and Greystar, is the first university housing development of its kind in the state. It opened in August with over 600 residential beds and 46,000 square feet of retail space. The $67 million development is named after the street it resides on and is located within walking distance of MSU's athletic and academic facilities, as well as the Cotton District and downtown Starkville. College View includes one-, two- and four-bedroom units that are available to MSU upperclassmen, as well as recreational amenities and an outdoor entertainment zone.
"College View has been a wonderful addition to our campus and for the Starkville community," said MSU Vice President for Student Affairs Regina Hyatt. "The retail space is filling with shops and restaurants and other amenities that will make College View a destination for alumni, visitors, community members and students. Our partners at Greystar listened to our desires to make College View a bridge between the Cotton District, downtown, campus and the greater Starkville community in creating this great new community hub."
Also at Tuesday's banquet, Babel Street, Inc. received the Industry of the Year award from the Oktibbeha County Economic Development Authority. Last year, the company opened its new innovation center in the MSU Research and Technology Corporation's recently-acquired downtown building on Main Street.
For more on the Greater Starkville Development Partnership, see www.starkville.org.  
MSU is Mississippi's leading university, available online at www.msstate.edu.