Contact: James Carskadon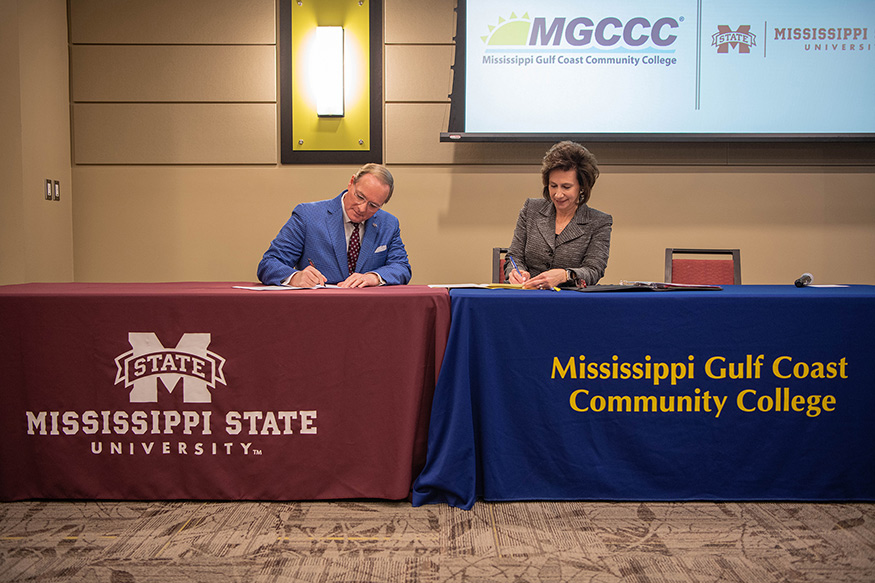 BILOXI, Miss.—Mississippi State University and Mississippi Gulf Coast Community College leaders signed two agreements Thursday [Feb. 13] to expand opportunities for students in technical education and culinology programs.
The technical education agreement outlines a pathway for MGCCC students to complete MSU's new Bachelor of Applied Science program, leveraging the strengths of both institutions to provide more opportunities in technical education and meet current and future workforce demands. The culinology agreement establishes a pathway by which students in MGCCC's Culinary Arts Technology program may complete a Bachelor of Science degree in culinology at MSU.
"It's a great honor to sign these two agreements with one of our tremendous community college partners, MGCCC," MSU President Mark E. Keenum said. "More importantly, I am excited about the opportunities we are creating for students to gain the education they need to compete for the jobs of the 21st century. Students in MGCCC's technical education and culinary arts programs now have a direct path for obtaining a bachelor's degree in their field, enhancing their future and the state of Mississippi's future."
"MGCCC is proud to offer our students the best opportunities for academic success," said MGCCC President Mary S. Graham. "These MOUs will significantly expand those opportunities for our students, allowing them to transfer more credits and moving them closer to completing a bachelor's degree at Mississippi State University. MSU is an outstanding institution and we are proud to partner with them in these new programs."
MSU launched its Bachelor of Applied Science program in August, significantly expanding the university's acceptance of technical credit from community colleges and military training. It is intended to serve the needs of adults who have completed a technical associate's degree program through a community college or the military and need additional education to advance their careers. Credits in the degree program can be earned through online or in-person courses, providing the flexibility that has become a hallmark of MSU's nationally ranked online offerings.
MGCCC's Culinary Arts Technology Program provides students with a foundation in the methods and science of cooking, with hands-on instruction by a chef instructor in a commercial kitchen. MSU's culinology degree program integrates food science and culinary arts to prepare students to work in diverse areas within the food industries—from experimental research chefs and menu planners to food manufacturing, fine dining, and product development.
The agreements signed Thursday outline which courses must be taken from each institution to fulfill degree requirements. For both degree programs, an MSU adviser will be available to assist MGCCC students.
For more on MGCCC, visit www.mgccc.edu.  
MSU is Mississippi's leading university, available online at www.msstate.edu.