Contact: Reagan Poston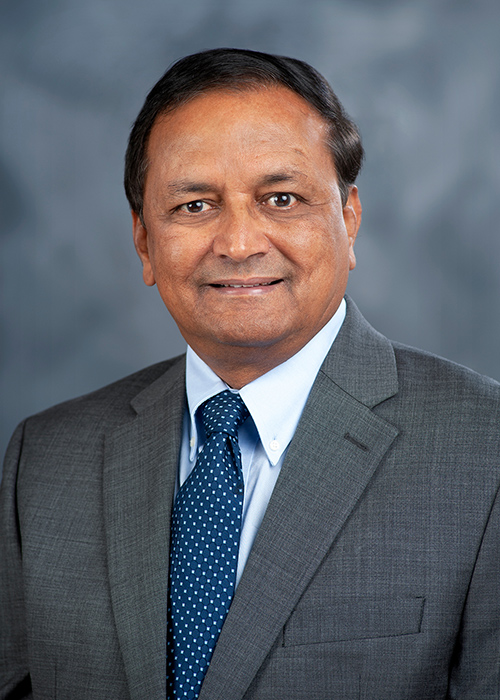 STARKVILLE, Miss.—A Mississippi State University research professor is being honored by the Mississippi Academy of Sciences for three decades of scientific discoveries.
K. Raja Reddy, research professor in the Department of Plant and Soil Sciences, is being recognized for his 30-year impact on the scientific community with the organization's Outstanding Contribution to Science Award.  
"It is an honor to receive the award for contributions to science from the Mississippi Academy of Sciences. I thank the award committee and Board of the Mississippi Academy of Sciences for the coveted recognition," said Reddy, who also is director of MSU's Environmental Plant Physiology Laboratory, which houses the Soil Plant Atmosphere Research, or SPAR unit.
"Mississippi State has provided me a place and an incredible resource to develop a top-notch crop-stress physiology program to explore solutions to navigate world hunger."
As a researcher in the university's Mississippi Agricultural and Forestry Experiment Station, Reddy's work encompasses more than 300 publications, including two edited books, 30 book chapters and 175 refereed journal articles. Reddy also has made significant strides to establish MSU's plant physiology research program housed in the university's SPAR unit as one of the best in the nation, where climate change, remote sensing, crop models and more are studied in their relationship and application to plant physiology. Reddy is most interested in how these factors affect the physiology, growth and development of globally important crops, such as cotton, soybeans, rice, corn and more.
Beyond his extensive research interests, Reddy has proven himself a leader within the community. He is currently president-elect of the Mississippi Academy of Sciences and will begin his term as president in July of this year. On the academic front, he has trained nine master's students, 15 doctoral students and 15 postdoctoral scientists, along with an additional 35 visiting scientists from around the world in areas such as crop stress physiology, climate change, crop modeling, remote sensing and global food security.  
Previous honors include MSU's Ralph E. Powe Research Excellence Award, Fellow of the Crop Science Society of America and the American Society of Agronomy, the Southeastern Conference Faculty Achievement Award and the National Cotton Council's Outstanding Research Award in Cotton Physiology.
 MSU is Mississippi's leading university, available online at www.msstate.edu.