Contact: Sarah Nicholas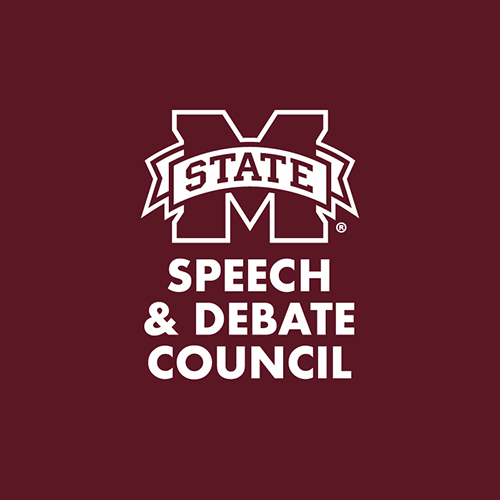 STARKVILLE, Miss.—Mississippi State is the first-place winner of the Southern Forensics Championship for the Debate Team Sweepstakes and is third-place champion in the Overall Team Sweepstakes.
MSU's Speech and Debate Council recently hosted the regional speech and debate tournament, which included nearly 200 college students from 27 public and private colleges and universities in nine states. The tournament also serves as the championship for Arkansas, Louisiana and Mississippi. Speaking events range from memorized and performed informational or dramatic speeches to one-on-one International Public Debate Association debate. The tournament concluded with an awards ceremony in Lee Hall's Bettersworth Auditorium.
MSU Speech and Debate adviser Cheryl Chambers, an instructor in the Department of Communication, serves as one of two Mississippi representatives on the Southern Forensics Championships Board. MSU's Nirmal Bhatt, a junior mechanical engineering major from Collierville, Tennessee, was elected to start the new term, while Alicia Brown, a senior chemical engineering major from Petal, ended her term as student representative to the SFC Board. 
MSU's 2020 debate team award winners include (by hometown):
BALDWYN—Dawn M. Jackson, a senior business economics/international business and foreign language/Spanish double-major, fourth place and Mississippi Champion, Informative Speaking.
HATTIESBURG—Joshua T. "Josh" McCoy, a senior chemical engineering/biomolecular engineering major, along with Alicia Brown, semi-finalists in Partner Debate (TIPDA).
PEACHTREE CITY, Georgia—Amanda G. Kronenberger, a freshman political science major, octo-finalist in Novice Debate and fourth place Speaker Award.
PETAL—Alicia D. Brown, a senior chemical engineering major, octo-finalist in Varsity Debate and Mississippi Champion, and fourth place Speaker Award.
POOLER, Georgia—Tyler J. Melvin, a sophomore history major, quarterfinalist and fourth place Speaker Award, JV Division. 
STARKVILLE—Mia C. Robertson, a sophomore political science major, first place Persuasive Speaking, fifth place Extemporaneous Speaking, and Mississippi Champion for both categories. 
For more information about MSU's Speech and Debate Council, visit www.comm.msstate.edu/students/speech-debate or contact Chambers at cchambers@comm.msstate.edu.
MSU is Mississippi's leading university, available online at www.msstate.edu.