Contact: Anna Owens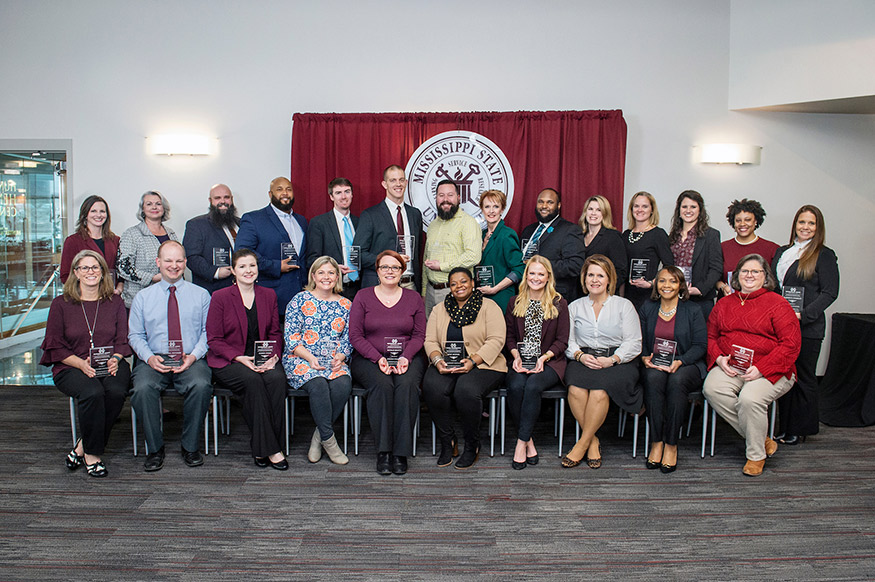 STARKVILLE, Miss.—Twenty-nine Mississippi State staff members are new graduates of the university's Leadership Excellence for Accomplished Professionals program.
LEAP's goals and purpose include the advancement of knowledge, enhancement of leadership skills and direct practical work application for selected employees.
During the four-month program, participants met with campus and community leaders to explore and develop their leadership skills in many areas and to more effectively lead MSU's efforts. Conflict resolution and ethical decision-making, change management, professional branding and valuing diversity were among session topics.
Austin Check, learning and development specialist at MSU's human resources department, said the program reinforces valuable critical thinking skills that participants will use throughout their careers.
"LEAP immerses the participant in the world of leadership and forces them to think critically and find solutions to multiple scenarios," Check said. "Each participant has to find their individual path to becoming a leader."
Director of Athletics John Cohen delivered the keynote address during a recent graduation reception at MSU's Hunter Henry Center.
Chosen through a competitive nomination and selection process, this year's group of graduates is the largest in the program's history and includes:
—Caleb Alford, business manager II, Accounting Services, College of Veterinary Medicine.
—Darrell Banks, assistant compliance coordinator, Office of Research Compliance.
—Natalie Beatty, contract and grant specialist, Dean of Engineering, James Worth Bagley College of Engineering.
—Karen Crow, marketing manager, Center for Distance Education.
—Tina Davis, academic coordinator, Department of Geosciences.
—Santee Ezell, assistant director, Health Promotion and Wellness.
—Sara Fuller, research engineer III, Center for Advanced Vehicular Systems Extension.
—Ronald Gatewood, desktop services manager, User Services, ITS.
—Orly Hardin, assistant director, Alumni Engagement and Recruitment Programs, MSU Alumni Association.
—Montelleo Hobley Jr., student services coordinator, Student Honor Code Office.
—Kim Kavalsky, coordinator, Mental Health Outreach, Health Promotion and Wellness.
—Heather Kennedy, audit manager, Office of Internal Audit.
—Michael Ketchum, senior financial reporting accountant, Office of the Controller and Treasurer.
—Angelia Knight-Adams, director, MBA Programs, Graduate Studies in Business.
—Tonia Lane, manager, chemistry and Advanced Composites Institute.
—Leann Markham, executive director, Information Services, MSU Foundation.
—Brandon "BJ" McClenton, extension agent III, MSU Extension—Clay County.
—Peter McKinley, aircraft certification engineer, Raspet Flight Research Laboratory.
—Laura Mitchell, coordinator, School of Architecture.
—Daniel Morgan, senior coordinator, Career Center.
—Jessica Northcutt, technology licensing coordinator and government compliance manager, Office of Technology Management.
—Lana Poole, business manager I, Department of Landscape Architecture.
—Leanna Smith, stewardship coordinator, MSU Foundation.
—Elizabeth Standley, business manager I, Department of Mathematics and Statistics.
—Natoya Tate, assistant academic affairs manager, College of Veterinary Medicine.
—Ronald Unz, research project manager, Institute for Clean Energy Technology.
—Sam Watts, project manager, Research and Curriculum Unit.
—Anita Winger, automations system manager, Mitchell Memorial Library.
—Lauren Wright, director, International Services Office.
For more information about LEAP, contact Check at adc120@msstate.edu or 662-325-3713.
MSU is Mississippi's leading university, available online at www.msstate.edu.