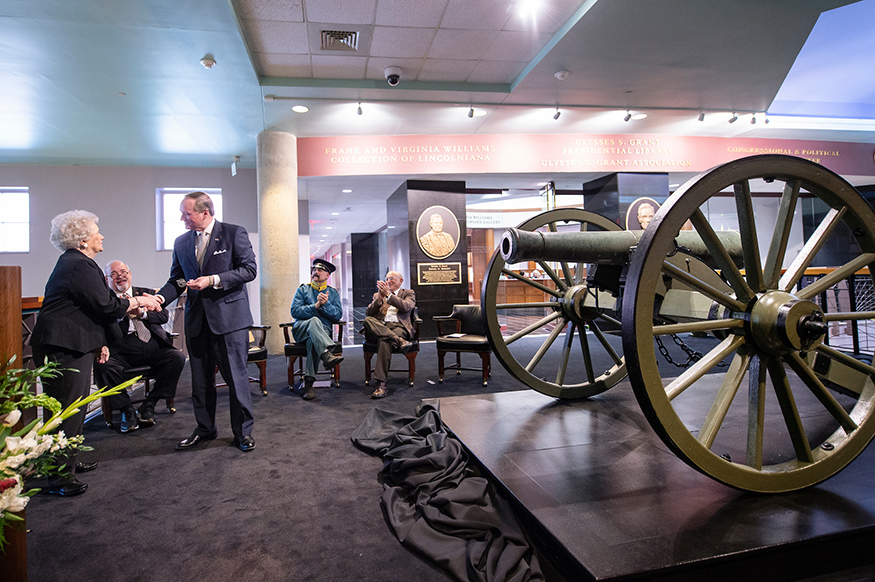 Contact: James Carskadon
STARKVILLE, Miss.—A 19th century cannon now greets visitors to Mississippi State's Ulysses S. Grant Presidential Library.
The Model 1841 "6 pounder" was unveiled Monday [Feb. 3] at MSU's Mitchell Memorial Library. Commissioned in 1846, the artillery artifact was loaned to MSU by the Mississippi Department of Archives and History. Its carriage was donated to MSU by Shiloh National Military Park and restored by students at nearby East Mississippi Community College.
MSU President Mark E. Keenum thanked the many people that helped bring the cannon to campus, including the MSU Campus Services team that transported it to the library's fourth floor.
"This cannon is history coming to life, which we get to share with the many visitors that come to see the Grant Library and the Frank and Virginia Williams Collection of Lincolniana," said Keenum, who serves on the MDAH Board of Trustees. "I am very proud of the fact that Mississippi State is a destination for scholars and historians to come and study this time in our national history."
Weighing 876 pounds and measuring over five feet in length, the iron cannon could fire its six-pound projectile approximately 1,500 yards. It is considered to be a key piece of field artillery in the Mexican-American War, where Ulysses S. Grant saw his first battles. It is believed to also have been used extensively in the Civil War.
Duffy Neubauer, curator of the Starkville Civil War Arsenal, and an MSU retiree, demonstrated apparel that was worn by soldiers in the Mexican-American War and gave the history of the cannon.
"The United States produced over 800 of these six-pounders," Neubauer said. "It was a mainstay of the Mexican War and it was produced in 1846, just days before the first shots were fired."
MSU has been home to the Ulysses S. Grant Association since 2009, resulting in the creation of the Grant Presidential Library and Museum. It is housed in a $10 million addition to Mitchell Memorial Library that was completed in 2017. John Marszalek, Grant Association executive director and MSU Giles Distinguished Professor Emeritus of History, said he is proud of the way the university has supported the presidential library.
 "This facility has proven to be a wonderful host for the Grant Presidential Library," Marszalek said.
For more on the Ulysses S. Grant Presidential Library, visit www.usgrantlibrary.org.
MSU is Mississippi's leading university, available online at www.msstate.edu.