Contact: Sarah Nicholas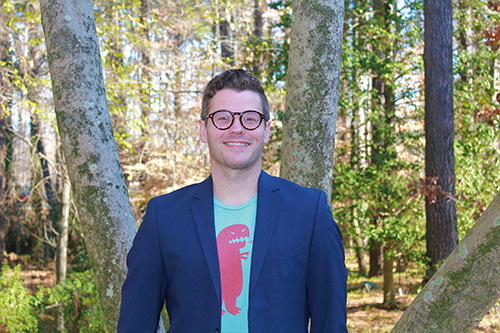 STARKVILLE, Miss.—A Mississippi State faculty member is part of a collaboration awarded $300,000 from the National Science Foundation in support of research aimed at preventing sexual harassment during undergraduate field-based courses.
Shawn P. Lambert, assistant professor in MSU's Department of Anthropology and Middle Eastern Cultures and research fellow at the Cobb Institute of Archaeology, is partnering with researchers from the Southern Arkansas University Research Station of the Arkansas Archeological Survey and Southern Illinois University Edwardsville seeking to combat sexual harassment during archaeological field studies.
Lambert said recent research in STEM fields has demonstrated "significantly high rates" of sexual harassment in academic field schools across the U.S.
"Many students experienced harassment and/or assault during their first field school experience in undergrad, which is a mandatory requirement in most archaeology-focused departments," Lambert said. "These findings show us that we are not doing our due diligence to promote a safe and inclusive environment during one of the most critical periods in young archaeologists' academic careers. Our research team wants to determine the best practices that field school directors can administer to create the safest environment possible."
During the three-year grant period, the research team will conduct a landscape analysis, work with field directors and students, develop recommended practices, and finally, help implement the practices while documenting how they help create a safer and more inclusive field learning environment.
"Ultimately, our team hopes to understand the critical components to develop a set of evidenced-based best practices that people in our field and beyond can utilize to prevent sexual harassment and assault," Lambert said.
"Students who have been historically underrepresented in STEM, including women, students of color, students who identify as LGBTQ+, and students with diverse abilities, have an increased likelihood to experience harassment compared to those individuals who do not identify with these groups," he added.
The researchers noted that sexual harassment may be one factor contributing to the exodus of underrepresented groups in field-based sciences and STEM during undergraduate education. When this group leaves the scientific community altogether, a loss of diverse intellectual thought occurs, they said.
MSU Department of Anthropology and Middle Eastern Cultures Professor and Head Hsain Ilahiane said a safe and inclusive fieldwork setting is critical for student retention and also is important for the promotion of anthropology as a major.
"Dr. Lambert's NSF grant expands on this finding and seeks to create a safe and inclusive environment for women and minorities," Ilahiane said.
Lambert said the collaborating universities are strategically placed around the Southeast to facilitate the success of the program. "This research covers the entire southeast region of the United States, from Oklahoma to Florida, and on any given year, there could be 80-100 archaeology field schools scheduled."
"In our profession, especially in conducting a regional study like this, there is strength in numbers," Lambert said. "The more individuals and institutions that can rally around this project, the better."
All members of the Southeastern Archaeological Conference (SEAC), joining Lambert on the research team are:
—Emily Beahm, research station archeologist with the Arkansas Archeological Survey, University of Arkansas–Winthrop Rockefeller Institute Station.
—Carol Colaninno, research assistant professor in the Southern Illinois University Edwardsville STEM Center.
—Carl Drexler, research assistant professor with the University of Arkansas and station archeologist with the Arkansas Archeological Survey–Southern Arkansas University Research Station.
Lambert received his Ph.D. in 2017 and master's degree in 2013, both in anthropology, from the University of Oklahoma. He earned his bachelor's degree from the University of Alabama in 2011.
His primary research focuses on the early Mississippian period (ca. A.D. 800–1200). Lambert specializes in remote sensing and the analysis of ceramics, including design style, trace elemental analysis, and iconography to seek detailed histories of development, transformation, ritual integration, and movement of communities and interaction networks.
He has participated in recent projects in Oklahoma, Arkansas, Texas and Louisiana that focus on the role of ceramics in building and sustaining interregional community interactions.   
Field directors interested in the project, can find more information at www.siuestemcenter.org/safe-field-schools or email safefieldschools@gmail.com. 
MSU's College of Arts and Sciences includes more than 5,200 students, 325 full-time faculty members, nine doctoral programs, 14 master's programs, and 27 undergraduate academic majors offered in 14 departments. For more details about the College of Arts and Sciences or the Department of Anthropology and Middle Eastern Cultures, visit www.cas.msstate.edu or www.amec.msstate.edu.   
MSU is Mississippi's leading university, available online at www.msstate.edu.