Contact: Sarah Nicholas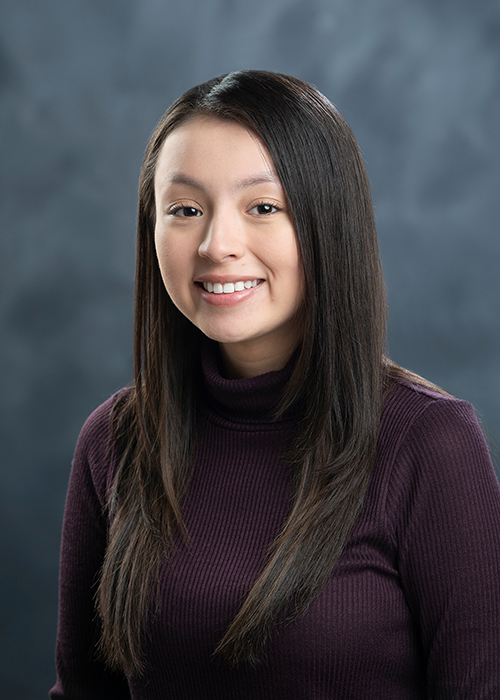 STARKVILLE, Miss.—A Mississippi State junior political science major is a University of California, Berkeley selection as a Junior Fellow for the 2020 Public Policy and International Affairs Summer Institute.
Sofia Alvarez of Belmont reports to UC Berkeley's Richard and Rhonda Goldman School of Public Policy in mid-June for seven weeks with a cohort of 30 other fellows selected from universities across the nation. The fellowship includes courses in economics of public policy analysis, quantitative methods for public policy analysis, and policy analysis and communication.
The Goldman School of Public Policy has hosted a Junior Summer Institute for nearly 40 years to "empower and better address the needs of historically underrepresented communities,"  preparing students from diverse backgrounds for graduate study and careers in public policy. A student in both MSU's College of Arts and Sciences and the Judy and Bobby Shackouls Honors College, Alvarez said of the five universities across the U.S. participating in PPIA, UC Berkeley was her top choice.
"As a first-generation student at MSU and an advocate for immigration rights, Sofia represents the core values of the program," said Tommy Anderson, associate dean for academic affairs for MSU's College of Arts and Sciences and director of the Judy and Bobby Shackouls Honors College Office of Prestigious External Scholarships.    
"Having taught her last summer as part of the Shackouls Honors College's Oxford University Study Abroad Program, I saw first-hand the way she integrates ideas across disciplines to find new ways to address problems," said Anderson, also an MSU English professor. "Her ability to think critically about contemporary political issues from a historical perspective will contribute significantly to the cohort of university leaders at PPIA."
Vice president of MSU's Latino Student Association and treasurer of the International Student Advisory Board, Alvarez is the university's fifth Junior Fellow in the last six years. Other recent Junior Fellows include Khalil Markham, a senior computer engineering major from Biloxi, and Semaj Martin-Redd, a senior political science major from Brandon, as well as MSU alumni Jamie Aron and Feifei Zeng. More information about this prestigious fellowship can be found at https://ppiaprogram.org/undergrad-jsi-berkeley/.
Last year, Alvarez attended the Public Policy Leadership Conference at Harvard University, where she said she met "intelligent and inspiring individuals" who encouraged her to apply for the PPIA program.
"Being part of PPIA will allow me to gain the necessary skills and foster the necessary relations with mentors and other students to succeed in the real world of public policy," said Alvarez, who also is involved in MSU's Holmes Cultural Diversity Center.
"I want to become an immigration lawyer, but I also want to run for public office one day," she said, noting she hopes to improve the education system for minorities and first-generation students. "I want to represent the people who don't have a voice."
"The fact that I get to travel to California and study at UC Berkeley for the summer is still unbelievable," she said. "Never would I have imagined that my first time traveling to California would be due to merit, and it is all thanks to the opportunities and the people I have had the fortune to meet at MSU." 
Alvarez said Anderson's influence in her life is one of the reasons she applied and was accepted to the PPLC conference at the Harvard Kennedy School, the Oxford Study Abroad Program and now PPIA. "He gave me the motivation to apply," she said. She also credits other students—in particular senior political science major and Truman Scholar finalist Marisa Laudadio of Walnut—for encouraging her to pursue elite opportunities.
Last May Alvarez attended the Penn State Explore Law Program, which gave her an inside look at law school and an opportunity to meet practicing lawyers. Before her PPIA program this summer, she will intern at Elmore & Peterson Law Firm in Jackson to gain relevant experience and understanding on immigration law.
MSU's College of Arts and Sciences includes more than 5,200 students, 325 full-time faculty members, nine doctoral programs, 14 master's programs, and 27 undergraduate academic majors offered in 14 departments. It also is home to the most diverse units for research and scholarly activities, including natural and physical sciences, social and behavioral sciences, and the humanities. For more details about the College of Arts and Sciences or the Department of Political Science and Public Administration visit www.cas.msstate.edu or www.pspa.msstate.edu. Learn more about the Judy and Bobby Shackouls Honors College at www.honors.msstate.edu.
MSU is Mississippi's leading university, available online at www.msstate.edu.