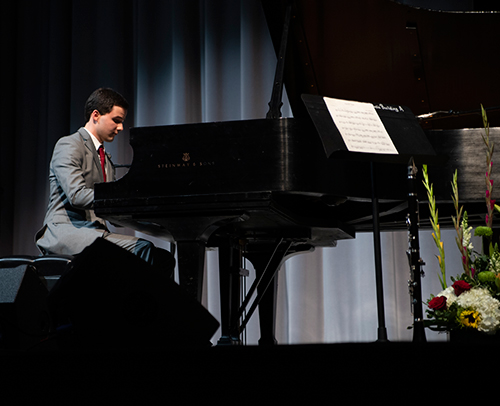 Contact: Sasha Steinberg
STARKVILLE, Miss.—A Mississippi State junior music education major from Long Beach is the university's newest recipient of an award recognizing academic and musical excellence.
Daniel A. Rorabaugh was recognized during the university's annual Charles H. Templeton Ragtime and Jazz Festival as this year's recipient of the Keyone Docher Student Achievement Award, named for MSU music education major Keyone Docher, who died in 2014 following a long battle with cancer.
Primarily a clarinetist, Rorabaugh studies under MSU music instructor Sheri Falcone and has performed regularly with the MSU Wind Ensemble and the Starkville-MSU Symphony. He also performs with the MSU State Singers and takes piano lessons under MSU music professor Jackie Edwards-Henry. Following graduation, Rorabaugh plans to continue his musical studies in graduate school.
After receiving his award during the festival's Friday [Feb. 28] concert, Rorabaugh performed "'S Wonderful (It's Wonderful)" by George Gershwin on piano. He also performed Jean Matitia's "Crazy Rag" on clarinet, with piano accompaniment from Sophie Wang, MSU music instructor and departmental accompanist.
Chip Templeton, festival co-chair and son of festival namesake Charles H. Templeton Sr., presented Rorabaugh with a certificate and check. Templeton, who also serves as director of the MSU College of Business's Small Business Development Center, said audiences were captivated six years ago when witnessing the talents of Docher, who served as the festival's first student performer.
"We all have those special people in our lives who are no longer with us, and this award provides us an occasion to honor two special people—Keyone and a fellow student who shares the qualities he possessed," Templeton said. "Music is not just a process; it's something you have to feel in your heart. Those who have seen Keyone perform know how much he spoke of that concept through his music."
Docher's parents, Charles and Tammy Docher, thanked the Templeton family for the chance to present this award. Charles Docher said Keyone was diagnosed with cancer when he was 8 years old, but he didn't let it dampen his spirit.
"When the Make-A-Wish Foundation asked Keyone what he wanted for his wish, he said he wanted a grand piano, so the foundation gave him a white baby grand piano," Charles Docher recalled. "Keyone loved music so much and enjoyed helping young kids learn, so when Ms. Regina Weeks, his music teacher at Weir High School moved to Starkville High, he ended up being an accompanist for her. While he was a junior at MSU, Keyone would go on his time off back to Weir High to help students in the music program."
Charles Docher also shared memories from a trip to Starkville for his son's MSU audition.
"I remember how happy Keyone was when telling me about the music program at MSU," he said. "I see they're in production of a new music building on campus, and I know Keyone would be so proud of that."
In addition to Rorabaugh, past Docher Award recipients include Quinlan X. Gray, a senior music education/instrumental major from De Kalb, Texas; Catherine N. Patriquin, a 2018 magna cum laude music education graduate from Ocean Springs; Abby L. Weinstein, a 2017 cum laude music/vocal graduate from Marietta, Georgia; Tyler J. Stallings, a 2016 music education/instrumental graduate from Pontotoc; and Sarah G. Wallace, a 2015 magna cum laude music graduate from Brandon.
For more on MSU Libraries, visit http://library.msstate.edu; MSU's College of Education and its nationally accredited Department of Music, www.educ.msstate.edu and www.music.msstate.edu.
MSU is Mississippi's leading university, available online at www.msstate.edu.