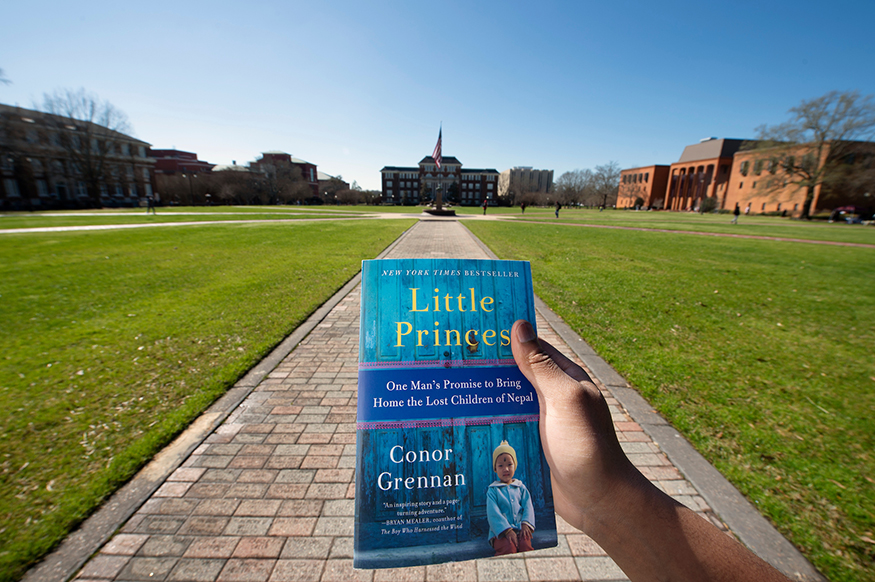 Contact: Sasha Steinberg
STARKVILLE, Miss.—An international best-selling and award-winning memoir has been selected as the common reading book for Mississippi State's 12th Maroon Edition program.
On Monday [March 2], MSU President Mark E. Keenum officially announced "Little Princes: One Man's Promise to Bring Home the Lost Children of Nepal" as this year's selection. In a campus-wide message, Keenum said the book "gives readers a gripping, personal account of author Conor Grennan's transformative experience in Nepal, where he became inspired to rescue and reunite the many children who had been taken from their families and mountain villages by child traffickers as a civil war raged in the country."
"Conor's story is compelling, timely and relevant as human trafficking grows as a major concern globally, as well as here in our own country," Keenum said. "His story reminds us that it is possible for one person to make a difference, and we look forward to having Conor on campus in August for Fall Convocation to hear more about his remarkable journey."
MSU's Center for Teaching and Learning oversees annual selection of the Maroon Edition book. Past selections include "A Painted House" and "Calico Joe" by MSU alumnus John Grisham, "The Optimist's Daughter" by Jackson native Eudora Welty, and "Hold On with a Bulldog Grip: A Short Study of Ulysses S. Grant" by MSU and Grant library historians John Marszalek, David Nolen and Louie Gallo, and former Rhode Island Supreme Court Chief Justice Frank Williams.
Maroon Edition activities are held throughout the year for students at all class levels, as well as interested administrators, faculty and staff members.
To encourage participation in the reading program, all incoming freshmen and transfer students attending MSU Orientation will receive a free copy of the book, which has been shortlisted for the Dayton Literary Peace Prize. "Little Princes" also won the GoodReads 2011 Best Travel and Outdoors Award, and has been translated into 15 languages.
Currently residing in New Canaan, Connecticut, Grennan is founder of Next Generation Nepal (NGN), a nonprofit organization that has helped reconnect more than 500 trafficked children with their families in Nepal.
For his work, Grennan was recognized by The Huffington Post as a 2011 Game Changer of the Year. In 2014, he was named a recipient of the Unsung Heroes of Compassion award, given by the Dalai Lama.
Prior to starting NGN, Grennan spent eight years in Prague and Brussels at the EastWest Institute. There, he served as deputy director of the Program on Security and Governance, where his projects focused on peace and reconciliation in the Balkans. He is a graduate of the University of Virginia, as well as the New York University Stern School of Business, where he serves as Dean of Students for the MBA program. For more, visit http://conorgrennan.com.
For more on MSU's Maroon Edition program, visit www.maroonedition.msstate.edu.
MSU is Mississippi's leading university, available online at www.msstate.edu.